Inside the Workings of a Digital Agency: Beyond Conventional Benefits

As our company has seen an explosive growth in numbers over the past few years, we've made special strides to ensure that we can continue to maintain a supportive, safe, and fun working environment for our staff. We know that it all comes down to them - our ultimate success as a company is driven by attracting and retaining great talent. Our employees are like family to us and we believe that there is no better use of corporate resources than investing in our staff.
One of the many ways we provide for them is through a progressive and competitive benefits program that meets the diverse needs of not only all our employees but their families as well. This program is designed to meet their current and future needs as they advance through life's various milestones, and ensures that we can help them stay healthy, feel secure, and maintain a work/leisure balance. This post will break down our benefits program in detail and the thought process that goes behind the construction of these offerings. By doing so, we hope to be more transparent about how we operate as a company and also to generate further discussion on this subject within our industry, so that we can advance the topic as a whole.
Creating a Responsive & Comprehensive Benefits Program
We regularly evaluate our benefit offerings to make sure they are relevant and support the evolving needs of our employees. We accomplish this by soliciting and actively listening to their feedback. We also look at where our employees are in their lives and identify the best possible ways that we can support them at those stages.
Our plan designs are intended to provide employees with the opportunity to customize their benefit elections to meet their lifestyle and personal choices, while offering protection, flexibility, and security to them and their family.
Our Benefit Offerings
At this point, you're probably asking yourself what makes our benefits strategy distinguished? We understand that everyone has different needs and that health, well-being, and family are what matter most to our employees. We offer a balanced suite of benefits that takes every part of life into account. These include, but are not limited to:
Supporting Employees Personally & Professionally
We recognize the importance of providing our staff with the opportunity to recharge and meet personal and family needs and offer a variety of leave programs in support of this.
Industry-Leading Paid Parental Leave
In the past two years we've experienced an impressive baby boom - 16 baby Velirians to be exact! The birth or adoption of a child is a momentous occasion for an employee and we want to make sure they have time to care for and bond with their child. Accordingly, we decided to change our Parental Leave Policy to better support our new parents. We now offer 16 weeks of paid maternity leave and 4 weeks of paid time-off for primary caregivers, including those who become parents through adoption! To date, we have six excited employees who will be capitalizing on this enhanced benefit.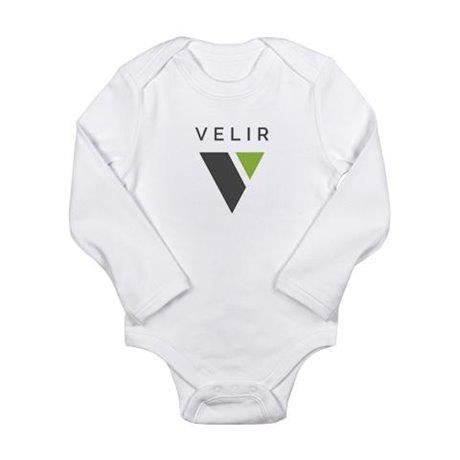 Additionally, in an effort to continue offering support to all of our new and seasoned parents still trying to "figure out" parenting (I don't know if any of us really ever will), we offer quarterly parenting classes covering an array of topics. Our upcoming lunch and learn is on "Secrets to Reverse Picky Eating" and I'm personally hoping to get some resourceful tips out of this session!
Paid Time-Off
We offer a competitive vacation policy, based on years of service. Our paid time-off policy also includes 10 widely recognized US public holidays and two floating holidays to be used for personal time, religious observances, or other special occasions. Who doesn't like to have their birthday recognized as a self-proclaimed holiday?!
Time to Give Back
Velir believes that it is our responsibility as a good corporate citizen to help strengthen the communities in which we live and work. It's more than just donating financial resources to worthy causes; we value being able to get involved and make a difference. The three main elements of Velir's social investment strategy are:
Workplace giving
Volunteering
Employee participation
To encourage employee volunteerism, Velir offers a separate Volunteer Time-Off (VTO) benefit to all employees. Through VTO, employees can use eight hours of paid work time per year to participate in volunteer work. Most recently we helped break records during the Water Chestnut Removal Program for Mystic River and placed first among Technology, Energy, and Media companies in the Green Streets Initiative.
We also have a matching gift program that is open to all employees and is intended to recognize and support the important work of nonprofit organizations. We've donated funds, time, and various items and resources to the following causes and organizations this year: the Somerville Homeless Coalition (SHC), Leukemia and Lymphoma Society, the Malala Fund, Gallery 263, deCordova Museum, Boston Bhangra, local Boys & Girls Clubs, and the Museum of Science.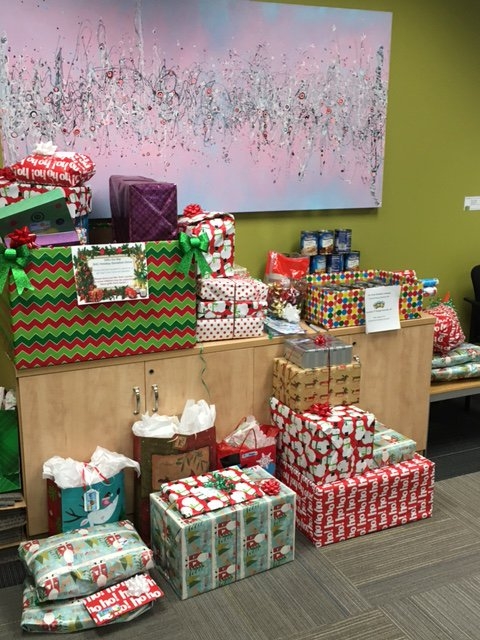 Holiday giving for the SHC, topped off by artwork on loan from deCordova
Employee Assistance Program (EAP)
This EAP benefit is a confidential service for all Velir staff, spouses, and dependents and is designed to provide professional assistance in solving persistent, personal problems. Employees have access to experienced, professional assistance 24 hours a day, 7 days a week to manage challenges that may interfere with personal and/or professional life.
Voluntary Benefit Options to Complement Core Benefits
Velir offers a range of insurance plans including health, dental, life, long and short-term disability, accident, vision, and identity theft insurance. Certain insurance coverage is paid by Velir and employees have the ability to purchase other insurance at discounted group rates.
In an effort to help offset medical and commuting expenses and assist our employees with increasing their take-home pay, we offer Flexible Spending Accounts and a Commuter Benefits Program. Velir pays 100% of the costs to administer these plans so that we can offer these valuable benefits at absolutely no additional cost to employees.
We also offer a competitive 401(k) plan with matching contributions as well as financial counseling services designed to allow employees to build a strategy for meeting their personal, long-term financial objectives.
Health & Wellness
Our Wellness Program, Thrive, offers wellness-related events that mimic our culture, needs, and interests. Thrive is designed to support healthy behaviors and activities by increasing our knowledge and awareness of health-related matters, exploring funs ways to live healthier and wiser, and improving levels of personal (physical, emotional, and/or financial) well-being.
This non-traditional program strays away from the typical return on wellness program investments (success by participation and ROI on medical costs) and just focuses on the well-being of our employees. We want to create a culture of wellness and don't want to subject our employees to rewards or punishments. Below are a few examples of recent and upcoming events:
With what we do we tend to spend a lot of time sitting at our desks. To offset this we offer standing yoga, foam rolling, standing desk utilities, and even a class on ergonomics.
To promote healthy eating we partner with Boston Organics for a weekly delivery of organic fruit for our staff to snack on. We'll also be partnering with a local farm stand to launch a gardening series class.
Earlier this month we partnered up with BikeBus, a unique transportation and fitness hybrid that's found only in Boston! The Velir team, shown below, traveled 16.3 miles on a hour-long route that took them through neighborhoods in Somerville, Cambridge, Arlington and Belmont. Also, with the Summer Olympics just around the corner we'll be hosting our own version of this fun event soon.
We offer financial educational workshops on a quarterly basis. Our most recent session covered "Personal Finance Fundamentals" and was designed to help staff create a budget, manage debt, and set short and long term goals. Our next session that is in the works will be focussed on identifying strategies to eliminate college debt.
Our annual onsite flu shot clinic is extended to family members and is highly attended.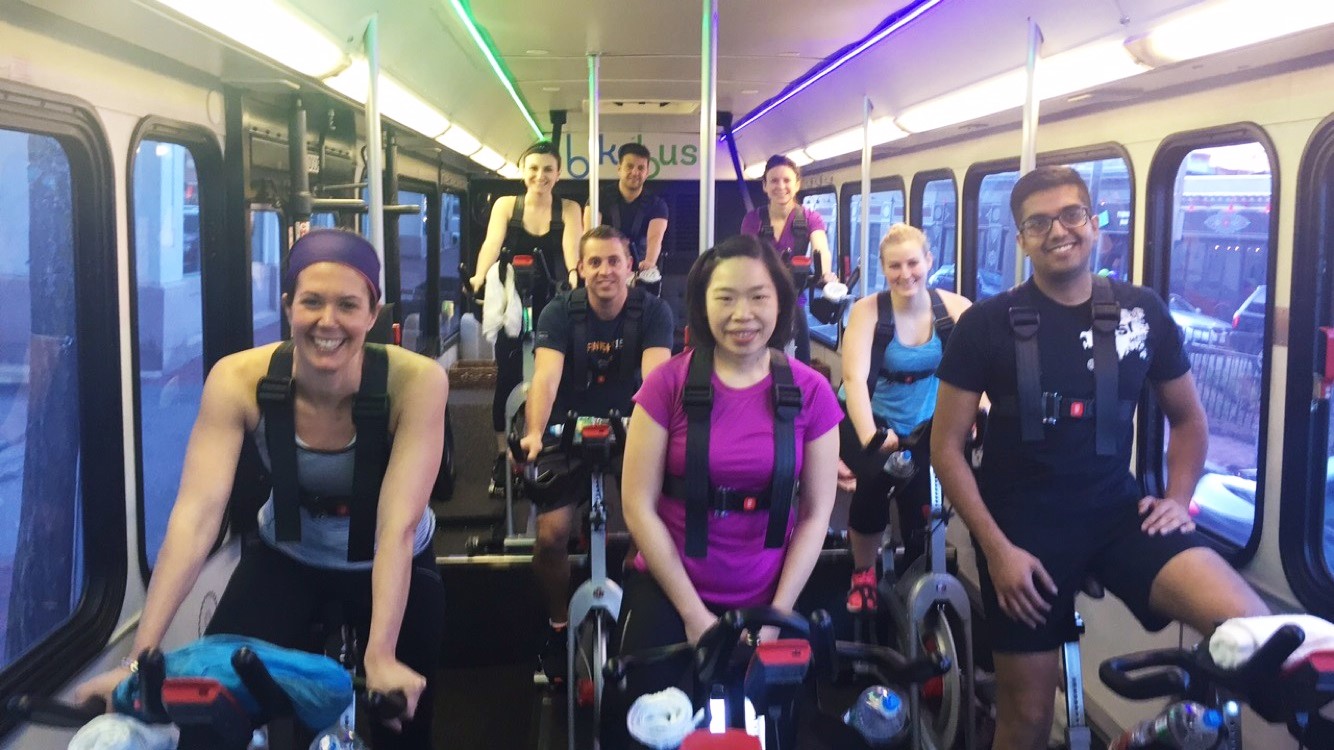 Velir's "Extras"
In addition to the above, we also enjoy providing "extras" that come in many forms. Recognizing the need to balance work and leisure, we like to help employees bond and build camaraderie through a variety of fun events. A few examples include:
Family events such as apple picking, a trip to Kimball Farms, and an annual Halloween party.
After-work events such as sip & knits, cooking classes, movie nights, and paintball
Talent shows showcasing the many facets of our wildly talented staff
Some impromptu fun – who doesn't love pizza parties or ice cream sundae bars?!
At the end of the day, we look to create a healthy, fun, and supportive working environment that results in happier employees who enjoy coming to work every day. And it seems to be working!
What are some fun and unique benefits you've come across in your professional career? Feel free to join the discussion by commenting below or share this post to bring more attention to the topic.