Onboarding Remotely During COVID-19

Before COVID-19 spread to the United States, I applied for and gratefully accepted an Experience Designer position at Velir. Not long after the application process though, U.S. businesses (including Velir) enacted social distancing measures and transitioned employees to working from home. While this impacted people already working at Velir, it also changed my new hire experience because it required me and other new employees to completely onboard remotely.
When I received the initial "Welcome to Velir!" email before my first week, I was both excited and full of questions: What would onboarding remotely be like? What if the working from home mandate extended beyond a week or two? How would I get to know my new coworkers? Would I have to go pick up my laptop and other things I'd need? Would I still be able to receive training on my position?
However, onboarding remotely is nothing new­—many companies do it with incoming hires, including Velir. Thankfully the Velir team already did the hard work to channel the enthusiasm of starting a new job from home and made remote onboarding a success. As a result, remote onboarding was fun and effective for me and three other new Velirians.
Velir prepared for remote onboarding prior to my start date, which made the transition much smoother. Here are a few steps Velir took that made my experience easier:
Shipped Equipment
I received all equipment at my home, which relieved stress about my at-home work setup. Also, this meant that I did not have to worry about social distancing measures when coordinating an equipment pick-up or drop-off.
Sent a Welcome Note
Don't you love receiving something in the mail? Receiving a welcome note in my physical mailbox sparked even more excitement of starting my new job.
Prepared a Schedule
In uncertain times, it helped to be given a plan on what to expect. I was given a schedule that had all the meetings for my first day, call information, and a little background on each employee I met with. It was also helpful to meet with the IT team first to get everything set up for my first day.
E-Signed Documents
Before I began, all of the onboarding paperwork was already set up for electronic signatures. Plus, being at home made it convenient to grab my passport and any other documents needed at the time.
Spread the Word
Since this wasn't the typical scenario of a new face in the office, it helped that the Velir People team sent out an email introducing me and other new hires to all of the staff members.
Assigned a Buddy and Team Mentor
Velir assigns all new hires a buddy who isn't in the same department as you to provide a resource to ask questions and help you adjust. Additionally, the company can help you find a team mentor who you may not know as an additional resource you can ask more pointed questions, including ones you might not be comfortable asking your boss.
Because of the added stress from COVID-19, Velir has also scheduled two to three remote activities each week to promote culture and wellness. We've had virtual workouts like Gritt Fix/Bootcamp and yoga, as well as "Lunch and Learns" on topics like "Self-Care Action Plans," "Coping Strategies for Uncertain and Stressful Times," and other work-life conversations. These events add an extra support system for the employees and have been another way for remotely onboarding employees like me to get involved with company culture.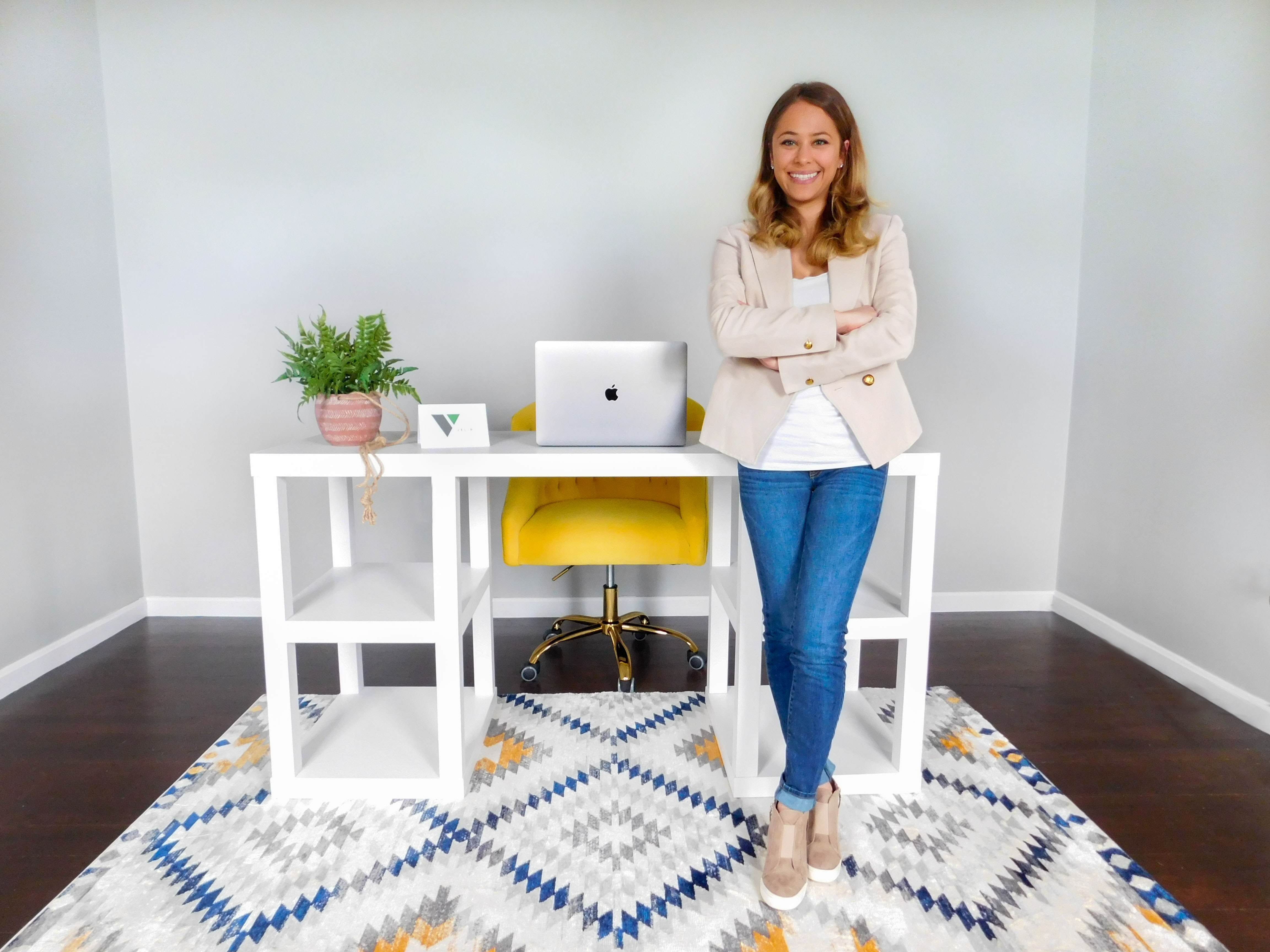 The Remote Onboarding Experience
Fortunately, I had three coworkers in the same boat as me since we all started on the same day. Onboarding in a group made the experience a little easier. We recently talked about what the experience was like from each of our perspectives.
Alanna Tomer: I had never started a new job remotely, so that took some adjustment but overall, Velir did a great job capturing the excitement of starting a new career remotely. What was your experience on-boarding remotely like?
Tyler Sally: My remote on-boarding experience has been great! Team members from each department have been very helpful with their trainings and availability to answer questions as they come up.
Dan Hurley: It feels a bit like being invited to a high school party from another school because you have to make a conscious effort to get to know people.
Patrick Shea: It was a little strange not getting to meet everyone in person. But everyone that I have talked to so far has made me feel extremely welcome and I am excited to be a part of the team!
AT: My typical commute would be over 2 hours a day, so not having to sit in traffic has been a benefit of working remotely! What are some of the benefits that you've experienced?
TS: Everyone realizes that it can be a bit challenging to learn remotely, so they have made themselves very available to answer questions during and after trainings.
DH: I think we often take for granted the passive benefits of familiarity that grows through being in proximity to one another (even if only occasionally). I think it's positive that we have all been more intentional about communication.
PS: One benefit I would say is that I feel that people recognize that onboarding remotely is not an ideal situation. Because of this, everyone has put forward a really great effort of reaching out and making me feel welcome.
AT: It's a lot easier to get training or ask questions when you're in an office. Trying to find the best person to answer those questions can be a challenge, but everyone at Velir has been super helpful! What are some of the challenges you've faced from not being in the office?
TS: Being able to walk over to someone's desk to observe them complete a task is very helpful. Not being able to do so is a challenge, but Zoom helps bridge the gap.
DH: I love turning around and asking a question or bouncing an idea off someone. I also like being interrupted by someone at my desk who wants my perspective on something. I'm doing my best to do that digitally.
PS: The biggest challenge of not being able to be in the office is not being able to collaborate in person and meet the team face-to-face.
AT: I have two spaces set up at home, so I am playing "musical offices" based on my six-month-old daughter's schedule. I have an office downstairs with no door and an office upstairs that consists of a folding table in front of a couch. What's your home workstation like?
TS: I have a desk that I work from that makes for a good setup.
DH: I like working in a spare bedroom that also serves as a music room. I have a desk and workstation in there, but I like taking my calls from the kitchen where there's better light.
PS: Fortunately, I have a desk at home with a window overlooking woods and a pond.
AT: Working from home, I've perfected the business on top, leggings on the bottom. But I feel I need to do my hair and make-up since this is the first time I'm meeting people! What's your go-to work-from-home wardrobe? Do you feel like you must "dress up" because you're new?
TS: I don't "dress up" while working from home but I make sure I have a button-down shirt and jeans every day.
DH: I believe my manager lauded me for wearing a collar on my first day. I've been trying to keep up appearances but I'm far more worried about the descent into chaos that my hair will become.
PS: Having worked remotely in the past, I have found through experience it is good to stick to the "work routine." For this reason, I usually still throw on an oxford shirt and slacks.
AT: I love meeting new people and I missed meeting everyone in-person on the first day. It's a lot easier to meet more people in an office setting than scheduling a Zoom meeting or hopping on a Slack call. What part do you miss most about being starting a job in person?
TS: I miss interacting with all my coworkers. There's a lot of camaraderie built up just by working in the same space. However, Slack channels have been a good opportunity to meet people with similar interests.
DH: I'm an extrovert at heart. I feed off face-to-face human interaction.
PS: The part I miss most is the people and being able to work in a creative and collaborative environment.
AT: I really enjoy the quietness of working from home when I need to focus on projects. I get a lot more accomplished. What do you like best about starting a new job from home?
TS: The ability to take a few minutes to take care of our dogs is a great perk of working from home!
DH: The two hours a day I get back that I used to spend in traffic.
PS: Probably the commute, it's nice the save the time on both ends.
AT: Video calling has made it easier to remember who everyone is. It's like everyone is wearing a name tag! Onboarding with you was nice but the introduction part got a little repetitive by the end of the week. I felt like I could introduce you after the last call. How has the "meet and greet" part been with video calling been?
TS: Meeting people over Zoom has been very valuable, especially first-time meetings when people use their cameras. Putting faces to the names and voices that are helping with our training is beneficial.
DH: Oh, it's a little weird if we're being honest, but again, we're all making the best of it. It's work, so you have to put yourself out there a bit.
PS: So far it has been great! Everyone has been extremely welcoming and supportive.
AT: My advice to someone onboarding remotely is to be vocal. If there is something you need, ask for it! Be proactive. Ask to join meetings to observe or set up a meeting if you feel like you need additional training. What advice would you give someone who's also onboarding remotely?
TS: Don't be afraid to ask questions if something is confusing or unclear. Sometimes it feels uncomfortable to ask technical or "how-to" questions online but when I encountered obstacles during the onboarding process and spoke up, everyone was willing to help clear things up.
DH: Hope that you're lucky enough to be doing it with at least one other person. It's been nice to have a cohort start at the same time to banter with and help you find your way around the maze of Zoom conference room hallways. Sparing yourself a commute can give you the gift of time—use it for self-care.
PS: I would advise someone onboarding remotely to stick to the work routine and try to absorb as much information as possible.
--
Velir is still hiring for several positions! If you're searching for a job with a warm company culture that embraces remote employees, review our open positions and apply for one.