How We're Keeping Employees Engaged While Working Remotely

Remote work isn't just a perk anymore – it's the norm due to COVID-19 and the need to follow social distancing guidelines. At Velir, before the pandemic, we prided ourselves on having a fun, relaxing workspace with the option for employees to occasionally work remotely based on their needs. Our culture has always been built on our employees, or "Velirians" as we call them. Velirians are intelligent, low-ego people who care about what they do and approach client work with thoughtfulness and empathy.
Having our employees together in a single space is ideal, so we can foster collaboration and employee bonding, but with global, national, and local uncertainty, our People Operations and IT teams knew we would have to take our company remote for the foreseeable future. To do that successfully, we worked hard to ensure we'd be prepared as a company, but to make the move sustainable, we've made a conscious effort to keep employees engaged so that they keep an emotional connection to Velir and remain energized to pursue our organization's goals. Here are some of the things we've done as a People Operations team to keep Velirians engaged.
Onboarding Remotely and Creating Culture Through Buddies
Since we went entirely remote in March, we have onboarded six new full-time employees. With an influx of new employees and a new fully remote organization, we were anticipating more hiccups with virtual onboarding but thankfully, it has been smooth and successful. People Operations and IT have worked together to ensure employees are well-prepared for their onboarding and that we have effective systems in place to do our jobs just as safely and securely while we're remote.
>> Learn more about what it's like onboarding remotely at Velir
One downside of being entirely remote is that new Velirians don't have desk buddies they can turn to and have their questions answered quickly. Managers have been encouraged to assign buddies to their new employees who are in a similar role, so they always have someone they can ask questions if their manager isn't available. This is in addition to a buddy program that already existed at Velir, which pairs new employees with employees in different departments who can show them the ropes and give them a more holistic understanding of the services we offer our clients. When we were in the office, this program consisted of lunch or coffee breaks for the buddy pairs. Now, this has shifted to Zoom meetings to show new and veteran employees that working remotely doesn't have to be isolating. We believe you can still provide a strong sense of culture even if you're not in the same physical space.
Prioritizing Physical and Mental Health
The health and wellness of Velirians has always been a priority for Velir's Leadership Team. As employees ourselves, we have always felt that Velir has genuine care for our mental health and work-life balance. With that in mind, we have implemented ways to make sure we are all still functioning healthily and happily while working remotely.
We have offered weekly remote fitness classes and yoga classes hosted by SweatFixx every Tuesday and Thursday since we started working from home. It's been a great way to motivate one another remotely and keep up with our personal goals while we're unable to get to a gym. These classes now have their regulars who see them as a way to get in shape and connect with their coworkers.
Along with physical well-being, Velir has hosted multiple parenting, self-care, and mental health Lunch and Learn sessions through TLC (The Loved Child). It has given all employees the opportunity to learn new coping mechanisms while working from home; whether it be around children, roommates, significant others, or solo.
Velir even keeps posture in mind! With the help of a few volunteers, our Founder, Mark Gregor, set up an office chair delivery for employees who missed their proper work-chair set up.
Bringing Company Culture Remote
A large part of what makes working at Velir so special is our company culture. Working remotely has made us rethink our get-togethers and events. While we would typically all get together around food and drinks during our monthly all-staff meetings, our People Operations team and the Social Committee had to come up with fun ways to engage everyone via Zoom.
For the last few months, we've held Zoom competitions from the funniest background to most festive Velir spirit attire, to dressing up as your favorite holiday. Each month is met with heavy competition and a GrubHub gift card reward for the winner. Our Social Committee has continued to celebrate the holidays that hold tradition in our office. For Cinco de Mayo, you bet we held a Zoom party! Complete with personal cervesas, authentic Mexican snacks, and a Cinco de Mayo-themed trivia game, we all had a great time seeing each other's faces virtually. This June, we hosted an online Pride event complete with festive costumes, article sharing, and time for employees to share their own stories.
There have even been silly impromptu Zoom moments, like a goat on a farm popping in remotely, and some of our most colorful employees "Zoom bombing" meetings in costume. Even though this is all very different from working in the office, we make sure employees feel the love and effort that's being taken to make sure we all still feel connected.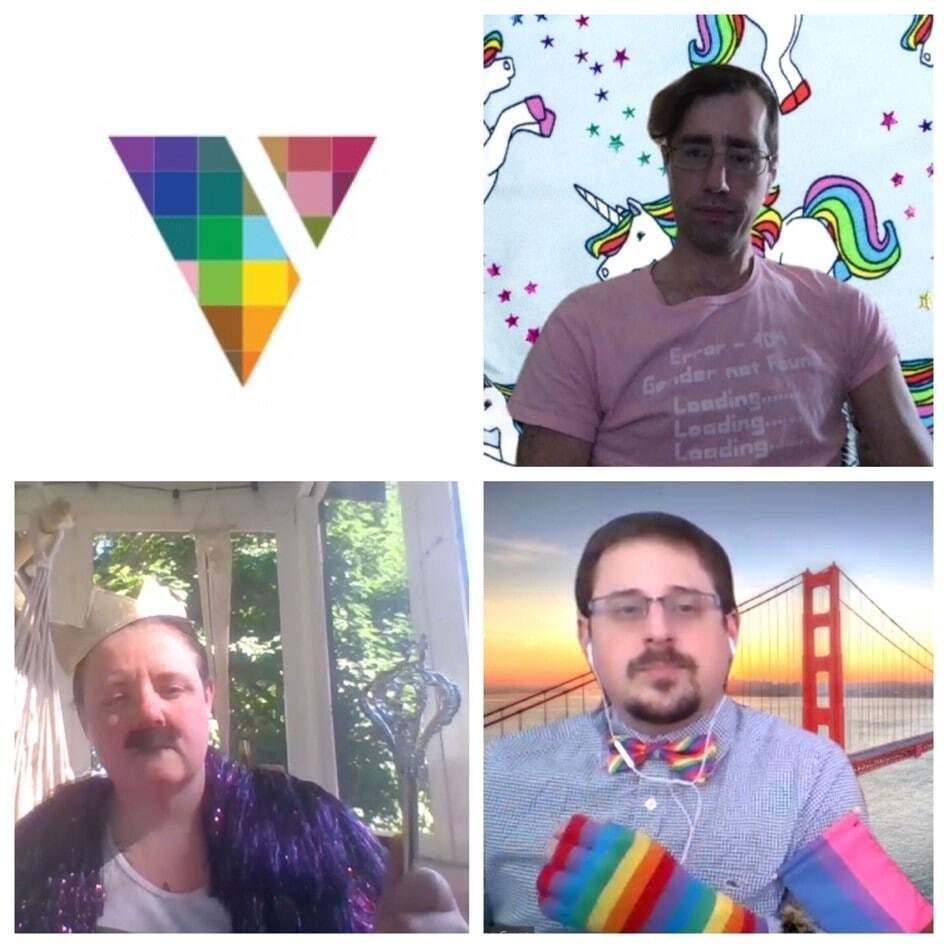 Velir loves gift-giving and celebrating hard work – and that hasn't stopped since going remote. We have sent comforting gifts such as colorful fresh fruit to boost our moods and immune systems, and custom Velir comfy pants that easily transition from the home office to Netflix on the couch. Celebrating website launches and other team wins has also continued! Velirians have received special deliveries like cookies and sparkling wine to their houses as a thank you for their incredible efforts we continue to put out while working from home.
Connecting in New, Virtual Ways
We have a few traditional office events coming up, now with a virtual twist, along with some new events tailored toward virtual team-building. A company favorite, our Variety Show, will still go on! We have some special tricks up our sleeves that will allow us to still enjoy our employees' talents from the comfort of our homes this fall. This summer, teams will get together virtually and look for clues to Escape the Room. Prizes will be given to the fastest team to find their way out of the virtual puzzle.
We are all looking for new and unique ways to connect, but nothing seems to work better than our trusty Slack channels. Community channels like our #binge-watchers TV channel, our #plants channel, and #pets channels have been given new life since being at home. Additionally, some people have implemented impromptu coffee/happy hour Zoom links in our #general Slack channel, which has not only shown us that the way we communicate has changed but also our intentions. Even though we all miss passing by one another in the office and saying a quick "hello" or sharing an update on our weekends, it's a beautiful thing to see that we have become more intentional with our communication, and continue to reach out to one another to connect in a more mindful way.
Looking Ahead to Sustaining Remote Work
Velir's work from home policy has always been fairly flexible for part-time work from home arrangements, but before the pandemic, we enjoyed having about 85% of the company based in our Somerville headquarters. Moving forward, we are taking a very different approach to work from home once it is safe to reopen the office. We surveyed employees to gauge interest in returning and it's likely most staff will engage in a hybrid model, where they work partially from home, partially from the office. We are rethinking our office space to accommodate this new norm. As employees, we personally appreciate how understanding Velir is that life has changed for a lot of people and that some employees are enjoying the flexibility that being at home allows them. With that said, we will ensure that our company culture remains strong, and will continue to make company morale one of our top priorities as a People Operations team.
Want to know more about what it's like to work at Velir? Check out our Careers page or browse our list of open positions to see if you have skills we're looking for.