Acquia Site Studio Empowers Content Marketers in Drupal

Acquia Site Studio is a new product from Acquia that offers content marketers and site builders a simple low-code solution to build pages in Drupal. It provides content authors with page building tools and complex components in an easy-to-use interface that minimizes the development effort needed to publish content.
Accelerate Site Building
Acquia Site Studio super-charges your Drupal install with a drag and drop component-based interface to create content, components, templates, and pages. It serves as an accelerator for building your site and provides tools to make your own components and templates without help from a developer.
With Site Studio you can leverage out-of-the-box components like heroes, banners, calls to action, content accordions, and various layout containers. You can also build your own new components with an intuitive component builder tool in the UI without writing a single line of code. This enables your development team to focus on high-value features that support your content creation and marketing initiatives, while your designers and marketers can build out the site in real-time with Site Studio's admin interface.
If you're a content editor, you can build pages and content rapidly by dragging components into the canvas editor without writing any code.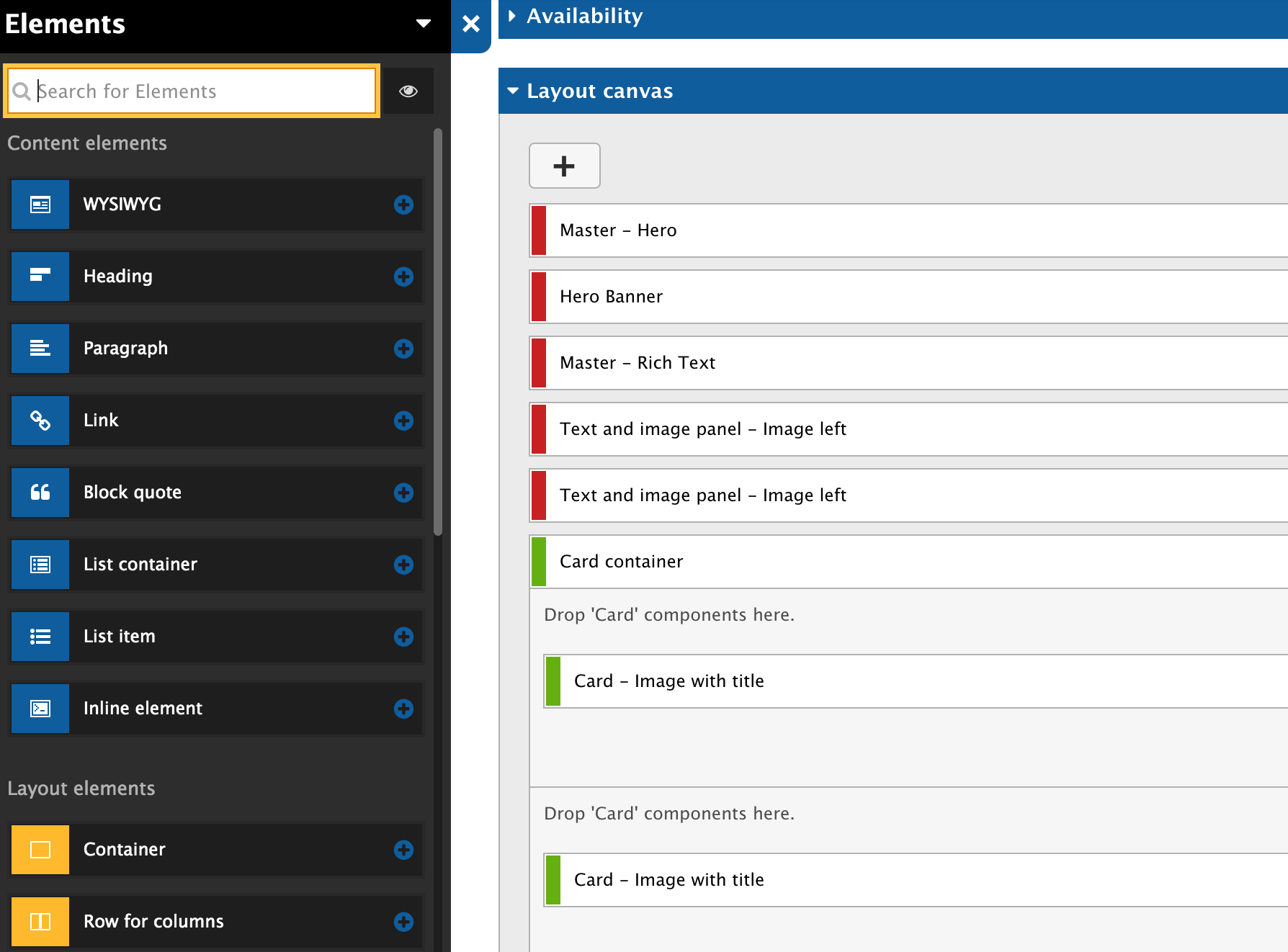 Build pages with what you want, where you want it.
Components and content are also editable from the page builder interface—if you want to change aspects of a component or the content inside of it, scroll to it on the page and click Edit to begin editing it. The visual editor lets you spot check pages and update them quickly.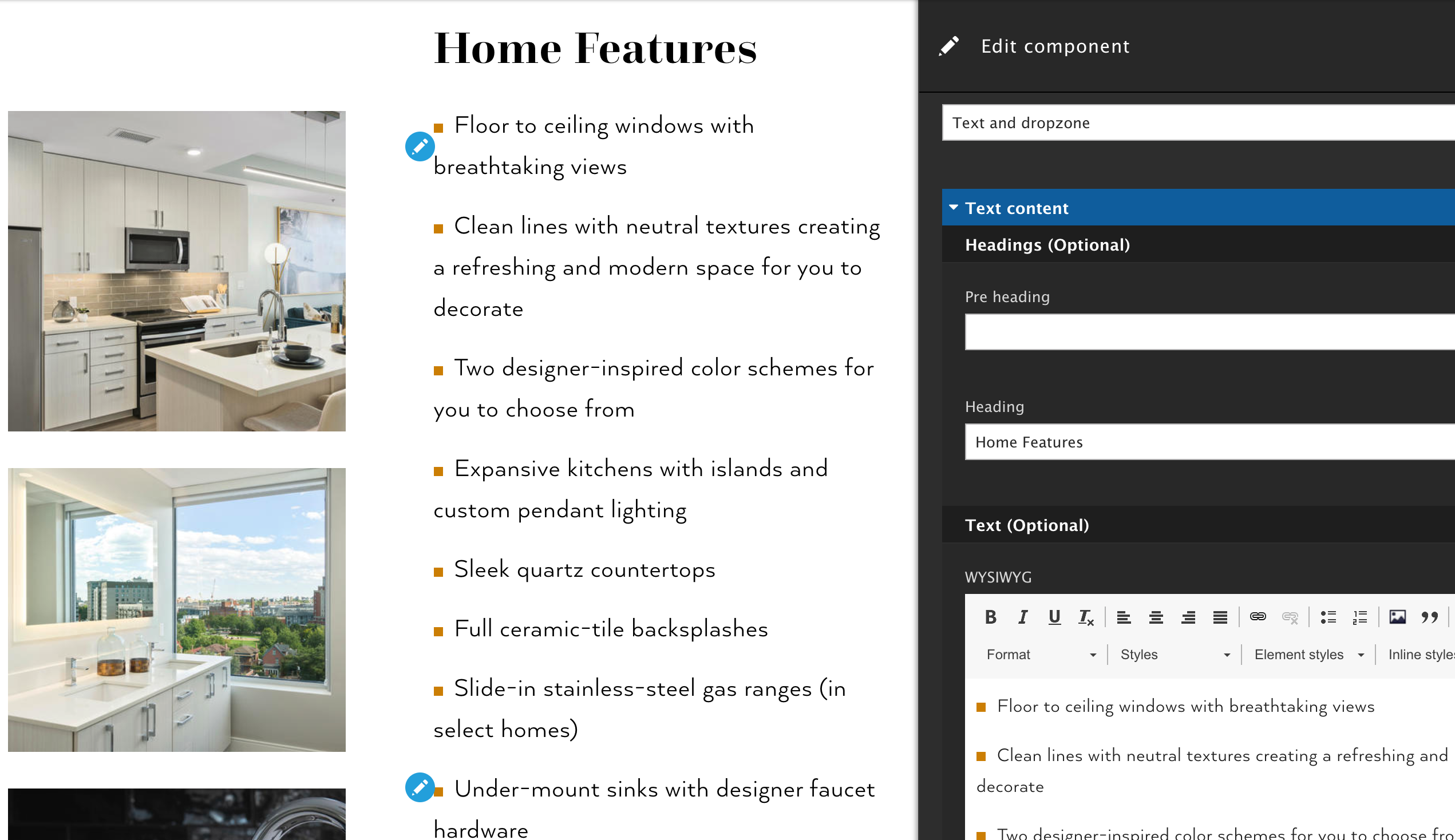 Edit Drupal components and content right in the page.
Stylize Components and Sitewide Elements
With Site Studio, you can also provide style for components to change aspects of their presentation. Components allow for a variety of settings such as color, background image, font, and responsive breakpoint settings. This means you can tweak your components without making design revisions or assigning a developer to implement them. These changes can be previewed and modified in real-time, without deployments or site updates to push them live.
All components and styles are managed in Drupal and can have baselines set according to the branding guidelines of the organization and/or design team. This helps maintain design and brand integrity, but Site Studio also allows additional flexibility so you can use different color swatches or layouts in accordance with brand guidelines.
The style guide editor allows site managers to change the site-wide presentation of allowed elements in just a few clicks to go-live. For example, if you wanted to change how the hero component looks across the site whenever it is used, you could do the following: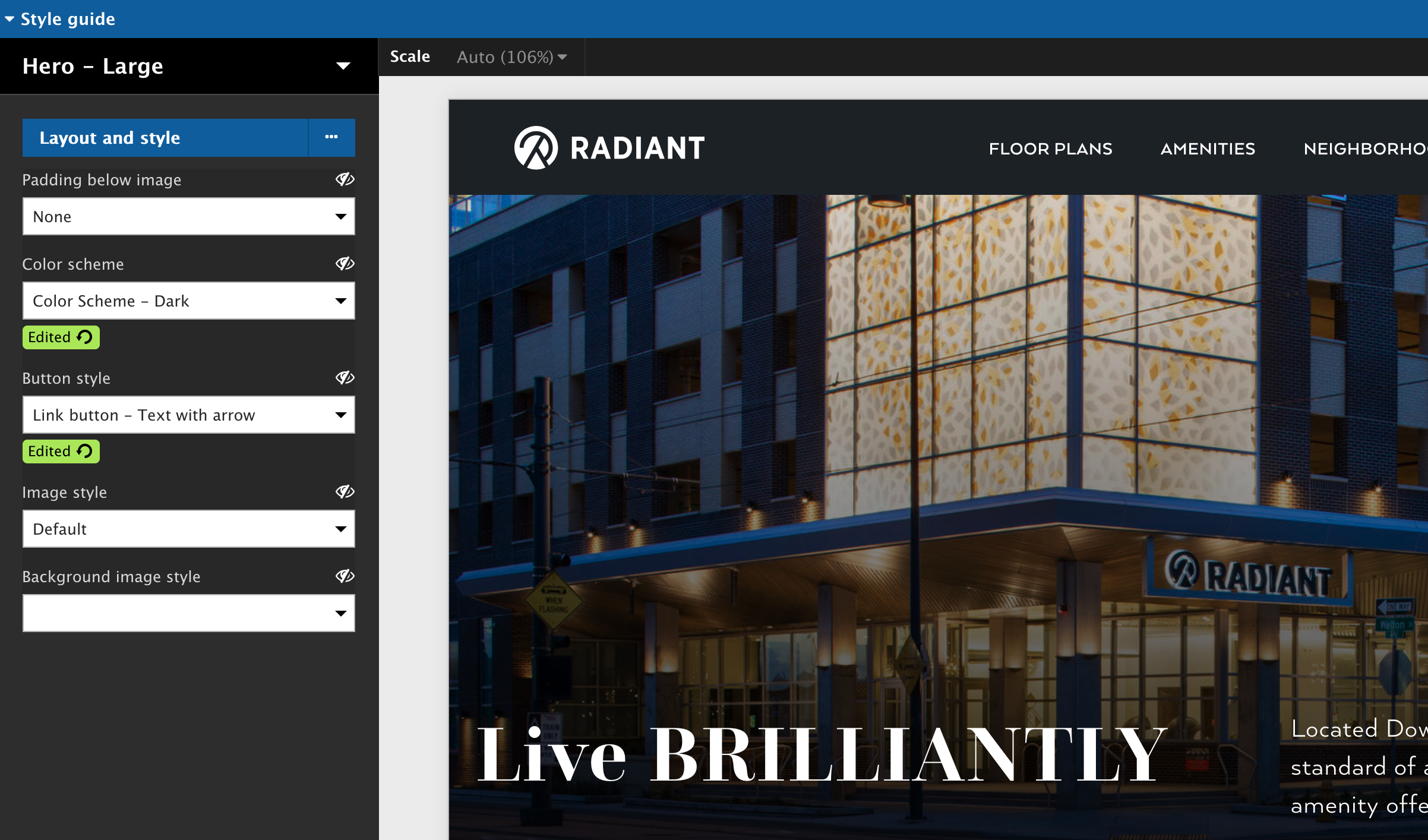 Alter site-wide presentation in a few clicks.
Make Your Own Components
Need a specialized component? Have an idea for a layout of content items? Want to clone and tweak an existing component? No problem. Acquia Site Studio allows you to create new components made for whatever your requirements call for.
Once you create a new component, it's available in the component library for other editors to use when building pages. Need to provide your marketing team with a 50/50 split column, call to action containing a video teaser, and descriptive text? Go for it!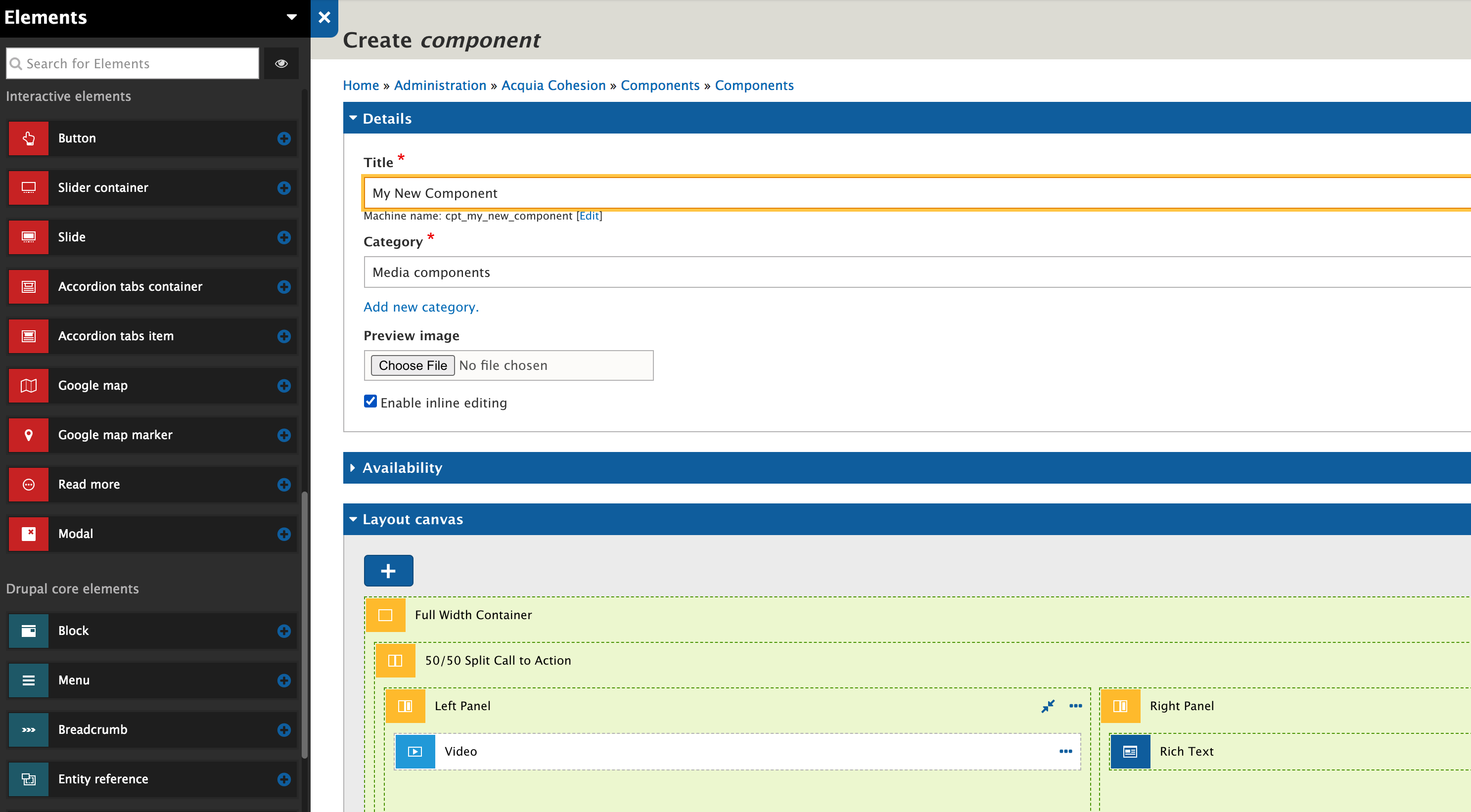 Create your own components in the Site Studio Component Builder.
Site Studio allows you the freedom and flexibility to respond to changing demands in content publication and presentation by letting you create new components on your own. Since it leverages the established styles and design, there is no need for developers to update CSS styles or add HTML markup to enable the presentation of your new components—they will just work.
Maximize SEO and Site Performance
Acquia Site Studio sits on top of Drupal, so Drupal's out-of-the-box page cache or additional cache integrations like Memcache, Redis, or a content delivery network (CDN) will work without any additional configuration. It's also possible to generate a static HTML version of your site for maximum site performance, a net positive your site visitors.
Velir has launched a few Site Studio sites this year and scored over 90% across the board using page speed test tools like GTMetrix, Yslow, WebPageTest, and Lighthouse. Such high scores and a performant website are critical to increasing conversion rate and retain visitors and customers. Site Studio makes this easy to obtain because in most cases it's a matter of enabling caching and setting a few values right from the Drupal administration screen.
Combining site speed with Drupal's deep metatag, URL aliasing, and analytics tracking capabilities will do wonders for your SEO, putting the tools in the hands of your content authors. Components in Site Studio can have attributes and events added to them right from the UI so you can track user interactions on the site, without requiring a developer to add and adjust Javascript for you. This gives the editor the power to make the changes they need for analytics and SEO management.
Create Things Once. Use Them Everywhere.
Launching your site is not the end of the story with Acquia Site Studio. Editors can export their components, templates, styles, views, and site configuration and import them to other sites using Site Studio. Exporting configuration and settings is easy, and you can import them to other sites just as fast. All the time and effort spent creating your components, templates, and styles is paid forward and immediately available on your new sites.
This is especially beneficial to marketing teams that have numerous sites they need to get up quickly and want to provide the same Site Studio content editing tools across the board. All updates can be made in this fashion, allowing teams to collaborate and share components and settings, site to site, or as part of a Drupal install profile, granting a turnkey setup that gets everyone on your team going on day one, unlike more traditional project builds.
That means that if you have multiple sites, subsites, microsites to build, they all benefit from reuse so you can spend time on what really matters to your organization and marketing team.
Start Today
If you're interested in significantly reducing your time to market and implementing Acquia Site Studio across your organization with Drupal, send us a message! We'll show you how you can make it happen. Velir is a certified Acquia Partner with experience building and deploying solutions across the spectrum of Acquia offerings for Drupal.