Adapting Your SEO Strategy for Disruptors Like Coronavirus

Advances in technology force organizations to adapt to how audiences engage with online content. That's why it's important to keep your digital marketing strategies ahead of the curve so you can handle whatever changes come your way. Shifts in audience behavior due to COVID-19 have shown the importance of having a flexible digital presence for your organization. With more and more people turning to the web because they can't accomplish tasks in person, the pandemic has profoundly increased the need for audiences to easily find content online.
This sudden change in behavior is forcing organizations to assess their current capabilities, including IT constraints, marketing targets, response teams, office procedures, and hundreds of other considerations. The winds of change are probably forcing your organization to improve its website too, so audiences can better engage with your content. This requires you to increase the content on your website to better assist people. While belts are being tightened across most industries, we recognize the importance of spending time and money on your website right now. We'll explore how you can effectively adapt to these recent changes in audience behavior. Then we'll discuss how Velir is helping our clients with SEO in this disruptive environment.
Adapting to Change
At Velir, we've seen some clients shift their engagement strategy to be 100% digital. Associations that depend on events don't have a place to host them. Foundations are supporting new campaigns in health and technology to help treat or manage the spread of the current pandemic. Healthcare has moved to support telehealth when possible instead of in-person visits. Education clients are moving curriculums online as they do their part to limit student exposure to coronavirus. We see data visualization becoming increasingly important to display data in the most impactful way. These visualizations showcase how interactive content can be very effective in delivering information.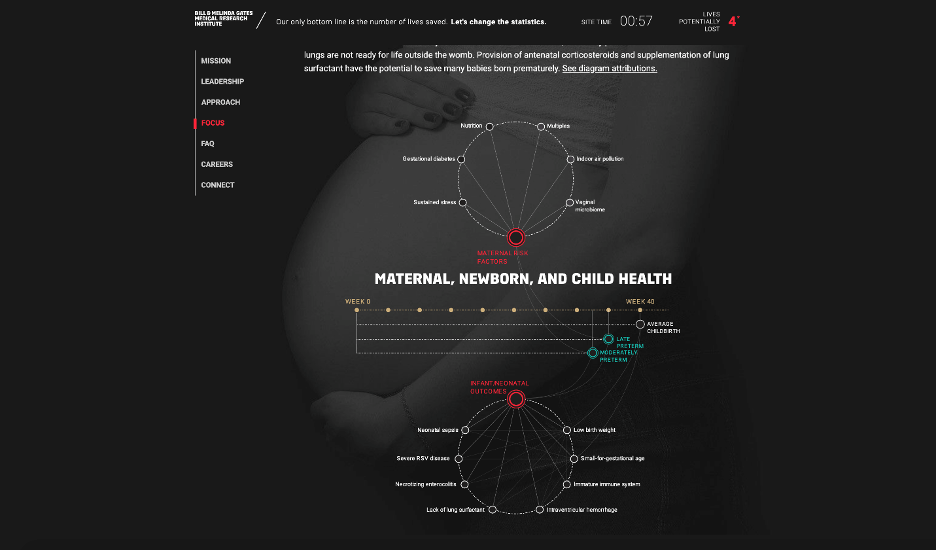 We believe it's important to show that your organization is willing to adapt to sudden environmental changes. This could be due to a virus, war, emerging technology, or a natural disaster. Communicating that you're aware of current events and adjusting to them, is crucial in maintaining a loyal and engaged following. This is a wake-up call for organizations that have remained complacent with their digital presence and failed to optimize their websites for mobile. Disruptions will hurt companies that don't invest in making sure their digital properties accurately reflect their company values. Companies that are constantly updating their website and improving site engagement will navigate change easier. Improving and optimizing your website is what will futureproof it regardless of the current pandemic.
Forging a Path Forward With SEO
Creating engaging digital content that keeps audiences coming back to your website is crucial to your organization's success. There aren't many websites that have a "one and done" audience since most are trying to build brand loyalty, repeat buyers, stronger members, or happy consumers. When creating content, one channel that's more important than most is organic search or SEO. The practice of optimizing your website for search is a safe bet, and there's a clear reason why it's the most popular channel with our clients.
Now that we see how important organic search is, let's look at some areas of SEO we advise our clients to consider:
Technical Analysis: Enabling crawlers to find and index your content
Content Strategy and Inventory: Understanding what assets are at your disposal, what reach you have, and what content you need
Organic Reporting: Looking into this segment of traffic to see what people engage with and what topics you are most visible for
Keyword Research: Identifying where you are successful, and where you intend to gain market share with certain cohorts of keywords
Off-Site: Investigating your website's connectivity to other domains, how your website is staying competitive, and what you are doing to get your content out there for the world to see
When you consider these factors, you'll develop a better understanding of their priority based on your current resources. Maybe you don't have a development team and technical analysis is tough, or perhaps you don't have any tools for reporting and that seems like a stretch. Lean into your strengths and find ways (or partners like Velir) to help you with the pieces you're not as skilled with.
Next, you should brainstorm some hypotheses and list out the potential implications or questions to ask. Here are some we suggest:
You want to improve mobile performance and exposure.
Technical: Do you have a CDN? Are you compressing images? Do you have a responsive site? Is Lazy Load enabled?
Content Strategy: Is the type of content on the website something that people on phones look at? Is this on-the-go research or is this typically done at a workstation?
Organic Reporting: What percentage of traffic currently comes from mobile? What are your engagement rates with people on mobile devices?
Keyword Research: Who are you trying to compete with and what type of content do they have? Are there mobile-centric keywords that people are using when you looking at keyword data?
Off-site Factors: Does your website allow people to quickly share your content on their networks? Better yet, is your content inspiring people to share?
Let's look at another example to reinforce this approach.
You have a new campaign or microsite, and you want to get the word out about it so you can incorporate it into your site seamlessly:
Technical: Are you including this campaign in your existing navigation to allow search engines to value it more? Are you including in footer as well?
Content Strategy: Are you in-linking to this campaign through content? If this campaign is standalone, what are you doing to send signals (links) to this campaign to show relevance?
Organic Reporting: Do you have a significant content copy length so it can compete on ranking well vs. what competitors are doing? What are your KPIs for success, and are you measuring them correctly?
Keyword Research: Do you have keywords targeted that you want to rank for when you eventually measure the success of the campaign?
Off-site Factors: What is your strategy to get this campaign indexed and credible to search engines? If it lives on your domain or is a subdomain, that will help, but often new entities need a bit of a push and external help through syndication, social sharing, or linking.
Preparing for Future Disruptions
Now you're developing an SEO strategy, but how do you know it's going to stand up against future disruptions? Using mobile optimization as an example, it's safe(ish) to say that convenience is king, and mobile devices are here to stay as a preferred method to search for and share content across the world. Optimizing your website for mobile aligns with potential hiccups in the future and allows you to connect with more audiences. Your site is an ecosystem, so improving it is going to help it become stronger and drive more performance.
Shifting your organic strategy to account for a new direction can be a scary thing. What's scarier though, is being left in the dust due to disruptions you weren't prepared for. At Velir, we can help you feel confident about implementing new strategies that might lead you in different directions. It will take some time to report on these changes, but we have seen that making your organization's website more flexible to change will make it more successful in the long run.
Learn more about our SEO capabilities or reach out to discuss an SEO question or challenge your organization is facing.