How SEO Keyword Research Improves Your Healthcare Content

In healthcare, high-quality content is key to building trust with your audiences. If patients and providers can't rely on your content, they'll feel like they can't rely on you. Your website's content is the lifeblood of the relationships you form with your audiences. So, you need to build a solid foundation for those relationships with accurate, useful content that serves visitors' needs. Giving your audiences valuable content not only improves your website's performance metrics, but it also impacts your organization's bottom line as audiences are more likely to complete important business tasks on your website that generate leads and revenue.
These sentiments become more relevant when you look at your website's organic search performance. Search engine algorithms know exactly how important it is to connect audiences with the right content, quickly and easily. This raises an important question any healthcare marketer should be asking: how can you improve your content to make it more relevant for audiences and search engines? This is where SEO comes in. There are countless technical and nontechnical ways to improve your website's organic search performance but one underrated tactic we'll explore is keyword research.
The Role of Keyword Research in Content Strategy
Keyword research is the process of identifying the specific words and phrases that users type into search engines to find information. By understanding these keywords, you can write with them in your content to better serve user needs. This connects the right users with the right content and can help you rank higher in organic search.
Without connecting keyword research to your content strategy, it can be very difficult to get a benchmark for successful content. You post content hoping it ranks organically and gets to your audience, but you don't have a way to measure success. It's like playing darts while wearing a blindfold. There's no way to tell if you're hitting a bullseye or if you're missing the mark. Lacking the ability to quantify your content's performance can have a financial impact on your organization. You could spend a significant amount of your marketing budget on content creation without being able to confirm if it's influencing your website's performance or search engine ranking. The result would be wasted time and money.
The Problems with Conventional Keyword Research
Over the last few decades, keyword research has evolved and changed with search engines. Historically, when researching keywords, you would find as many as possible, and only focus on the ones with the highest volume of searches. Then, you would write content with the keywords to try and rank for the most results you could. While this approach sounds great, marketers realized that it leads to an influx of low-quality, unqualified traffic to your site. Here's an example: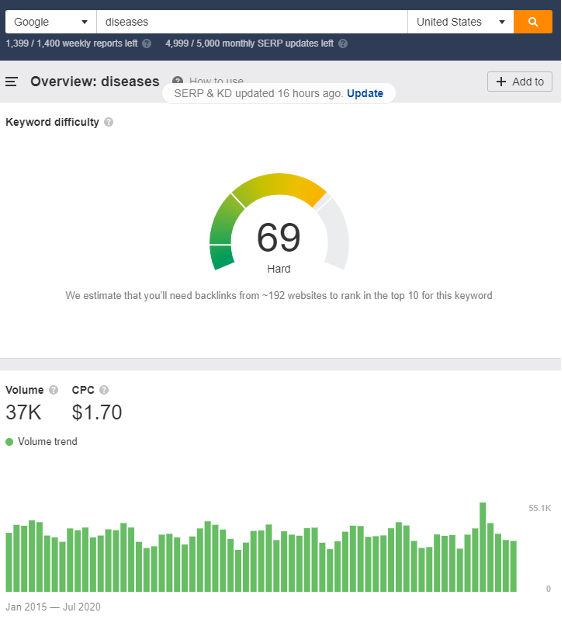 This search for "diseases" would seem perfect as it's related to the healthcare world and reports a large amount of searches each month.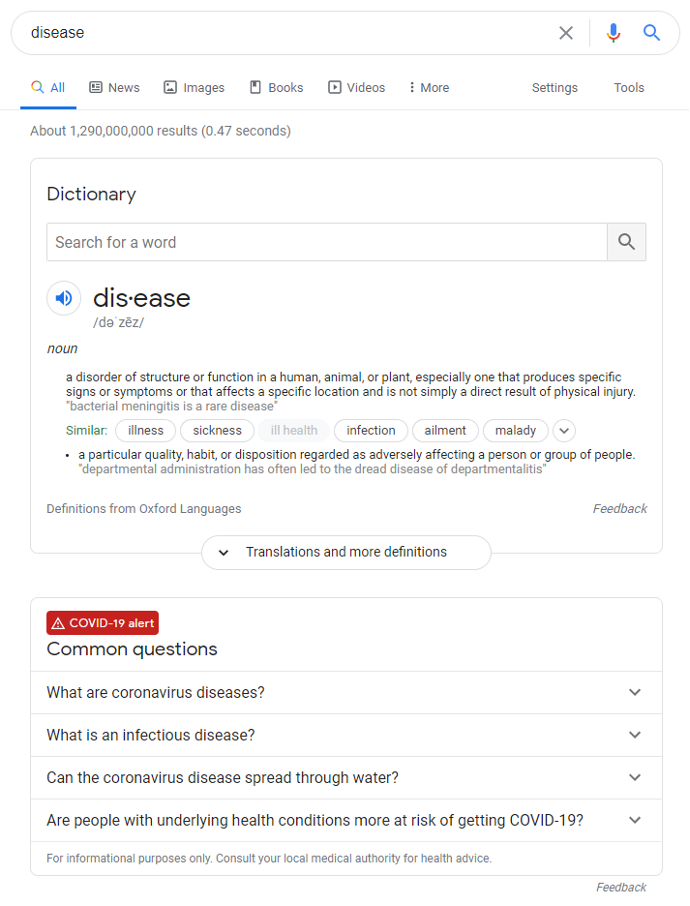 However, after digging deeper, the type of content that is being displayed by searching "disease" is just a definition and lists of diseases. This content doesn't really lend itself to really creating a strong connection with healthcare audiences.
Marketers that tackle keyword research this way end up with unfocused sites that don't cater to their target audiences. This approach may lead to better rankings, but it doesn't help you build relationships with your audiences. Suddenly, your site becomes less of an asset for growth and engagement and instead, a surface-level content provider. Creating content and getting a lot of users from organic is great, but there shouldn't be a disconnect between your organization's larger strategic goals and the goals of your site. There are ways to approach keyword research that allow you to position your content for your target audiences.
The Benefits of Strategic Keyword Research
We'll show you what strategic keyword research looks like by focusing on examples from the healthcare industry. However, the principles we'll explore are applicable to other industries and are the foundation of good SEO.
When you approach keyword research, it's important to understand the target audiences you want to reach and what each audience wants from your content. For healthcare organizations, those target audiences may be existing or prospective patients and providers.
From Velir's experience offering SEO services, we've formed three tips to ensure good keyword research regardless of your approach. This advice will improve your content and help you evolve your site to better meet your audiences' needs.
Three Tips for Strategic Keyword Research:
Establish Benchmarks For Where You Are and Where You're Going
Almost all successful healthcare organizations have a clear image of who they are and what they are good at. This allows them to leverage their strengths and improve their weakness to become better. However, many organizations don't know what their website ranks for or what content is the most successful. On a high level, they know where their site is positioned by search engines but they don't have the data to back up their assumptions.
Figuring out what you rank for and what content is most successful is the first aspect of good keyword research. It helps you understand where you are and where you're going. For example, maybe you have put a lot of time and money into medical resources for medical professionals, but you uncover that case studies are performing significantly better with search engines. Based on that knowledge, you could adjust your strategy to reframe your medical resources into case studies. Making this change shows how effective this methodology can be because it uses data to help you create content that garners you more targeted organic traffic to your website.
Emphasize Quality Over Quantity
Strategic keyword research emphasizes quality over quantity. High volume terms are overrated by digital marketers. While a massive influx of traffic to your site sounds great, many times, the terms with large volumes are vague and general. You want to be focused and targeted with your approach to ensure you're attracting users who will actually interact with your site. To illustrate this better, we'll share a few keyword examples from healthcare organizations we've helped with keyword research:
"Malpractice Definition" vs "Medical Malpractice Case Studies"
"Malpractice definition" receives almost 5,000 searches per month. "Medical malpractice case studies" is estimated to receive 80 per month. From a conventional approach, "malpractice definition" is the better query however, it's very general and the likelihood that this user will interact with your site after having their question answered is very low. While the search volume for "medical malpractice case studies" is much lower, users searching with this query are much more likely to view your site as an asset for further information and return.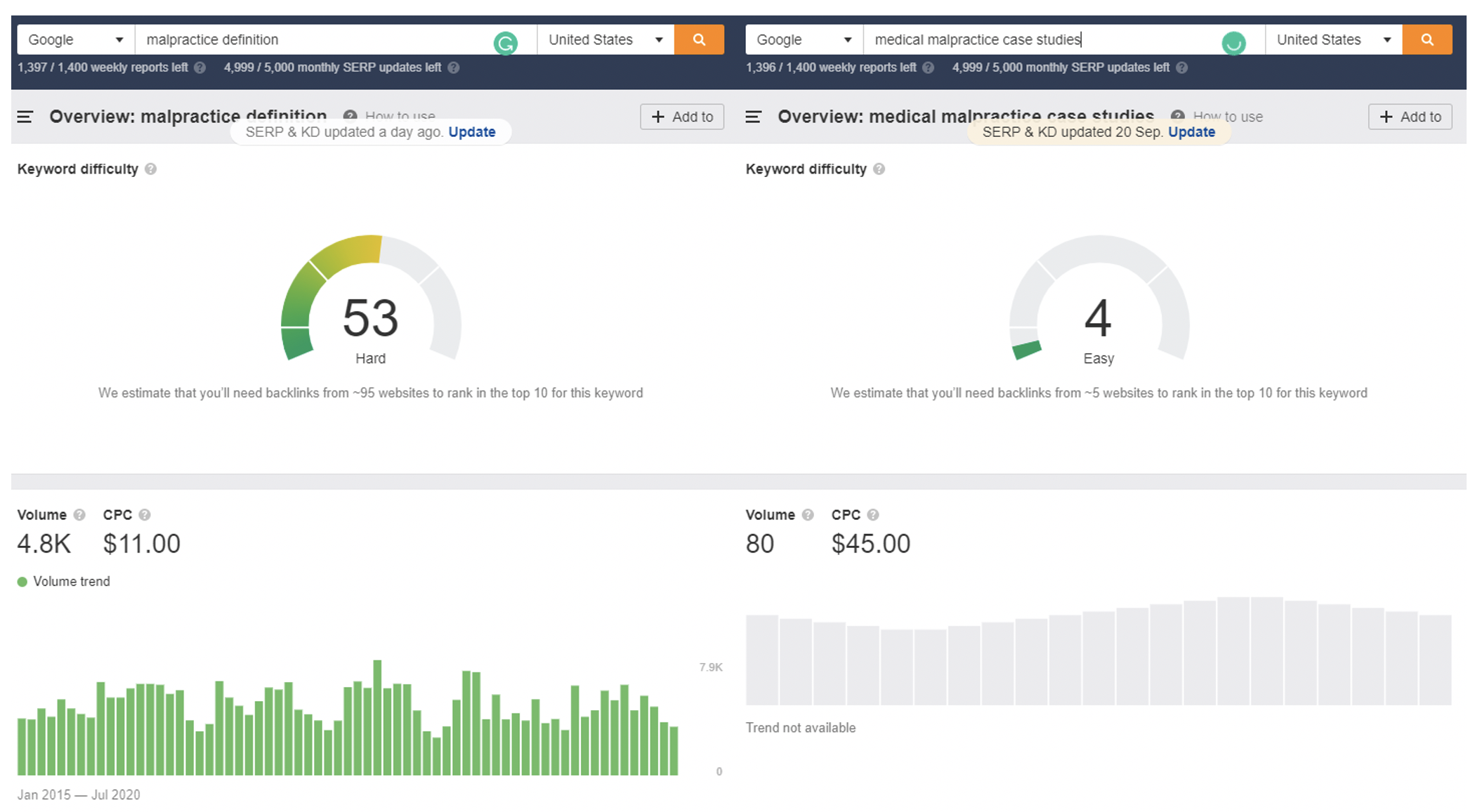 "Effective Communication" vs "Closed Loop Communication"
"Effective communication" has an estimated 12,000 searches per month while "closed loop communication" has around 2,000 per month. The difference here is that "closed loop communication" is a medical-specific style of communication to decrease errors in the medical field. While both these keywords seem similar, "closed loop communication" will likely attract more qualified, higher-quality visitors because it's more relevant to a healthcare audience.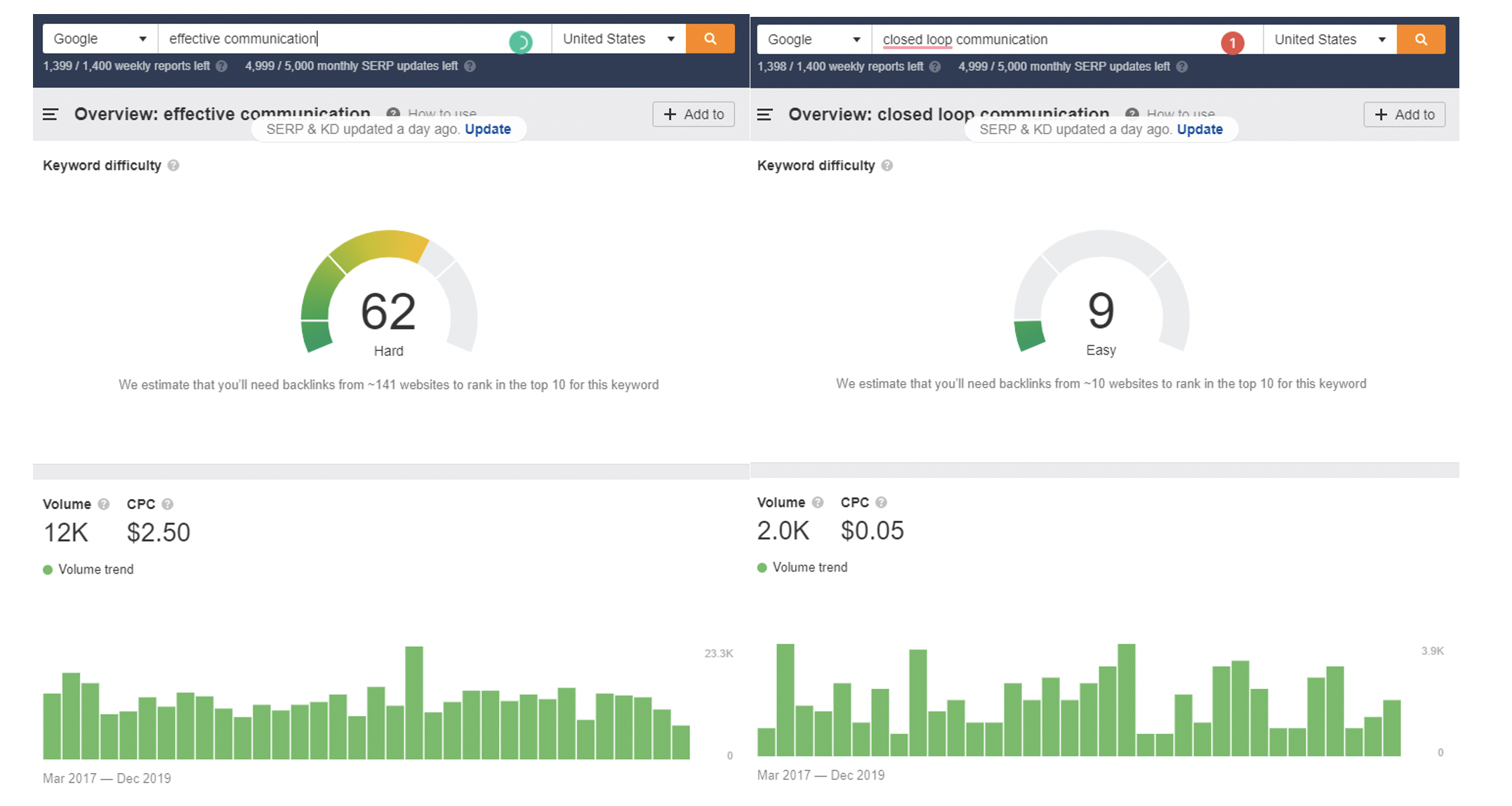 There are hundreds of examples to walk through like if you want to target medical professionals using medical terminology is it more effective to use "heart attack" vs "cardiac arrest", "anaphylactic shock" vs "deadly allergic reaction", or "epinephrine injection" vs "EpiPen"?The point is that you can use your understanding of your target audiences to target terms that will help you gain quality traffic.
Align Your Strategy with Your Organization's Goals
Strategically aligning keyword research efforts to your organizational goals is important to finding effective SEO opportunities. Understanding your goals will help you narrow your SEO focus to specific terms or sections of your site that need the most improvement.
For example, many healthcare organizations have continued medical education (CME) programs. Let's say you're an organization with great general information and tools pushing to build a more robust CME program. You have created certification programs and courses, and established conferences to promote. Equipped with this knowledge, you can then search for keywords that will assist your efforts. Finding keywords like "[location] medical education conference" can help you attract users who may be interested in your new CME options. Without strategic alignment to your organization's goals this opportunity might not have been uncovered. When done correctly, keyword research should be aligned to your strategic goals throughout your process. This avoids the pitfall of keeping SEO in a silo by integrating it into the rest of your digital marketing efforts. The result is a content strategy that helps you accomplish your goals with specific ways to measure its success.
Keyword research truly is the backbone of SEO and content strategies, especially for healthcare organizations due to their highly targeted audiences. When done right, keyword research can help you strategically promote your organization, increase quality visitors, and use your website to help accomplish your organization's business goals. This strategically aligned approach to keyword research and SEO is something that every organization should use to leverage their website effectively as a digital marketing tool.
At Velir, we perform SEO keyword research and recommendations for clients across industries, including healthcare organizations. Learn more about our SEO services or read some of our thoughts on SEO.