Four Pieces of UX Advice for Successful Association Websites

As designers and technologists, we must envision and bring to life the best experiences possible for the people who depend on the digital products that we design.
At Velir, we're constantly refining how we approach websites for associations, and we wanted to share four key pieces of user experience advice that support a robust, positive experience for visitors.
Whether they're prospective members, company representatives, or individual members, the visitors to your association's site are people. They have a range of experiences and goals to achieve. We need to practice human-centered design and put ourselves into their shoes, anticipating their needs, their questions, and their reactions to the content and interaction design of your site.
1. Make Meaningful Connections with Your Audiences
What makes a visitor stick around? From their perspective, why should a user stay? And why should they become a member if they haven't done so already.
Showing value is key here, a clear value proposition shows all facets of the usefulness and perks that membership provides. Compelling storytelling about current issues, recent events, and history/mission complement your value proposition, especially for first-time users.
Keep people on your site by preventing frustration; don't let return users get discouraged by poor design. For instance, if a user is checking on their account status and they need to pay dues, make sure the process is so simple that they don't get frustrated and abandon your payment form.
Meet members where they are. We built a member dashboard for NAHB and made sure we streamlined their experience to feature dynamic action-oriented CTAs based on their membership expiration dates.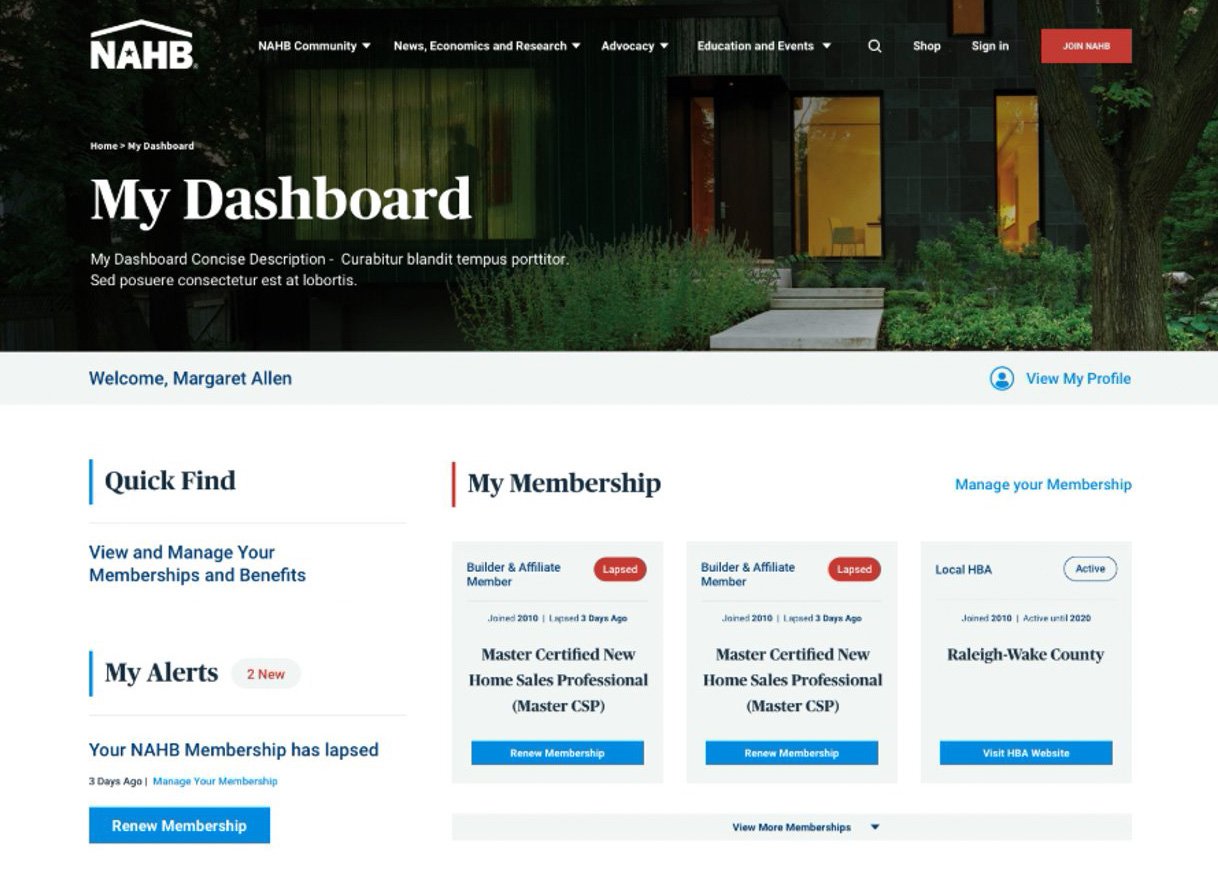 Keep in Mind:
Copy: Write compelling words that inspire and drive action.
Art Direction: Reflect the feeling of your brand in your photography, videos, and layout. Show actual events and industry-specific objects and locations. Demonstrate the diversity of your community in the visuals you choose.
Calls to Action: Prioritize specific key links to stand out visually and semantically as primary CTAs. Focus on specific actions, using robust verbs, and specific wording that lets users know why they should click. Other CTAs may operate as deprioritized additional pathways.
2. Provide Continuity
Create an experience that feels seamless to the user. To avoid context-switching, make sure that all sections of your site and its integrations look and feel like your brand. When done properly, users won't become distracted by inconsistencies.
Consistency in this case also applies to third-party domains which are part of the user flow. For instance, let's say your organization is using a recruitment software package which forces the user to leave your site.
Customize all generic, out-of-the-box copy to match the voice and tone of your brand, and match fonts and colors as well as you can. Test the process with real users to make sure they aren't confused when they arrive on the third-party site.
Think about search as well. Associations struggle with offering diverse forms of content (reports, case studies, events etc.) and many still have these hosted across different web properties. Pull these resources into search, as we did for NAHB, and make sure to properly identify each, so people can quickly find what they're looking for.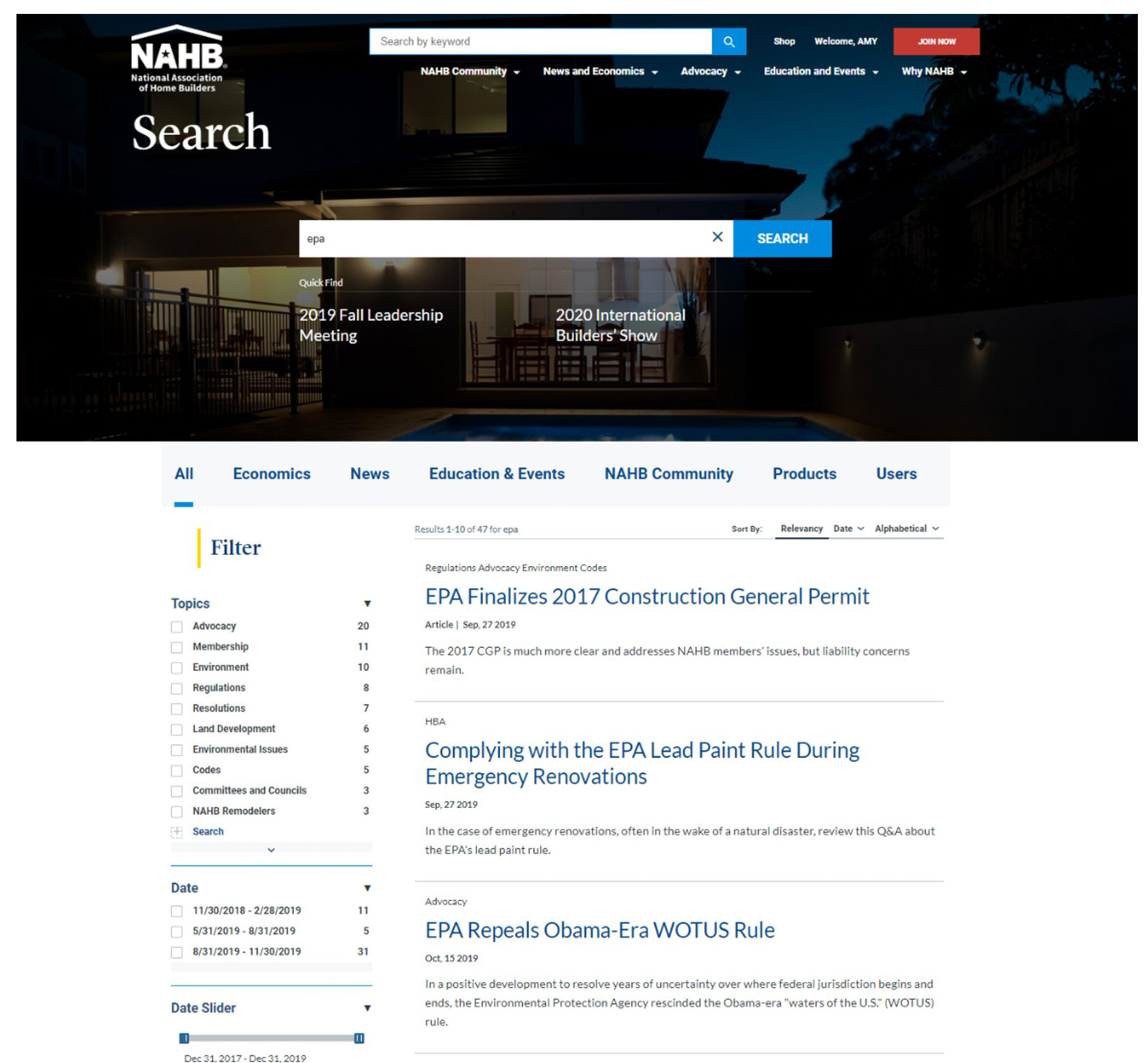 Opportunities for Continuity:
AMS: Make sure any user-facing aspects of the AMS have the same look and feel as your overall brand.
Customer Data Platform (CDP): Plan the architecture of your site so that a CDP is the center of your marketing stack. Doing so will allow for greater personalization and data sharing. See our recent post by Adam Ribaudo for more info.
Careers: Your hiring portal should feel like an extension of the site, and your main site should be able to pull job descriptions from the recruiting software, with easy links to start the application process.
SSO: Keep your users signed in! If it's necessary to use multiple, independent platforms, using single sign on can give your user experience a huge boost.
Ecommerce: As we'll see in section four below, a smooth Ecommerce flow can be a huge boost to the user experiences. Consider taking donations, online payments, or offering event tickets or books for sale.
3. Foster Community
Allowing users to easily connect with others and with your organization may seem straightforward, but there are a couple of complicating factors.
Take the emotional states of the members: How valued do your members feel? How much access do they feel they have to the organization and other members? How do new, non-member users react to the site overall? Are they intimidated by the experience, or perhaps bored, or frustrated?
In addition, seasonal aspects may play a large role in your overall sense of community. If your organization has an annual event that brings people together at the same time each year, what happens in the off-season? How are you keeping them connected? Find ways to use synchronous and asynchronous communication with all site visitors.
One way we've called out community-based aspects of a site is with clear copy, CTAs, and reasons to believe, as we did with IFT. We also integrated Higher Logic to make all community content as dynamic as possible.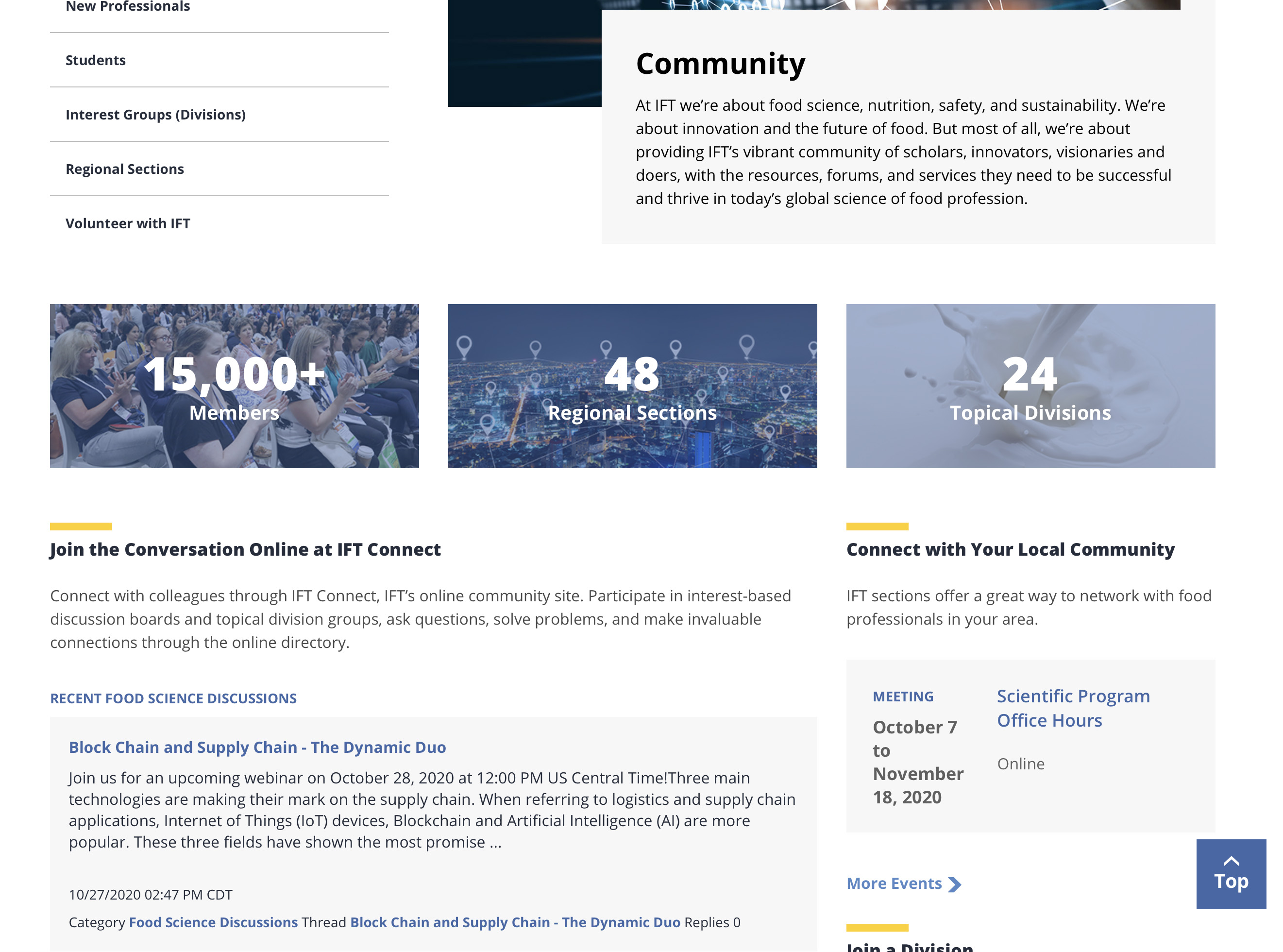 Keep in Mind:
Exclusive Events: Members-only events can show value while fostering community.
Discussions: Where appropriate, allow members to connect with other members for advice, perspective, and knowledge sharing.
File Sharing: Along with discussions, it may be valuable to allow members to post PDFs and other filetypes.
Member Discounts: Make members feel like a valued part of the community by giving discounts on items, from events to educational materials to merchandise.
4. Integrate Continuing Education
Give your members a way to keep learning. Beyond events, consider publications such as books, reports, and articles – and consider courses as well.
Where appropriate, allow members to earn continuing education credits in their field, and make it as easy as possible to do so. Official credentialing products also work well here. A certificate or badge can make members feel a greater sense of accomplishment, especially when the product becomes recognized within the industry.
Position your association as a thought leader in your space by providing your own materials, or at least quality, curated materials made by others. Good curation itself can help position your organization as a high-quality leader in the space.
Consider a knowledge hub. For ULI, we built a tool which is completely focused on providing materials of different formats (videos, webinars, reports, events, case studies) to their members. We integrated with their member data from NetForum to provide Interest-based content recommendations throughout Knowledge Finder and gated content access based on membership type.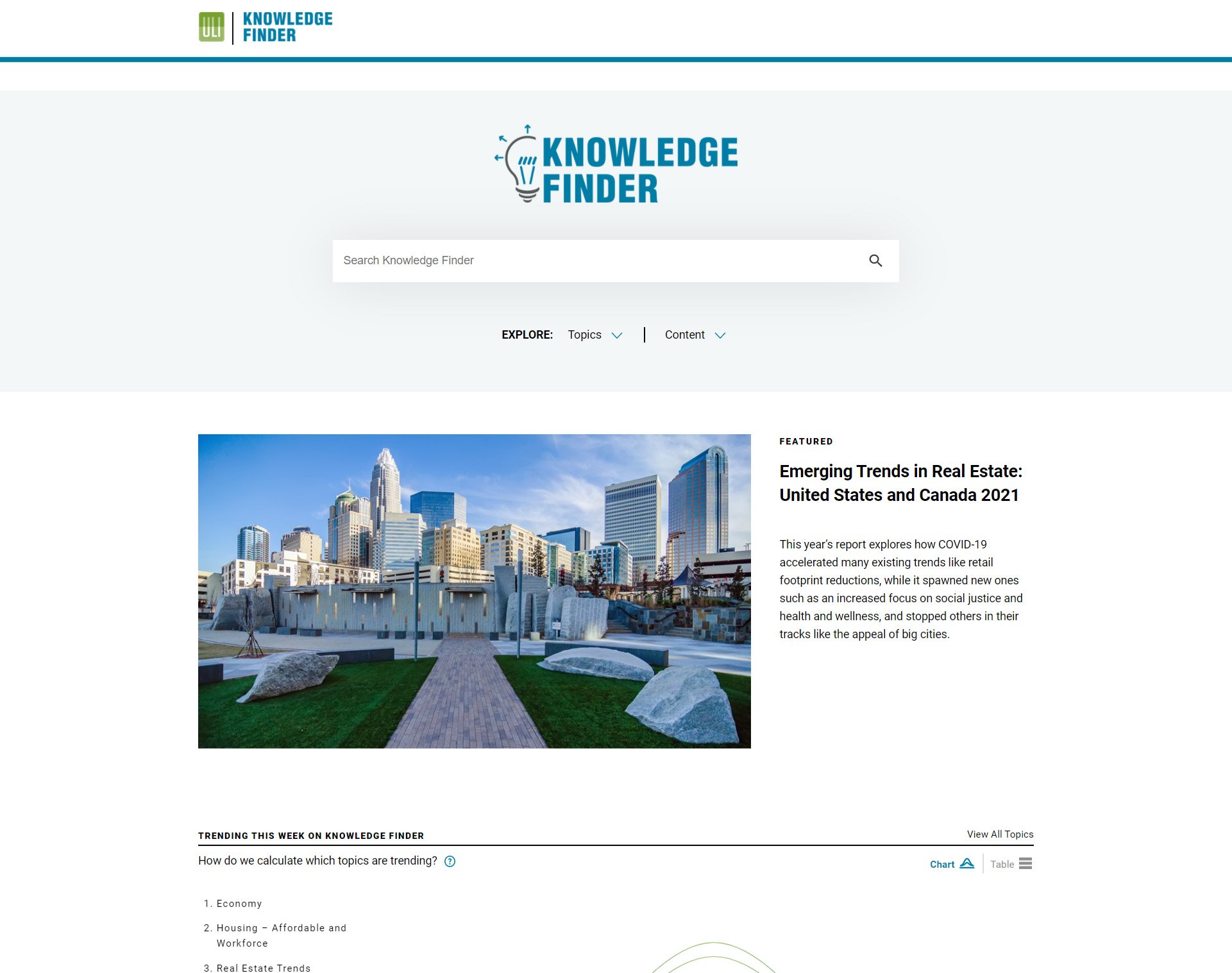 Keep in Mind:
LMS: Your learning management system should be well integrated into your site, to make each learning path easy to find.
Ecommerce: Build a clean, fluid checkout flow for products, connected to your LMS, or use an LMS which already incorporates Ecommerce. Avoid users feeling like one system doesn't know who they are, while the other does.
Webinars: Choose compelling speakers, keep webinars short, and allow for easy access of recordings after the fact.
At the end of the day, don't forget that your association's members are individuals with a variety of experiences and goals. Think about what they want as you determine the best ways to connect with them, provide continuity, foster community, and integrate continuing education into your website.
If you're not sure about an experience you're building, don't hesitate to ask and test with actual site visitors. They'll be happy to provide feedback, because their input will lead to a great user experience that meets their needs and answers their questions. This will in turn increase membership signups and renewals, which will help your organization succeed in the long run.
Read more of our thoughts about associations and see how we help association clients.