What Might Happen to Customer Data in 2021

This year has brought about a lot of major changes for the marketing industry, that will shape how 2021 unfolds. But when it comes to customer data, things have remained steady. Based on trends from the last few years, we were able to consider what 2021 may hold for customer data through five initial customer data predictions about regulated data, first-party data, raw data, server-side technologies, and marketing technology expansion. Because our thoughts didn't end there, we have five more predictions about customer data activation and integration in 2021 and beyond.
>> Read our first five data trend predictions for 2021
1. Data Hubs Will Replace Point-to-Point Integrations
How do you know if you've built a data hub or implemented point-to-point integrations? Pull up the latest presentation from IT. Does it contain a squiggly diagram of your data sources like the one below?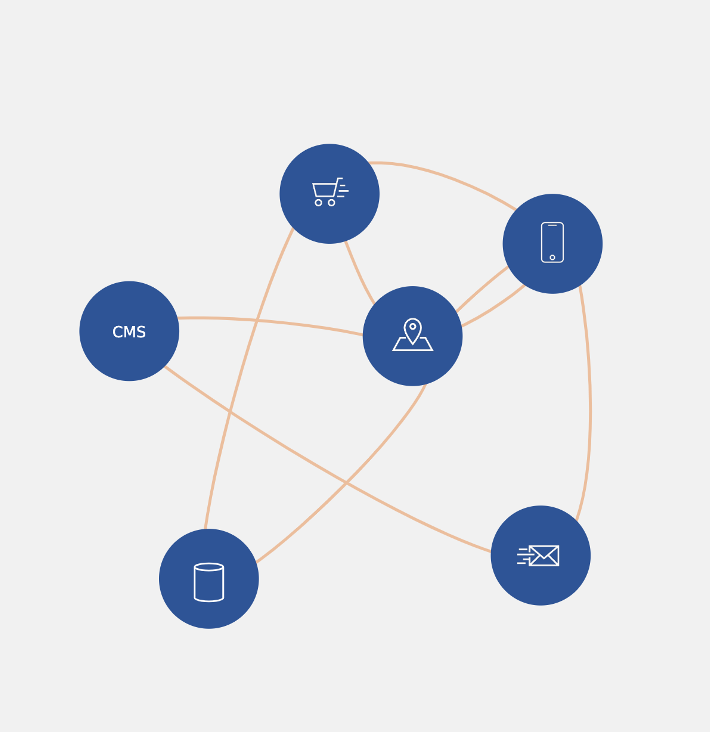 These notorious "spaghetti diagrams" reveal the long-term effects of incorporating multiple point-to-point integrations between data stores. While directly integrating two systems provides the short-term benefit of quickly exchanging data between systems, the problem is when the third, fourth, and fifth systems appear. If all the systems communicate with each other, you have exponential growth in the number of connections to maintain.
A longer-term approach that alleviates this problem is the "data hub" architecture shown below.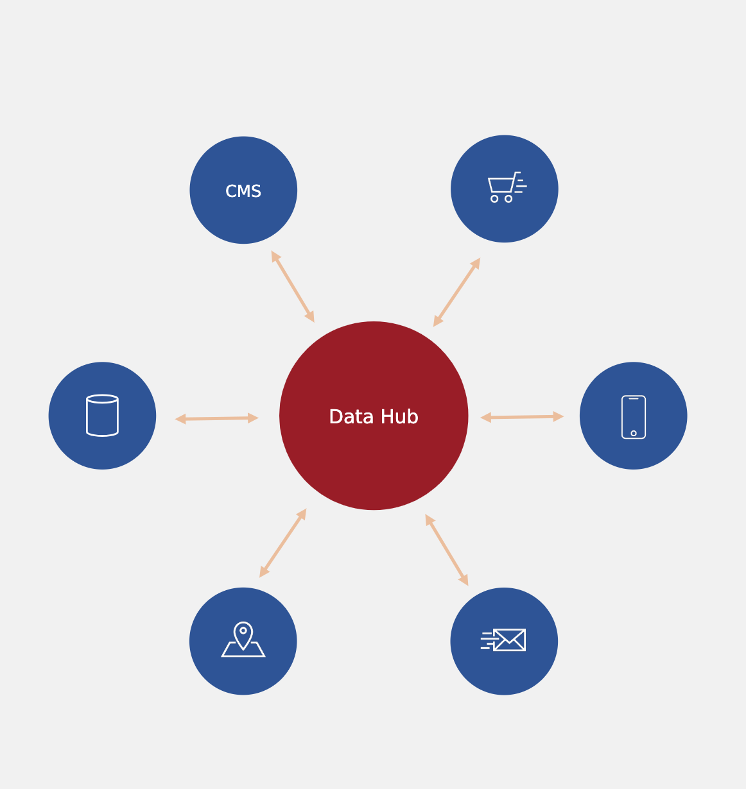 2. Activating Data Will Be More Important Than Collecting It
The sum of data generated by 2025 is set to accelerate exponentially to 175 zettabytes. More data is created per hour now than in an entire year just two decades ago."

— Seagate rethink data report
By now, the novelty of having access to troves of user data has likely worn off. As reported in Seagate's "Rethink Data" report, only 32% of data available to enterprises is ever put to work. Marketers want to see results from the data they collect. In other words, they want to 'activate' their data.
In our experience, activating data is much simpler when that data is connected across disparate data silos (See prediction four). However, activating data can only partially happen through technology. The most important ingredient to activate data is human ingenuity. Careful planning, strategy, coordination, and creativity will be required in 2021 if marketers hope to use data to improve customer experiences.
3. DataOps Will Eliminate Data Oops!
In a year filled with data breaches, groundbreaking browser privacy changes, and new data regulation enforcement, businesses are coming to understand the need to formalize their customer data practices. One methodology that has emerged recently is the concept of DataOps which emphasizes quality, collaboration, and standardized practices. Seagate found that organizations with DataOps reported better business outcomes such as customer loyalty and revenue. Chief Martech makes a similar prediction in their Martech 2030 report noting that "Marketers will need to become more data and ops literate as an integral part of designing and managing marketing campaigns and programs."
Whether marketers subscribe to the DataOps manifesto or not, it's clear that becoming more data literate and planning for increased scrutiny of data practices should be on their roadmap.
4. Customer Data Platforms Will Remove Data Silos
If your plan is to select best-in-class marketing technologies as noted in prediction five from our previous predictions, then you're going to want a tool that orchestrates the connection between each of those tools. Enter the Customer Data Platform, defined as follows:
A Customer Data Platform is packaged software that creates a persistent, unified customer database that is accessible to other systems."

— CDP INSTITUTE
2020 was the year that the CDP began to exit the Gartner hype curve's "inflated expectations" zone and make its way towards the "plateau of enlightenment." This is due to the continued maturity of CDP platform providers such as Segment, increased attention paid by marketers towards data governance, increasing frustration with data silos, and an uninterrupted shift towards cloud-based solutions for data challenges. Look no further than Salesforce's recent entrance into the space with Customer360 and Segment's reported purchase price of $3.2 billion to see that this product category is worthy of attention. We have posted about CDPs in a previous blog post, noting that associations stand to benefit from CDPs given their ability to convert improved customer experience directly into revenue through subscriptions and Ecommerce.
5. Marketing and IT Will Cooperate Better
When it comes to interfacing with a business's customers, responsibility has swung between marketing and IT. In the early 2000s, it was clearly IT in the driver's seat, given the technical know-how necessary to launch and maintain a digital presence. From that point, the pendulum swung to marketing as no-code solutions, and marketer-friendly, cloud-first platforms such as HubSpot came about. In 2021, we believe the pendulum will swing back towards IT and begin to stabilize somewhere in the middle through a healthy amount of cooperation.
Rolling back reporting functions to IT can provide global tools, capabilities, and solutions that every group can leverage. The various groups within the enterprise should get out of siloed management of their own data, and allow the IT-instituted tools to do that globally"

— Seagate Rethink Data Report
The reason for this shift back towards IT becomes apparent if you re-read the predictions made in this post through the following lens: Which departments will be necessary to bring these trends to light? If you're a marketer who is hoping to break down data silos, improve website performance, activate data, improve governance, utilize server-side technologies, work with raw data, and implement a CDP, you're going to need to make friends in IT fast!
--
No one can tell the future, but it's encouraging to see that our predictions are self-reinforcing. If marketers want to implement a data hub, they will likely evaluate Customer Data Platforms. If they want to activate their data, they'll likely want to work with raw data. And if they want to coordinate with IT, they'll likely want some agreed-upon standards such as DataOps. These predictions are threads woven into a tapestry of tomorrow's data landscape. If these predictions seem relevant to you and your organization, be sure to reach out to Velir and inquire about our Data Integration and Activation services.
You can also watch this video from our Public Interface series, where we talk about Data Integration and Activation.