How to Successfully Transition to the New Google Analytics 4

About a year ago, Google announced Google Analytics 4, a brand-new version of Google Analytics. This overhaul of Google Analytics leverages machine learning to surface valuable insights for digital marketers. It also gives them a better understanding of their audiences across devices. And it's designed to adjust to industry privacy changes like restrictions on cookies that would otherwise create gaps in Google Analytics data.
If you're interested in switching to Google Analytics 4, we're offering a breakdown of its features and advice on when you should switch (hint: it should be now).
What is Google Analytics 4 (GA4)?
Google Analytics 4 (GA4) is a completely new version of Google Analytics. It uses an event-driven data model instead of the session-based model used by Universal Analytics. So instead of collecting different data types (Pageview hits, Event hits, Ecommerce hits, etc.) and tying them all together through the session, the event-driven model collects all data in the same Event data type. Collecting the same data type allows more flexibility and ease with connecting data points together.
What Are the Key Differences between Universal Analytics and GA4?
There are some major differences between Universal Analytics and GA4. Here are some important ones:
Universal Analytics heavily relies on sampling due to data limits. GA4 currently has little to no sampling, which means your data will be more accurate.
GA4 is much more reliable in preventing spam data from disrupting your analytics.
Universal Analytics relies on cookies to identify a user while GA4 first looks to see if the user is already assigned an ID and if not, it utilizes a cookie.
Cross domain tracking can be difficult to configure through Universal Analytics, but GA4 handles most of the configuration itself.
GA4 relies more on custom report creation than Universal Analytics which provides more default out-of-the-box reports.
GA4 automatically captures data points that need configuration through Google Tag Manager for Universal Analytics, including scroll depth, outbound link clicks, site search, video engagement and file downloads.
GA4 provides much better data on user pathing behavior than Universal Analytics.
GA4 has a free integration with Google's enterprise data warehouse tool BigQuery.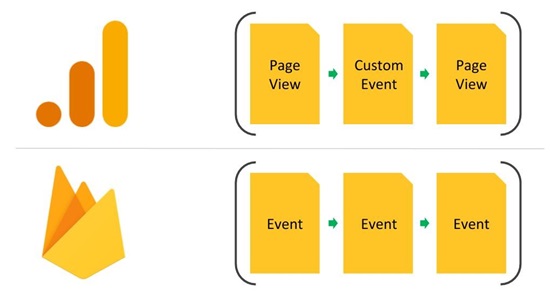 When Should You Transition to GA4 If You Already Have Universal Analytics?
If your organization relies on year-over-year reporting, the time to transition to GA4 is right now. Universal Analytics will be deprecated in July 2023, which means if you need a full year of reporting with GA4, you'll need to transition before July 2022. You can learn more about the differences between the two versions of Google Analytics and the steps involved in migrating to GA4 in our post With Google Analytics 3 Going Away, What Can I Do?
What Should You Do If You Don't Have Google Analytics at All?
If you don't currently use Google Analytics at all but want to add it to your website, we recommend creating a new account with GA4. Then you can use it as the source of truth for your web analytics data.
Have more questions about Google Analytics or need help implementing GA4 on your site? Reach out to us. You can also learn more about our Analytics Integration and Dashboards services or read more of our thoughts on analytics.