The Future of Google Search AI Integration and Its Impact

On May 10th, Google unveiled plans to revolutionize its search engine by incorporating artificial intelligence (AI)-generated answers. This is something that the search engine optimization (SEO) community knew was coming ever since Bing announced it was incorporating ChatGPT into its search results. But these changes could have a massive impact on the way the SEO community approaches search engines and search engine optimization.
When big news like this drops, many SEO professionals say "SEO is dead" because they fear the changes to the Google Search algorithm and its impact on their websites. But based on our research, we see a more nuanced picture of what will come from this generative AI update to Google's search engine.
In this article, we'll delve into the details of this upcoming change to Google Search by analyzing the official releases and exploring the change's impact on site owners who heavily rely on organic search traffic for their business. Additionally, we'll highlight the opportunities for the SEO professional and explain why great content remains crucial in the evolving landscape of Google search.
Understanding the AI Integration: Search Generative Experience (SGE)
To describe the implications of Google's upcoming change to its search engine, we'll explain exactly what Google is integrating into its generative AI search results. Google's AI integration, known as Search Generative Experience (SGE), is a feature that will pop up underneath your search bar to provide more nuanced answers to your search query. This change is a major one in the search engine experience.
If I had to relate it to a similar feature in Google Search, I'd describe it as a more powerful version of Featured Snippets. The key difference however is that Featured Snippets pull information directly from websites while Search Generative Experience uses generative AI to provide an answer directly to users in organic search results. The key features of SGE are AI-powered snapshots, vertical experiences, and conversational mode. These enhancements aim to provide users with quick and accurate answers to their queries, causing worries that this will eliminate the need to access external websites for those answers.
While I think this will eliminate the need to access some external websites, I'll also point out that the exact argument was made when Featured Snippets were released. In most cases, we found that those who won Featured Snippets and were featured had a significant increase in traffic and click-through rates because those featured responses enticed users to dig deeper into the answers provided.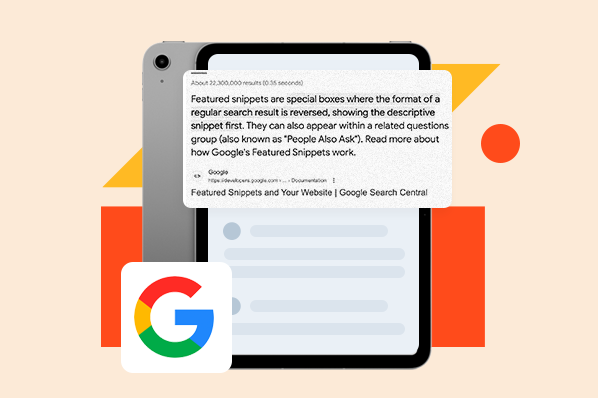 Generative AI-Powered Snapshots: A Game-Changer for Users
The generative AI-powered snapshots are prominently displayed at the top of search results, offering users concise information on various topics. For example, a search comparing Bryce Canyon and Arches national parks for families with young children and dogs yields a snapshot that highlights the pet-friendly nature of Bryce Canyon in search results. Users can obtain answers directly from the generative AI, reducing their reliance on external websites. Now they only need to explore those external sites for follow-up questions.
Vertical Experiences: Impact on Affiliate Marketers
Affiliate marketers, particularly those who write product reviews, face challenges with the introduction of vertical experiences in Google Search. These generative AI experiences present users with detailed information, images, reviews, descriptions, and current pricing of products related to their search queries. This technology will likely have a significant impact on user behavior because users can now obtain comprehensive answers from searches without needing to visit product sites. This could lead to reduced traffic and revenue loss for affiliate marketers.
Conversational Mode: A More Refined Search Experience
Conversational mode allows users to refine their search queries by asking Google's artificial intelligence follow-up questions. By remembering the context of previous queries, Google Search understands users' intent and assists in narrowing down results with its generative AI. This feature facilitates a more conversational and user-friendly Google Search experience, enabling users to accomplish specific tasks and find specific relevant information efficiently with the help of AI.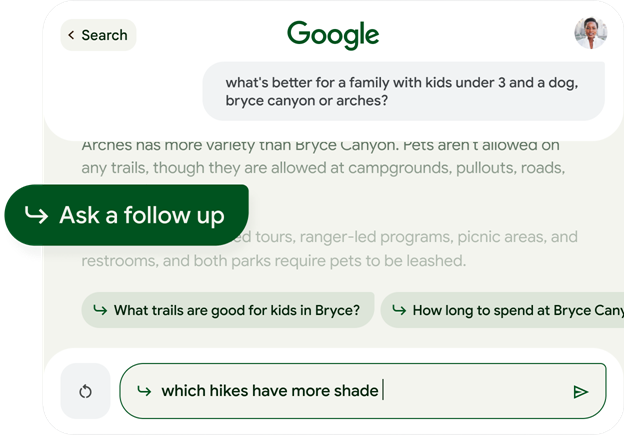 The Concerns: Is Search Engine Optimization (SEO) Still Viable?
Given these changes, SEO professionals are concerned about the viability of search engine optimization as a means of generating income. However, despite the new breakthroughs and transformative nature of search generative experience (SGE), there are several reasons why sites will continue to receive substantial traffic from SEO efforts.
The Importance of Website Content
Google acknowledges that websites play a vital role in training its generative artificial intelligence models. If sites cease to produce content due to a lack of traffic, the ability of Google's AI to learn will be severely limited. So, Google will still value websites so it can create more sophisticated generative AI models.
A Preference for Human-Created Content
While AI-generated insights hold value, Google knows that users still prefer content created by human authors on sites. Information created by AI might not be able to properly communicate the nuances that a person can. Google acknowledges this preference and understands that users search for diverse perspectives and authentic experiences, which can only be found on real sites.
Financial Incentives
This is the single most significant reason why Google will want to prevent users from only interacting with their AI results. It is reported that 95% of Google's revenue is through ads on other sites and in their search results. If Google intentionally stopped traffic from going to websites, they would be cutting their own revenue by a substantial amount. From a business perspective that would cause huge financial losses, which is why Google is unlikely to prioritize generative AI answers over revenue-generating sites.
The Positive Outlook on SEO and
High-Quality Content
Amidst the concerns, there is a silver lining for SEO professionals. Google's search guidance documentation confirms that high-quality, search-engine-friendly content will be rewarded, regardless of how it's produced. If you produce the most helpful content Google will focus on rewarding your site in search results.
What Business Owners and Executives
Need to Know
This recent news from Google marks a significant change in the way people perform searches with search engines. I want to be clear about that because as a technology, generative AI will change how you approach SEO. However, SEO and content should still be key considerations in your approach to building your site, growing your services, and establishing a good reputation. These changes will likely put increased importance on building trust with your audiences by offering relevant content that goes above and beyond what an AI can write.
Personally, I recommend that all organizations integrate the following next steps into their SEO process:
1. Provide clear value: When writing content for SEO don't just use relevant keywords. Focus on answering the question "How can we provide visitors more value than any other resources available about this topic?" Part of that value comes from sharing information visitors can't get anywhere else, and another part of that comes from confirming that all the information you provide is factual. Providing the highest possible value with your content ensures users want to access your site when it comes up as a generative AI search result.
2. Improve navigation: Also, ask yourself, "Are we making our website simple for visitors to navigate so they can easily access key information?" If not, you should research and identify ways to improve your navigation. Conduct user interviews to determine if the changes you're planning to make will truly improve the customer experience and use the insights from those interviews to make changes that will resonate with your target audiences. A good user experience positively impacts your SEO regardless of whether it comes up as an AI-generated search result.
3. Build email lists: Dedicate resources to building email lists. With these lists, you can directly connect to your audiences with less need for middlemen like search engines. Develop email marketing campaigns that meet your audiences where they are in the funnel with the quality content they want. This will drive them to your website where they can engage with you further.
4. Be accurate: Set a good example by offering visitors using well-sourced, accurate information that comes directly from your subject matter experts. Have them check the quality of your site's content to make sure it's a site people reference when confirming whether generative AI content is factual. When users perform their searches and get an AI result, you want them visit to your site to research and verify that result as part of their process.
5. Leverage subject matter experts: Build a substantial library of new content around the topics and services your organization specializes in. Incorporate relevant keywords into that content so users find it faster, and you can establish topical authority, which will boost your SEO. But don't cut corners by using AI tools like ChatGPT to generate that content and if you do it should at the very least be edited by a subject matter expert. Since Google still values the specific nuances and expertise humans can provide, interview your customers, and subject matter experts. Use their wealth of information to create industry-specific content that provides unique facts, statistics, infographics, images, and insights. Not only will this help you stand out from your competition, but it will help you stand out with Google and other search engines when it comes time to rank your site.
Questions you can ask your subject matter experts to extract the relevant information you need could include:
Why is this topic important and why should a specific audience care about it?
How would you describe this topic to a beginner?

How do you talk about this topic with peers?

What is something the average person believes about this topic that they're wrong about?
How do you overcome common pain points with this topic?
Those are just a few ideas to help you get started when interviewing subject matter experts to develop great content.
Want to know more of our thoughts about this big news from Google, and how you can adapt your SEO strategies to its generative AI technology? Contact us.