Velir Named Acquia Growth Partner of the Year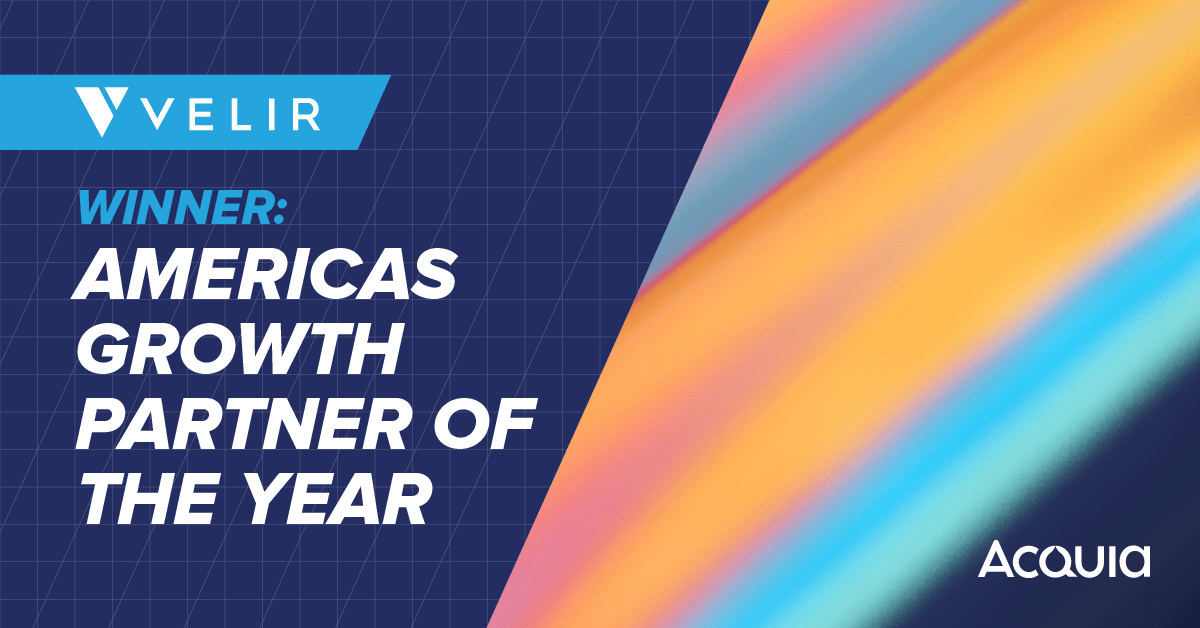 Velir is excited to announce that it has been selected as a 2019 Acquia Growth Partner of the Year. The honor comes in recognition of Velir's outstanding performance and overall business growth with the Acquia platform.
Through a long-standing partnership with Acquia, Velir has enabled its clients to deploy complex Drupal websites built on the rock-solid foundation of Acquia's enterprise-level technology. Acquia has given Velir's clients the ability to effectively manage their web presence through secure, easy-to-use technology that meets their rigorous demands. The success of these implementations has given clients the confidence they need to rely on both Velir and Acquia as technology partners for their digital marketing needs.
"We are thrilled to receive this award from Acquia. As partners for over five years, we've had a front-row seat to the investments Acquia has made in their products so that we can help our clients accomplish their digital goals. Acquia's commitment to the partner community is truly unparalleled and their continued support has helped us succeed as a growing digital agency. We appreciate this recognition of this award and we commend Acquia for their focus on the community."

— Dave Valliere, CEO, Velir
Acquia recognized 15 partners across five global regions based on their overall revenue performance, overall growth with Acquia, and the number of new customers secured last year.
"Velir is to be commended. 2019 was an incredible year for Acquia and our partners, with demand for our world-class digital experience solutions driving significant growth. 2020 promises to be another amazing year, and together we'll help our customers set the bar for delivering impactful customer experiences across channels." - Joe Wykes, SVP, Global Channels and Sales, Acquia
Velir has helped governments, higher education institutions, and associations launch comprehensive websites that leverage the power of Acquia's Cloud, Lift, and Cohesion products. In 2020, Velir looks forward to broadening its Acquia expertise and working with clients to expand their use of Acquia's marketing automation platforms like Mautic and Maestro, so they can streamline their marketing efforts to save their organizations valuable time and money.
Leaders in digital experience delivery, Acquia partners support the world's leading brands in facilitating amazing customer experiences. A full list of Acquia Partner Award winners can be seen here.
Ready to build your website with Acquia and Velir? Reach out to our Partner Alliance Manager, Chris Brady, to talk about your project.
About Velir
Velir is an established mid-sized agency with a top-tier portfolio of clients, ranging from the world's largest non-profits to Fortune 500 brands. We pride ourselves on our people-first culture and a low-ego workplace that embraces experimentation, collaboration, and continuous improvement. To learn more, visit www.velir.com.
About Acquia
Acquia is the open digital experience company. We provide the world's most ambitious brands with technology that allows them to embrace innovation and create customer moments that matter. At Acquia, we believe in the power of community - giving our customers the freedom to build tomorrow on their terms. To learn more, visit acquia.com.