Velir Celebrates 20th Anniversary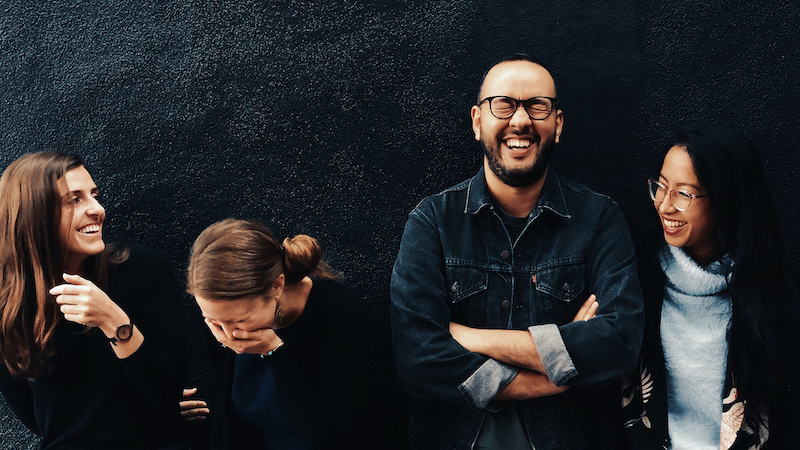 This month, we're extremely proud to celebrate Velir's 20th anniversary. We've come a long way from our humble beginnings in an apartment in Cambridge to a thriving digital agency of over 100 people in the heart of Somerville's Davis Square. The technologies we specialize in and the marketing strategies we develop have evolved greatly in our two decades, but our guiding principles have been our genuine and deep commitment to forming lasting partnerships with our clients and forging close bonds with our staff.
From our very first client, the Annie E. Casey Foundation, to recent clients like Harvard Library, The MET, The Urban Land Institute, and the Leadership Conference on Civil and Human Rights, we've helped mission-driven organizations better engage their audiences by building innovative digital experiences. We've also helped them launch world-changing initiatives; we're proud to have shared in special moments like helping to create a "Culture of Health" with the Robert Wood Johnson Foundation and having our work shared with international audiences at the United Nations General Assembly. Through these projects, our clients have seen the benefits our collaborative and data-driven approach offers their audiences, and how our dedication to strategic, high-quality work helps their organizations succeed. That's why our clients stick with us, and why we're still working with our very first client, 20 years later.
Another aspect of Velir that has remained the same over its history is its amazing people. We've always felt strongly about hiring intelligent, low-ego professionals who care deeply about our clients, our community and the work they do. It has made Velir a special place to work, and in an industry fraught with turn-over, we have been fortunate to assemble a team of talented professionals with an average tenure of four years at our company, something we're very proud of.
Like many organizations this year, Velir was challenged by the coronavirus pandemic, but I'm pleased to say our company swiftly rose to meet that challenge by transitioning to remote work virtually overnight. While we miss our office and spending time with the community we've built, our focus remains our employees' safety and well-being, so we will reopen our offices as soon as there are effective and safe ways to do so. In the meantime, we're excited to tackle tomorrow's challenges by continuing to follow the principles that have guided us for the last two decades.
– Dave Valliere, Velir CEO
Our Favorite Stories from 20 years
Velir started in 2000, in the early aughts of the web and web design. Here are some early versions of our website: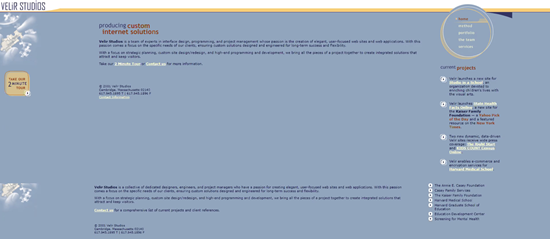 As mentioned above, Velir has been fortunate to have talented employees who stay at Velir for an average tenure of four years. There are also a number of Velirians who have worked at Velir for over 10 years; these folks have stories to tell as they have witnessed the company evolve throughout the years. Here are a few of their stories.
Mark Gregor, Owner and Chairman
"I had nightmares of debugging errors in the early days...we then hired two people in my apartment in Cambridge. Our name started to spread in the Foundations space. We moved from Central Square and eventually made our way to Davis Square."
"It's hard to maintain a company over Zoom, but I think Velir has the culture and resiliency to do it."
Daniel Delay, VP of Development
"We always had music playing when we had four desks at our first office. There was a lot of Britney Spears, but I was also introduced to Johnny Cash."
"We found Corey, our now CTO, when he was walking down the sidewalk, talking to his mom about DOS commands. Corey and I lived on the same dead-end street."
Corey Caplette, Chief Technology Officer
"When I first joined, everyone was talking about app development. One of the earlier projects that we worked on in our spare time was called 'CriBaby.' It was a baby monitor app. We also developed maybe the first dog social networking app, SNIF Tag — which Dave used for many years. So, we were at the forefront of the App Store for both dog apps and baby apps."
Nicole DuRand, VP of Managed Services
"That year I made 75 apple pies, and Velir ate all of them."
"Bowling trips with the support team at Flatbread - and saving all of our score sheets so that Alessandro Faniuolo could map out how the number of drinks consumed affected our ability to bowl."
"A coworker helping me plant those vertical planters in my office for hours one weekend - only for me to let them die a month later. Then having dead plants hanging on my wall for years."
Chris Brady, Partner Alliance Manager
"My first desk — a folding table facing a white wall directly facing Mark Gregor's office and I mean, we rubbed elbows when Mark exited his office..."
"That time we ordered 20 pizzas and threw a party in that park near the T station."
Highlights from 20 Years of Projects
Harvard Library

Revamping Harvard Library's online presence was one of the most successful and fun projects in my 20-year career and ranks up there with some of the best times in my memory. We had an exceptionally skilled team and an equally skilled, personable, and fun client team. If only every project could be as smooth as this one was!"
Urban Land Institute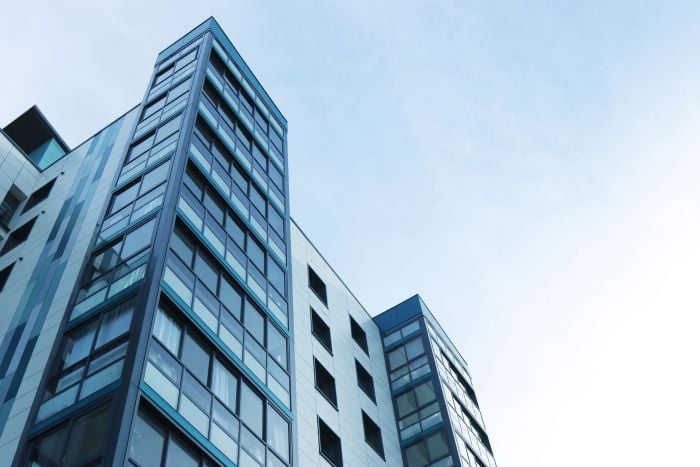 "It has been both really intellectually challenging and a fun project to work on with a stellar project team. During each release, I feel like the band is back together. And watching the client relationship grow over the months has been so rewarding."
An Educational Site for a Global Foundation
"The project embodies a vision of what a teaching curriculum should be – something more than a set of materials but a living, breathing community of teachers, scholars, and experts. Through it all, each person on the project played a tremendous role in making this happen. Building a highly interactive online learning platform was definitely challenging, but the winners are the kids."
Learn more about what we do and who we do it for. Or, get in touch to talk about how we can help with a digital challenge.