Unifying CUNA's Website and Content Creation in AEM
Creating consistent branding and content authoring for a financial services leader.
Overview
Credit Union National Association (CUNA) is the most influential financial services trade association and the only national association that advocates on behalf of all of America's credit unions. CUNA works to protect customers' best interests in Washington D.C. and all 50 states. As an association, it also fuels professional growth at every level and champions the credit union story at every turn. To offer its members more consistent branding across its digital properties and to make managing multiple websites easier for its marketing team, CUNA asked Velir to unify its sites into a single, user-friendly content management system that serves both groups effectively.
URL
cunacouncils.org
cunastrategicservices.com
cuhouse.com
cuna.org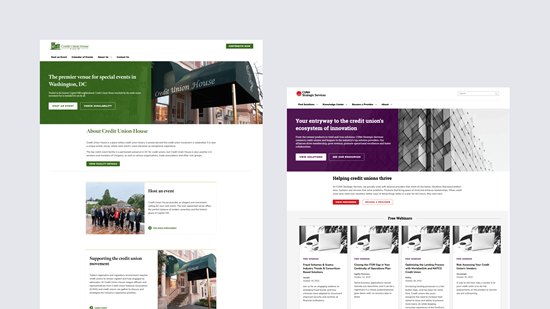 Challenge
CUNA's digital team manages multiple websites for the association, each with varied branding and designs. However, their content management system (CMS) was stretching the team thin because it wasn't geared toward content authors. This caused the team to struggle with maintaining consistent branding from site to site.
To make website management easier, CUNA wanted to create an integrated platform and design system to establish a consistent author experience across all its digital properties. This integrated platform had to reflect both the needs of CUNA's thousands of members and its marketing team. So, CUNA enlisted Velir to help realize this vision, by building its sites on Adobe Experience Manager (AEM).
CUNA's challenges included:
Maintaining consistent branding across multiple sites
Integrating multiple sites into a single platform: AEM
Making its CMS friendlier to content authors
Approach
As CUNA cemented its design system, we built an extensive component library based on atomic design principles. The components we created established a consistent look and feel for members across multiple sites while allowing flexibility for content authors who could now add components to pages and make unique updates to them.
Understanding that branding may differ slightly in color and fonts across sites, we also built logic and functionality for complex custom color inheritance. Because components are reused across all CUNA sites, this color inheritance abstracts the look and feel of each component at a global level. This allows marketers a high degree of branding flexibility that they can configure directly in AEM's settings. Within each site, we also implemented an additional layer of logic to override a site's color inheritance in the cases that content authors need to personalize certain pages and components.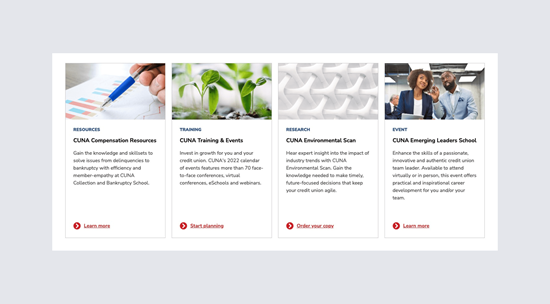 Our approach included:
Creating an integrated platform and design system
Building a flexible component library based on design principles
Establishing a complex global color inheritance that can be overridden on a site, page, and component level
"I just wanted to add my thanks and kudos to the team for a long-awaited and well-done project that will greatly enhance our members' experiences. It's been an extended drive down a bumpy road, but I'm very pleased with our final product and look forward to working together to make it even better as we go!"
Solution
On their new AEM platform, the CUNA digital marketing team can quickly create new sites using an extensive, yet flexible component library that doesn't rely on developer assistance. CUNA can also apply custom color inheritance by site to achieve consistent branding, which presents a professional and unified aesthetic to its members.
By improving its content authoring experience and putting power back in the hands of its marketers, CUNA can now focus on lead generation and optimization that will streamline user experiences and lead to increased conversions across its websites.
Results:
Content entry for over 100 pages completed in a month
Improved onsite engagement with a 19% increase in pages per session
More engaged users with a 124% increase in session duration
See more case studies and client work we're proud of