Establishing a Culture of Use
A hub for learning, sharing, and discovering ideas.
Overview
Velir helped Harvard Library create a culture of use for its website by providing valuable features to students and researchers. Using an Agile development methodology, and teamwork training, we set ourselves up for success with an iterative design and feedback process that led to a more audience-focused Drupal site. We also implemented a robust search and developed a digital tool for reserving library space to inspire more engagement with the library and its resources.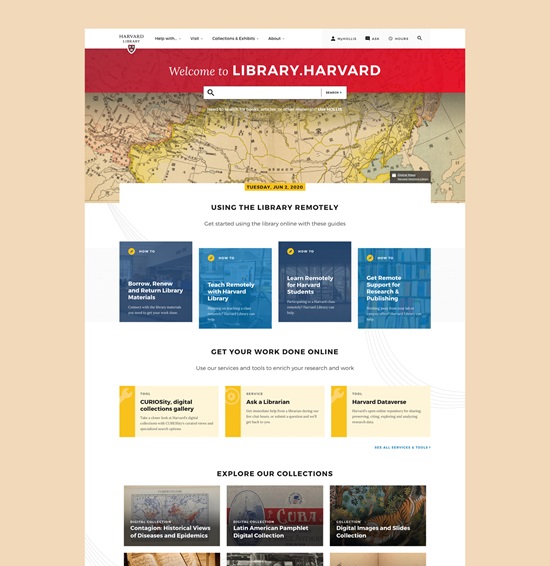 Challenge
The digital landscape has changed users' expectations of their libraries. People want to find the same delight and intrigue digitally that they once found, physically exploring shelves. After building a series of digital properties with different people through separate projects, Harvard Library felt it needed to inspire delight and intrigue again by unifying its web presence and creating a seamless experience for users where they could smoothly move between platforms.
This project addressed one of the Harvard Library's primary goals for its website, library.harvard.edu, which was to promote a culture of use, by providing resources to technologically-savvy students and researchers.
Harvard Library's key challenges were:
Determining structured information architecture for 50,000 pieces of content
Building a digital tool for students and researchers to explore and utilize the physical library space
Promoting a culture of use and audience engagement
Approach
Velir used Agile methodology from design through UX, front-end, and back-end development along with insights from workshops about High-Performance teams and the Stanford Design Feedback process to create a state-of-the-art, modern, comprehensive library experience for students, faculty, and researchers at Harvard, as well as the larger community.
Our approach included:
Implementing robust search
Applying an iterative design and user feedback process
Using an Agile development mindset across disciplines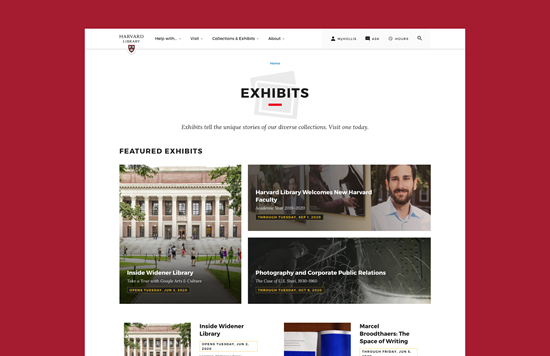 Building new search tools
To help users easily find library space and reserve it, we created Space Finder, a tool modeled after Cambridge UK library's version. Space Finder is an easy-to-use tool for students and researchers to find study spaces based on a wide variety of criteria like "type of seating" to "how busy." Another unique feature built into Space Finder is being able to search the entire library system to determine which locations are open at a certain hour so that all results display side-by-side.
Continuously collecting user feedback
By using an iterative design process, we enabled the Harvard Library team to launch a beta version of the new site to collect valuable feedback from prospective users, which allowed us to create a more user-centric site. We also provided the team with our processes, workflows, and insights to enable further design changes as the site evolves.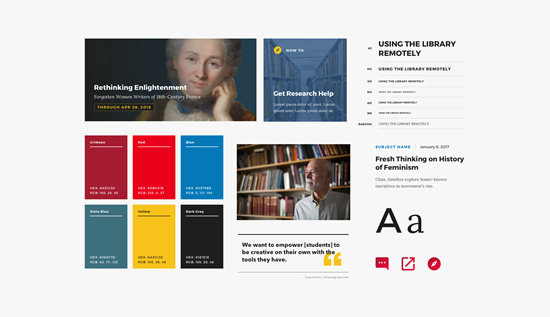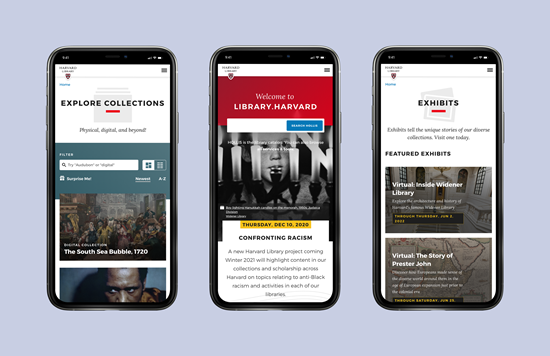 Solution
Harvard Library's new website focuses on findability and usability by providing a more robust search experience powered by Solr, which includes search results from Hollis+ as well. Its Space Finder tool offers the ability to find study spaces based on a wide variety of criteria to further improve findability. Pages are story-driven and both information architecture and navigation are driven by the audience. There is also clear and consistent brand messaging throughout the site.
A more robust search experience powered by Solr (which includes results from Hollis+)
The Space Finder tool to find study spaces based on a wide variety of criteria
An audience-driven information architecture
Brand messaging expressed throughout the site
Featured platforms
CMS: Drupal
Search: Solr
ReactJS + JSON:API
See more case studies and client work we're proud of