Unlocking 360-Degree Customer Data for Retailer johnnie-O
Building an enterprise-class retail customer data warehouse.
Overview
johnnie-O is a leading men's apparel brand that blends East Coast prep with Southern California surf style. After a surge in Ecommerce sales from the pandemic, johnnie-O uncovered cracks in its marketing technology stack that were holding it back from its full potential. Its analytics reports were unreliable, and most of its shoppers received a static, non-personalized experience. In response, johnnie-O engaged Velir to deploy a customer data platform and data warehouse with advanced analytics and personalization capabilities. These tools have revolutionized how johnnie-O understands and interacts with its customers.
URL
johnnie-o.com
Challenge
Like other Ecommerce retailers, johnnie-O was challenged by the number of tools it needed for its marketing operations. While its Ecommerce, email, SMS, analytics, and A/B testing platforms were best-in-class, these tools weren't integrated so customer data could flow seamlessly between them. Product and order data were also trapped in an on-premises enterprise resource planning (ERP) system, unable to blend with user interaction data and analytics reports. This led to fragmented user metrics since each tool could provide only a narrow look at user behavior and needs. Johnnie-O's management knew that to reach their revenue targets, they would need to become more data-driven in their thinking and their decision making. As a result, they engaged Velir to help them build a customer data warehouse that would produce a 360-degree view of their customers.
johnnie-O's challenges included:
Freeing valuable customer data trapped in silos
Gaining visibility into important customer metrics such as lifetime-value (LTV), time to rebuy, and return rate
Filling huge gaps in attribution modeling with no visibility into the impact of direct mail and SMS marketing
Approach
Discovery and Use Case Prioritization
When johnnie-O first approached us, they knew they had customer data challenges, but they weren't entirely sure how to address them. For this reason, we conducted a series of workshops that uncovered all their relevant data sources, data destinations, and use cases. We then provided a proposed data stack—a suite of complimentary tools that would meet the needs uncovered during our discovery sessions. Once the stack was selected, we helped johnnie-O prioritize use cases by evaluating the level of integration effort against their presumed business value. For example, several use cases required very simple data points but yielded great business value, so we prioritized them first. With the use cases prioritized, we produced a roadmap showing the order in which each system would be connected and which customer data use cases, like personalization and reporting, would be unlocked first.
Initial Setup and Integration
With the roadmap in hand, we completed the setup and integration of the platforms required to meet the first phase. These platforms included Segment, Snowflake, Data Build Tool (DBT), Fivetran, Full Circle (an ERP system), Shopify, Returnly, Klaviyo, and Back-in-Stock. While this seems like a lot of platforms to integrate in a single phase, the setup was accelerated due to the turn-key integrations provided by Segment and Fivetran. Segment's native connector to Snowflake meant that real-time website interactions could appear in the data warehouse within seconds. This real-time integration leveraged Littledata's Shopify-Segment connector which saved johnnie-O the effort of coding the Shopify event tracking. Fivetran was critical in connecting the ERP system which could share important information about invoices and product via FTP only. Finally, Segment's catalog of over 300 out-of-box connectors was useful in integrating tools like Google Ads and Klaviyo.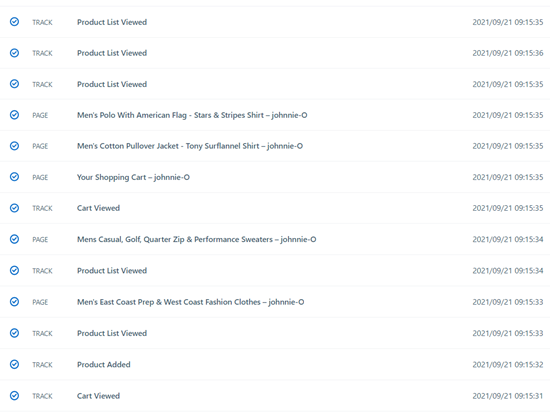 Agile Data Activation
Once we completed the initial setup, we pivoted to helping johnnie-O activate its newly integrated data. The johnnie-O team had ambitious goals for reports, audiences, experiences, and campaigns that they wanted to create with the data we unlocked. We helped them accomplish these goals by conducting a series of two-week-long sprints using the Agile Scrum methodology. This brought much-needed structure to such a large undertaking. Each sprint included collaborative sessions that allowed the johnnie-O team to set priorities and review the results of any work completed. The output from one sprint would serve as the input to the next sprint. This process provided for continuity and momentum as johnnie-O became familiar with the advanced analytics and personalization capabilities they now had access to.
Our approach included:
Leading workshops with johnnie-O stakeholders to inventory and prioritize their customer data use cases
Presenting potential paths forward with technology integration
Cataloging the data points and business value provided by 13 different data sources
Deploying a modern data stack that included Fivetran, DBT, Segment, and Snowflake
Leveraging turn-key integrations with johnnie-O's marketing stack to reduce the amount of data engineering required
Executing on marketing operations, data engineering and data analysis needs through a series of two-week data activation sprints
Solution
Now johnnie-O has easy access to customer data for personalization and reporting. Segments of users like "High AOV Boys clothing shoppers", or "Gift-givers" can be easily created and targeted with emails, SMS messages, and advertisements. The johnnie-O marketing team can now unleash their creativity in crafting sophisticated, cross-channel personalized journeys without having to worry about the underlying data pipeline. As a result, johnnie-O has seen increased engagement with personalized content and has been able to make smarter decisions about channels spend and inventory purchasing. Importantly, johnnie-O has an enterprise-class solution that will keep up with their ambitious growth targets over the years to come.
Results:
An accurate calculation of customer lifetime value (LTV) and average order value (AOV) for the first time
Increased email open and click-through rates due to personalized emails
A better understanding of customer purchases including a breakdown of which products yield faster second purchases
See more case studies and client work we're proud of