Creating a Flexible Theming Framework
A structured yet scalable design system to maintain brand consistency across 60+ community websites.
Overview
A multifamily real estate development company asked Velir to find a scalable approach to managing the sub-branding for their 60+ luxury apartment websites. Based on research about property types and décor styles, we created a design system around three audiences and property types in Acquia Site Studio. Leveraging Site Studio's preconfigured themes and templates, we established a user-friendly platform that allows the client's marketing team to build, deploy, and maintain consistent, customized sites on the fly, without agency assistance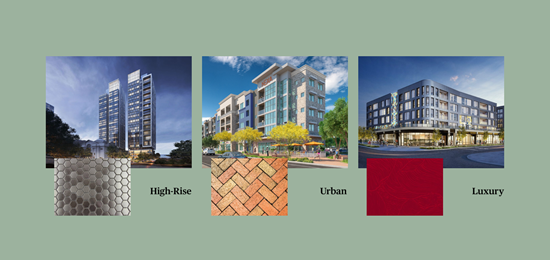 Challenge
With 60+ luxury apartment communities, the client was looking for a scalable approach to manage sub-branding for their property websites. To do this, they hoped to provide their content marketers with modern web authoring tools, specifically Acquia Site Studio, on a single scalable platform that allowed them to adopt sub-brand theming through a flexible design framework.
As part of our design discovery, the client identified three prioritized audiences and property types: high-rise, urban, and luxury. With these audiences and properties in mind, our design system approach had to be mindful of the sub-branding considerations required to spin up distinct property websites using a set number of themes.
The key challenges were:
Equipping the centralized marketing team with a flexible universal set of themes that meets the digital needs of their three unique audiences and property types and a highly distributed team of regional property marketing managers
Using themes to enable the client's marketers with a self-service model for website creation, reducing reliance on outside agencies to produce one-off designs for each sub-property website—accelerating time to market from months to days and weeks
Approach
In our discovery, we worked with the client to establish a framework for how theming could be leveraged through the design process. We reviewed key property types offered by the client, conducted an analysis of decor styles that influenced homebuilding across the nation, and looked to express these home design aesthetics through web design.
During our design phase, we priortized high-rise, urban, and luxury property types. These property types were most common in the client's portfolio of homes, and represented a broad aesthetic look, one that could be applied universally with very minor changes to typography and color schemes.
Our approach included:
Identifying key property types and aesthetics, and looking at the design influences across these property types
Reviewing existing branding for prioritized property types, and translating these into flexible theming structures within Acquia Site Studio
Designing three universal themes that reflect the key property types: high-rise, urban, luxury—and creating style guides to inform usage and guidance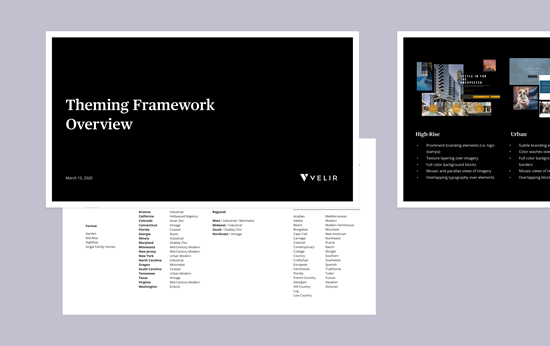 Solution
We leveraged Site Studio's preconfigured Themes and Helper Templates, which allow community websites to be quickly created and modified. We used them to offer three themes based on property type, market, and style. The themes allow key property brand elements to be customized, while delivering unique community websites on the fly.
Results
A structured yet flexible system that allows the client to maintain brand consistency across all communities
A consistent site framework that can roll out to 60+ luxury apartment community sites by the end of 2020
A user-friendly platform that allows the client to build, deploy, and maintain sites without agency partner assistance
Three final branded themes
We designed three themes based on property type, market, and style.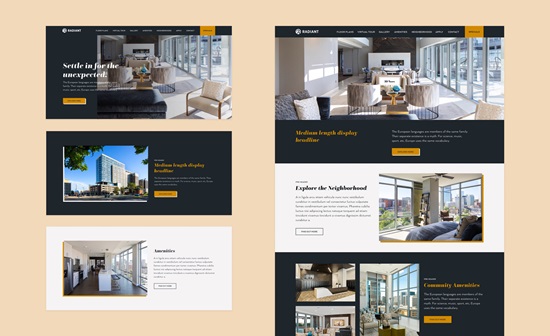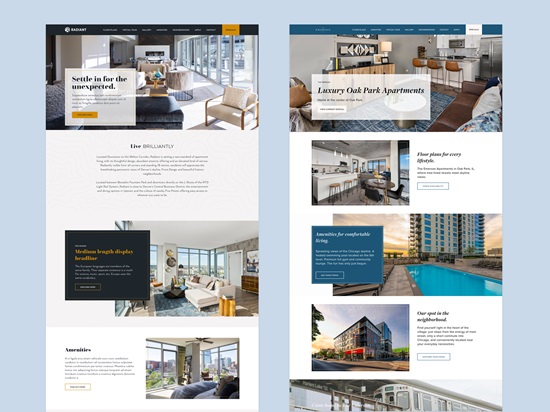 Title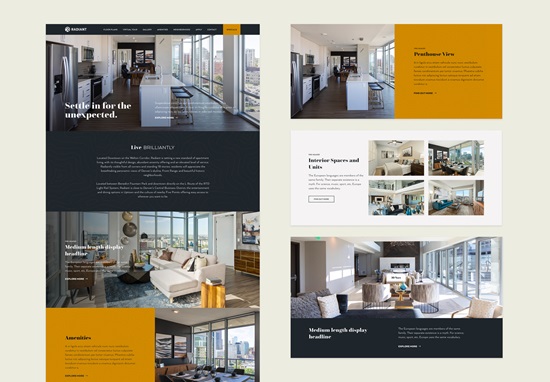 See more case studies and client work we're proud of