Redesigning a Philanthropy's Website for a New Era of Growth
Meeting content authors' publishing needs with Drupal.
Overview
Established in 1987, Charles and Lynn Schusterman Family Foundation was established to help ensure a vibrant future for the Jewish people, the State of Israel, and their hometown of Tulsa, Oklahoma. In 2021, the Foundation rebranded themselves as Charles and Lynn Schusterman Family Philanthropies to reflect the continued expansion of grantmaking, operating, and advocacy activities funded by the Schusterman family. As part of their rebranding effort, the Schusterman Family Philanthropies engaged Velir to lead a full redesign of their website.
URL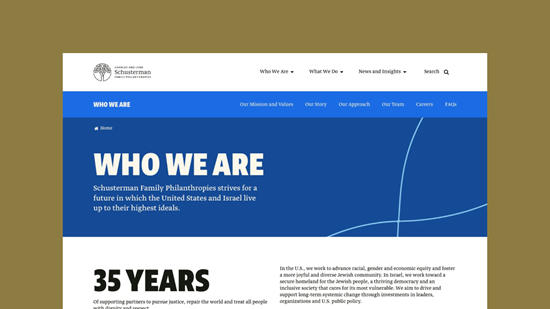 Challenge
The Charles and Lynn Schusterman Family Philanthropies rebrand impacted all aspects of their communications, including their website. So, during this effort, they partnered with Velir to expand their new visual identity through a complete site redesign. Two main goals of the redesign were to better position their broad portfolio of work in the United States and Israel and to provide in-house content authors with broader publishing capabilities.
Content authors needed flexibility when publishing content across the site while program managers needed the ability to apply program-specific navigation and branding while still making their site sections feel like they're part of the overarching Schusterman Family Philanthropies brand.
Schusterman Family Philanthropies' challenges included:
Conducting a website redesign in parallel with a rebranding effort
Framing the breadth and impact of their portfolio areas
Providing greater content authoring flexibility
Establishing a flexible design system to support tailored program experiences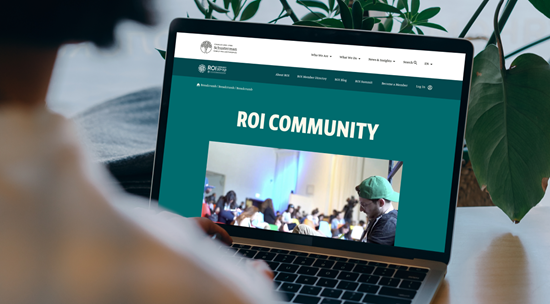 Approach
Our first step was to establish collaborative partnerships with the client's other agency partners. After that, we expanded preliminary content and site structure recommendations into a full information architecture that connected philanthropic portfolios with the regions in which the work is conducted. At the same time, we homed in on a suite of components to support established content needs. Once the client's new brand identity was finalized, we moved into a full website design.
The Schusterman Family Philanthropies' content management system was upgraded to Drupal 9 for streamlined content publishing while Acquia DAM and Salesforce were integrated with it to make publishing even more efficient.
We provided content publishing training, content planning documentation, and content entry support to ensure a successful site launch and adoption of the new platform.
Our approach included:
Optimizing the client's new visual identity for digital
Reorganizing the site's information architecture for future expansion
Leveraging Drupal 9 to provide increased publishing flexibility
Integrating Acquia DAM and Salesforce for publishing efficiency
Offering content author training and content entry support
Solution
Schusterman.org now provides compelling, accessible, and actionable resources for its key audiences. It expands upon the Schusterman Family Philanthropies rebrand and preliminary content strategy to offer reorganized information architecture, a flexible design system, and expanded content authoring capabilities in Drupal that allow authors to craft nuanced digital experiences.
Results:
A compelling website that offers actionable resources to influence its key audiences
A Drupal implementation that enables intuitive content publishing
A flexible design system to support tailored program experiences
A team with the necessary training to manage and evolve the new website
See more case studies and client work we're proud of