Reimagining Under Armour's Purpose-Led Corporate Site
A corporate website that better reflects Under Armour's core values and creates a strong foundation for digital storytelling.
Overview
Founded in 1996, Under Armour is a global brand that makes sports apparel to empower those who strive for more. Under Armour catalyzes the progress of athletes and their communities. Their purpose sits at the intersection of "Who They Are" and the "Need in the World" they can fulfill. As the company has matured, their corporate site has become a destination for investors, the press and consumers. Under Armour has worked hard to establish and deliver on all audience needs while presenting a cohesive brand narrative that expresses its core values. To help communicate that narrative through all its digital properties, Under Armour tasked Velir with rebuilding its corporate website to better reflect its values and create a digital storytelling platform for the company's future.
URL
Challenge
Corporate social responsibility (CSR)—the practice of integrating social and environmental concerns into business operations—is increasingly important to customers and investors. According to Harvard Business School Online, 25% of consumers and 22% of investors cite a "zero tolerance" policy toward companies that embrace questionable ethical practices.
A desire to highlight their CSR led Under Armour's corporate communications team, which oversees about.underarmour.com, to seek a partner for migrating their website from Drupal to Adobe Experience Manager (AEM). Under Armour's challenge was twofold, they needed a more intuitive and flexible content authoring experience and they needed to better showcase the CSR initiatives that support their brand purpose. Our experience was a perfect match for two main reasons:
Our extensive expertise with digital experience platforms like Drupal and AEM.
Our 20+ years of experience helping mission-driven nonprofit organizations communicate their purpose and values online.
Given the client's timeline, and goals for the new site, we had to develop a highly structured plan for re-platforming about.underarmour.com. We were tasked with streamlining their site to make content more findable and to establish a clearer relationship between it and Under Armour's consumer site. By doing this we would provide Under Armour with the right foundation to expand their corporate value and CSR narrative.
Our challenges included:
Making Under Armour's purpose-led storytelling easier to find
Forming clearer relationships between Under Armour's consumer website and their corporate site
Aligning already existing stories with Under Armour's corporate values and CSR strategies
Creating a more intuitive and flexible content authoring experience for the Under Armour team to craft a unified purpose-driven brand message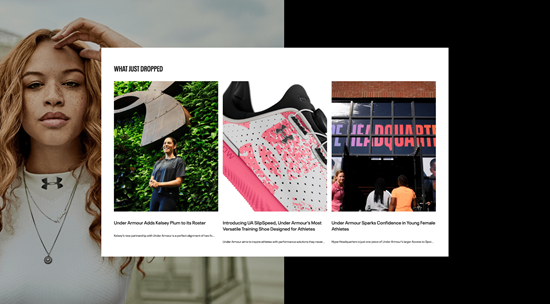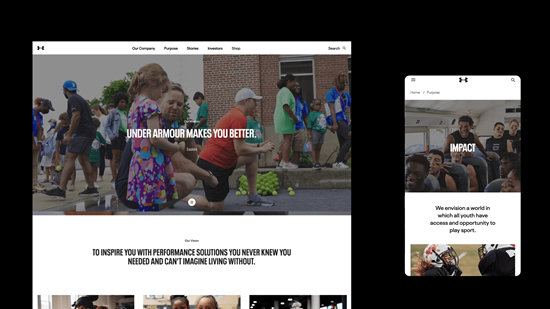 Approach
A preliminary roadmap targeted this engagement on two key goals: migrating Under Armour's existing corporate website from Drupal to AEM and better aligning about.underarmour.com to the visual brand of Under Armour's consumer site. This meant editing components instead of adding them, connecting content instead of creating it, and establishing a foundation for growth instead of trying to accomplish everything all at once.
Our team worked with Under Armour stakeholders to define, refine, and build their corporate website. Our key activities included:
Sitemap definition and content categorization
Visual and user experience (UX) design
AEM development and consulting
Content author training and documentation
Implementation of a new site search experience
Creation of a scalable platform capable of expanding to additional sites in the future
We helped Under Armour define a new sitemap and recategorize their content so that content is easier to find, establishes clearer connections between corporate and consumer messaging, and enhances their brand storytelling. From a visual and UX design perspective, we streamlined the set of existing components for a more consistent experience. This included making design updates to components as needed to ensure they all met Under Armour's brand guidelines while performing necessary functions on the new site.
We also performed development in AEM and consulted on how to make the most of it, while we created a new site search experience and consolidated site sections on the new platform. Last, but not least, we trained Under Armour's content authors on AEM and provided scheduled "office hours" where they could ask our team questions, which empowered them with the knowledge of how to expand the site's content in the future.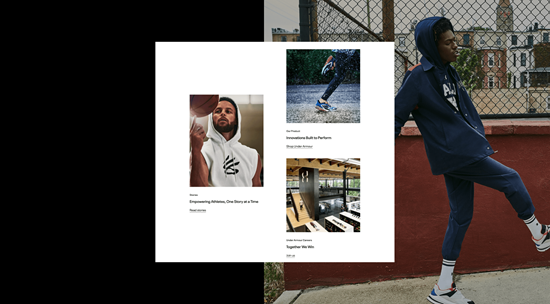 Our approach included:
Establishing a roadmap that targeted two key goals for the initial build: migrating as much as possible to the new site and visually aligning the client's corporate site to their consumer one
Defining a new sitemap and recategorizing content so it's clearer and enhances brand storytelling
Rebuilding Drupal components in AEM and updating their designs to sharpen relationships between CSR initiatives and the rich stories that reinforce these efforts
Revamping site search and consolidating site sections to make finding content easier
Training Under Armour's team on AEM and providing "office hours" that empower them to expand CSR content in the future
Solution
By partnering with Under Armour, we built a dynamic corporate website that highlights Under Armour's CSR initiatives while weaving them into their overall brand narrative more effectively. The resulting site has a unified aesthetic aligned with Under Armour's overarching brand identity. Purpose-led storytelling on the corporate site is easier for their audiences to find based on its revamped search functionality, reorganized sitemap, and recategorized content. Using their streamlined set of components Under Armour's team can tell more impactful brand stories, and the AEM training they've received will let them expand about.underarmour.com with more timely content that communicates how Under Armour incorporates their values into their business.
Results
A corporate site that more effectively weaves CSR initiatives into Under Armour's overall brand narrative
A redefined sitemap and recategorized content to tell clearer purpose-led brand stories
A unified aesthetic aligned with Under Armour's overarching brand identity
Streamlined components for telling more impactful stories and creating more timely CSR content
See more case studies and client work we're proud of