Demystifying CXM: What is it and What Does it Mean for your CMS?

Websites and digital technology are still evolving, and web content management systems ("WCM", or more generically "CMS") as we've known them are becoming more of a commodity in the digital world. There are hundreds of systems on the market, and it's hard to find anyone these days with a website that isn't already employing some form of a WCM system – whether homegrown, open source, or off-the-shelf.
We're now in the era of CXM – or customer experience management. It's no longer about getting text onto a web page without writing code – today's platforms are much more sophisticated with a strong focus on marketing. Turning content into HTML is a given; it's now about how businesses can engage with their audience in a consistent and rewarding way, across every channel, everywhere, all the time.
So what does CXM really mean? It's a relatively new buzzword/acronym, and it's not very well-defined. It's more a concept than a single solution, and it covers the spectrum of interactions that a customer may have with a company. That said, most people using the term are usually referring to customer interactions and touch points from a digital or systems perspective.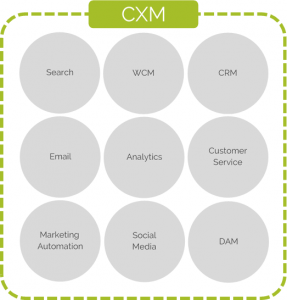 What does CXM mean for WCM/CMS? WCM won't be going away, and CXM is not displacing WCM. Rather, WCM is now a part of CXM, along with customer relationship management (CRM), analytics, e-commerce, search, and various other platforms that are related to customer interactions for businesses. Effectively, CXM is just a wrapper for any and all platforms that involve the "customer experience."
System integration is the new focal point of web solutions. Finding ways to tie your systems together to create one unified, manageable, and enjoyable experience for your customers is how most successful organizations are currently addressing the notion of CXM.
This concept of integration is not new – it's something that has been going on for years with many of the popular enterprise content management solution stacks, and it's what we find ourselves doing on the vast majority of projects we work on at Velir. CXM has effectively been underway for years now, but now we have a cool name for it and along with new concepts and tools to employ.
What does the future hold? Currently there's no one in the marketplace offering a true CXM solution. Some vendors appear to be heading in that direction (Adobe, IBM, Sitecore) through R&D and acquisition of platforms, but the reality is that there are many best-of-breed solutions for each of the systems that CXM encompasses – and most of them are not offered under one umbrella. Specialization still trumps generalization in the web solutions arena, at least for now.
We're now looking ahead. With disparate platform integrations becoming the new normal, we're now heading into more sophisticated areas like optimization, personalization, and engagement across platforms. CXM is not just about integrating systems (as mentioned earlier, that's nothing new) – it's about providing customers with truly optimized and personalized experiences on every device, and in every setting that they encounter your business. Look out for more posts on these exciting new topics coming soon. Until then, enjoy your new acronym.