Digital Maturity for Associations

As more people increasingly adopt various technologies as part of their day-to-day, associations will have to jump on board to reach their members where they are. Learn what this means for your organization and how you can help your association reach digital maturity.
What is digital maturity and what does it look like for associations?
Digital Maturity is a term used to describe the level of sophistication that an organization has attained with its digital presence, solutions, and, marketing operations. It's typically analyzed through a model or framework with different stages. Each subsequent stage represents an increasing level of maturity and they culminate in a state where an organization's digital efforts are at their peak.
For an association to reach this level they must continuously refine and optimize their digital solutions and touchpoints until they have a comprehensive, multi-channel solution in place to provide seamless, consistent, and impactful experiences for their members.
Why should associations be seeking digital maturity?
Two words: Lifetime Members. Members are the lifeblood of associations, and we've observed that membership acquisition and retention usually end up on both the top goals list as well as the top challenges list for most associations. Succeeding in both these areas is critical to an association's survival.
By approaching their online efforts using a digital maturity framework, associations can realize significant ROI in a number of areas including operational costs, time to market, and ultimately, their bottom line.
However, the most important story here relates to the value that associations provide to their members and their ability to deliver on their brand promises. A digitally mature association can provide maximum value to its members and become an indispensable part of their lives. It's important to note that the actual value that associations provide isn't in question. It's how this value is being demonstrated and delivered to members that has become challenging. This is especially the case when you consider the infinite vastness of the internet and the multitude of free resources, information, and connections that it enables access to. Ironically, it is also this exact factor, and all of the complementing technologies and platforms that have arisen in support of it, that provide this new and exciting opportunity for associations to transform themselves and their value.
"Associations have a unique advantage when it comes to digital marketing because they know so much about their audiences in terms of their needs, behaviors, and preferences. Being so membership-focused has allowed associations to collect a vast amount of rich data (via their association management systems (AMS) or customer relationship management (CRM) systems)."
When this data is then used to power an association's website or other digital solutions (for example, by integrating the content management solution (CMS) and the AMS/CRM) it can provide the ability to deliver highly personalized experiences and have powerful implications for member engagement online. Additionally, the converse scenario also becomes a possibility – data on how members interact online can flow back to the AMS/CRM and be used to power offline conversations and interactions.
What are basic or general ways an association can move toward digital maturity?
Approaching digital maturity with the mindset of looking at projects as small-scale enhancements that can continuously be measured and optimized, is the way to go. The evolving technology and strategy space can be pretty daunting for a lot of marketers. Therefore, a step-by-step process like Sitecore's Customer Experience Maturity Model, which we utilize across our Association accounts, can help provide some much needed clarity and a roadmap for moving up the digital maturity ranks.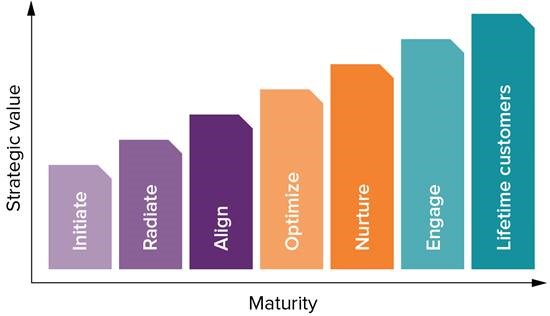 The seven different stages of this model can be grouped into 3 larger phases:
ATTRACT: The focus here is purely on spreading awareness of your brand and attracting both current and potential members to your digital properties.
CONVERT: Once you have gotten a handle on getting desired audiences to visit your properties, you can now focus on optimizing the experience and increasing its relevance to better engage visitors. This results in improved conversions to meet audience and business goals.
ADVOCATE: In this final phase, you are able to seamlessly use member insights derived from multiple teams, channels, and systems to create experiences that not only keep members coming back for more, but convert them into lifetime supporters and advocates of your brand.
How has the way digital maturity been defined or looked changed over the recent years? What causes the definition of digital maturity to change?
The very change in the framework's name from the 'Digital Maturity Model' to the 'Customer Experience Maturity Model' sheds some light on the answer.
"The focus for achieving digital maturity has changed from the internal digital strategies and tactics that an organization can employ, to the experiences and value that the end customer or member will receive. "
This change is a subtle but important one. It highlights a transformation that is happening across industries where organizations are shifting from a company-centric mode of operation to a more value-based, customer-centric one.
This in turn highlights how customers themselves have evolved over the years. They are becoming increasingly savvy, and are typically far ahead of organizations in terms of their level of comfort with digital technologies and mediums. As a result, companies are finding themselves in a position where they have to rapidly adapt to meet the needs of these new customers.
Looking forward, how do you expect the definition of digital maturity to change in the future—near or far?
As new devices, technologies, and channels come into play, the complexity of the digital landscape is just going to increase. This will be compounded as the audience group, of millennials and younger individuals, ages and enters the marketplace for most products and services. They are digital natives and have different levels of expectations when it comes to online interactions with brands. So it's critical for associations to put in place a strong foundation for their digital solutions now, so that they can grow and evolve as necessary in the future.
Since frameworks for digital maturity are based on concepts rather than specific technologies or audience groups, they can scale to meet the demands of this constantly evolving landscape. When you take the maturity model and pair it with a strategic partner that understands both your association's goals, and the involved strategies and technologies, you can put yourself on the fast track to creating digital experiences that delight and provide value, and ultimately, deliver on your brand promises.
A version of this post appeared in Associations Now.
If you have further feedback or thoughts to share on digital maturity for associations, we'd love to hear from you. Please keep the discussion going via the comments below.