Velir's Top Takeaways from Sitecore Symposium 2018

Having recently returned from Sitecore Symposium 2018, the Velir team is still abuzz from the excitement of the event. Fourteen Velirians, from technology and strategy, to marketing and executive leadership, attended the Symposium this year in Orlando, Florida.
Every year, Sitecore raises the bar for how engaging this experience is, and this year was no different. The Symposium was packed with insightful sessions, powerful speakers, great networking opportunities, and a lot of fun (read: Disney!).
We gathered our troops to get their take on the event and capture their biggest takeaways. Read on to see what Velir attendees, including several Sitecore MVPs, had to say about their experience at Sitecore Symposium 2018:
Mark Stiles, Principal Developer and 6-Time MVP - Sitecore Cortex™ and Machine Learning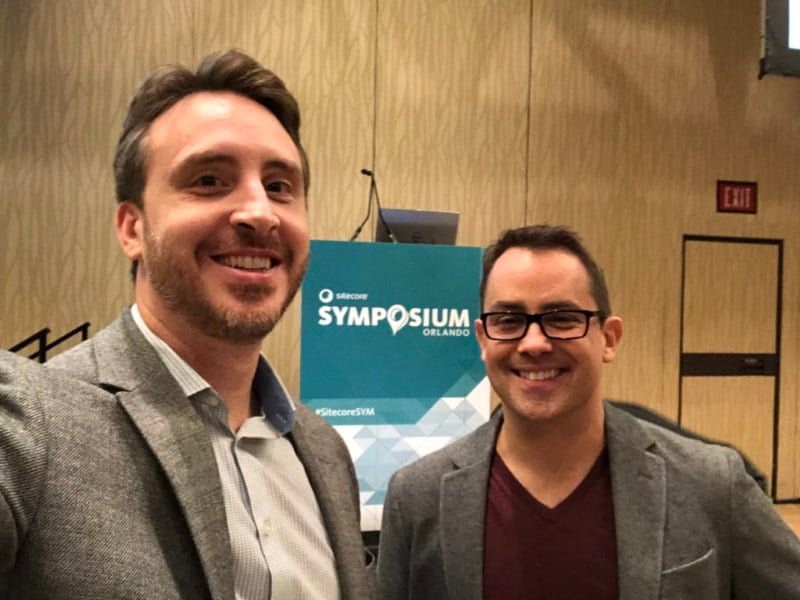 Mark Stiles and Dan Murphy presented an insightful talk on how to supercharge your author experience with machine learning.
This year at the Symposium, Sitecore provided us with a sneak peek into Sitecore Cortex™. As someone with a deep interest in the applications of machine learning (ML) in Sitecore, I attended presentations and sat down with product owners to get a better understanding of this capability. I was able to dive deep into the roadmap for Cortex™, review anticipated functionality, and identify how we can apply it to our work.
Cortex™ isn't a specific ML technology (that would be too limiting). Instead, it is a framework for integrating ML into Sitecore in a reusable way. Through it, Sitecore is planning on introducing top-level navigation buttons that will allow users to process their data through the four steps of machine learning: extract (store data), project (clean data), train (the fancy math part), and predict (using this shiny new model). Any application of Cortex™ may involve one or all of these phases, but the plan is for users to be able to manage this lifecycle through the UI starting in Sitecore 9.1.
Sitecore has already started to build out two applications for Cortex™ (tagging and content analysis), but users don't have to wait for them to create the features they need. Since it is a framework, they can think of it as a workspace to develop and train their own models.
If a Sitecore client has its own data science team, they can use all the phases to manipulate their data (content, analytics, media, etc.). If they, instead, have a marketing or content authoring team that wants to hook into existing models, they can integrate off-the-shelf solutions like Microsoft or IBM cognitive services with Cortex™.
My own cognitive services system has been working since Sitecore 8.2. I am going to be porting my features (image search, content tagging, and the Ole chat bot) to Cortex™ as well, to make sure they're available to anyone who wants to use them through this new technology in 9.1.
Although machine learning within Sitecore is still in its infancy, the market and need for it are growing rapidly. Expect to see lots of innovation and growth in this area for years to come!
Steph Allen, Senior Digital Strategist, Enablement and Optimization Lead - Experience Analytics and the Move the Dial Panel
Coming out of my second Sitecore Symposium, I was really excited when I got home. Not only was I jazzed about all the new Sitecore-y things I learned and could bring back to my clients, but I felt inspired by all the incredible stories I heard on and off the stage. Two things that really stood out to me were 1) how much engagement values rule and 2) how much the women of Sitecore rule.
First, I attended a few talks that touched on Experience Analytics, the SBOS methodology and how marketers have successfully utilized these tools in Sitecore. The power of engagement values is immense in relation to building well-informed optimization strategies such as personalization, A/B testing, and SEO. The rooms were packed with people asking thoughtful questions about attribution, profiles and patterns, campaigns, success metrics, and how to tie them all together to make website efforts more meaningful. I look forward to helping my clients leverage engagement value scoring and engagement KPIs to build smarter user experiences.
Second, the #movethedial panel was insightful and moving. I feel fortunate to work at a company like Velir where conversations like these are front and center – we have a Women's Initiative to empower the women who work here, we sponsor She Geeks Out, and we have hosted a number of women-in-tech events at our office. That being said, seeing the space being created for engaged, empowered women to connect on gender issues in the tech industry made me love Sitecore all the more.
Dan Murphy, Director of Business Systems Analysis and Sitecore MVP – The Sitecore Authoring Experience
The Symposium is a highly-curated production with lots of insights and tips on offer for analysts, strategists, and business users.
This was my second time at Sitecore Symposium as a speaker and it was interesting to see Sitecore continue to step up their game with this event. I also got to attend the MVP Summit for the first time this year, and it was a terrific opportunity to learn more about the latest release of Sitecore and what's on the roadmap for the future. There were a few themes that emerged that I'm really excited about.
A Focus on Operational Efficiency for Content Authors and Marketers
Sitecore recognizes that there is an ever-growing list of new tools and features that content authors and marketers need to wrap their heads around. Staying on top of this fast-moving industry requires a high-degree of efficiency, and Sitecore is aiming for its platform to be a driver of this efficiency.
I was very encouraged by what I saw coming in down the road from Horizon, Sitecore's author experience overhaul initiative. With Horizon, Sitecore will deliver a new interface that will be miles more intuitive, reduce context switching between Experience Editor and Content Editor, and integrate page-level analytics to provide better context for making decisions.
Sitecore also previewed a revamped launchpad and analytics dashboard that will bring parity in these areas to other enterprise XP (experience platform) solutions like Adobe. Can't wait!
The acquisition of Stylelabs promises platform maturity, allowing for more of the creative process and end-to-end tasks to be owned within Sitecore. This will save content authors from the inefficiency of having to switch between multiple tools and solutions.
Dan Solovay, Sitecore Practice Lead and 5-Time Sitecore MVP - Horizon, Sitecore JSS, and the Evolution of Headless
Dan Solovay presenting a technical walkthrough on creating a Sitecore commerce feature.
I have a number of impressions from this event. First, I'm struck by both the continued growth of the event and how close-knit this community is. The new CMO, Paige O'Neill, made just this point when she spoke at the MVP Summit following the event: "I thought I knew Sitecore, but I really didn't have a sense of how strong the community was."
From a product perspective, I'm struck by the fact that Horizon, the new, pruned down, very fluid concept of a Sitecore front-end, is real and quite literally on the horizon. This is just the start of a continual rethinking of the Sitecore UI from an authoring and marketing perspective, as the conceptual demo of this year's closing showed.
Another area that generated a lot of excitement was Sitecore's JavaScript Services (JSS) offering (coming with 9.1). It allows Sitecore developers to build headless React and Angular apps while preserving the full capabilities of the rendering engine (in-line editing, personalization, and A/B testing). Kam Figy and Adam Weber's presentation on this was packed (I had to sit on the floor), and included many 'wow!' moments, such as the demo around building a progressive web app (browser to clickable app) directly from Sitecore.
Velir's Adam Lamarre and Bryan Mills showed how developers can take the new foundational structures in JSS, such as GraphQL support, to build lightweight sites using tools like Gatsby. Deane Barker's technical keynote on the evolution of headless put JSS in context: as the headless space matures, headless vendors will need to offer more presentation-related features (e.g. content testing), which will force them to compete on Sitecore's turf.
Finally, it was clear that what we'll be buzzing about in future Symposiums is Cortex™. The ability to take a well instrumented Sitecore site (with goals, personas, and campaigns set up) and let machine learning figure out how to tune it, is incredibly exciting! Sitecore's deep knowledge of the intricate details of customer engagement position it well for the coming ML revolution.
Chris Sulham, Technical Director and 3-Time Sitecore MVP – Sitecore 9.1 and Beyond
My biggest takeaway from the Symposium was the sheer breadth of new features coming with Sitecore 9.1. While officially a minor release, 9.1 feels like a new version of the platform due to the number of new technologies being introduced. Similar to the shift from WebForms to MVC years ago to keep pace with modern web development practices, Sitecore is bringing in a number of changes to decentralize the platform and open the door to more service-oriented architectures. We were shown teasers of some of the upcoming technologies that will enable this, including a new federated authentication service and a micro-service hosting platform built on .NET Core. Couple this with the official release of JSS, and we're looking at a potential paradigm shift in the way we develop applications with Sitecore.
Bryan Mills, Principal Front End Developer and Practice Lead – Sitecore JSS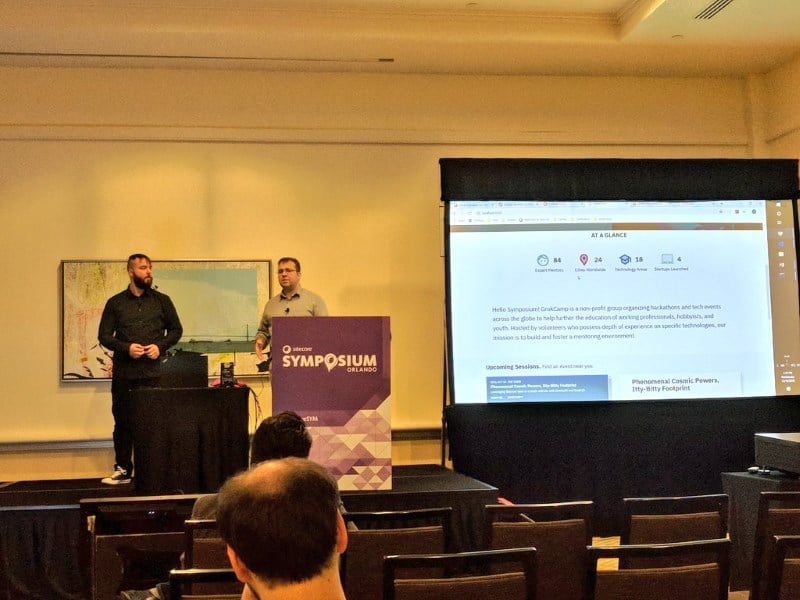 Bryan Mills & Adam Lamarre talking about leveraging Sitecore data on a static website with GatsbyJS and GraphQL.
As a front-end developer, choosing to make my first Symposium aligned with the release of JSS turned out to be kismet. My big takeaway from the event (aside from just how welcoming and friendly the community is) is just how focused Sitecore is on the future and building a modern product that goes well beyond content management.
JSS certainly appears to be one of the linchpins of this strategy. With it there is now an entire whole-platform solution for integrating Sitecore features into client-side apps using the most popular frameworks of the day.
With all the buzz around JSS this year, I think everyone had similar questions about how to best utilize it in their site or product. Sitecore has given us a new power tool, so it will take some time to figure out how best to use it, and to work out the bugs of a 1.0 release. Regardless, I think teams who currently work with homegrown Sitecore/JS interop should begin formulating a plan to migrate to JSS, if they're seeking a more seamless experience with their apps and Sitecore.
Chris Brady, Partner Alliance Manager – Making Marketing and Technology More Human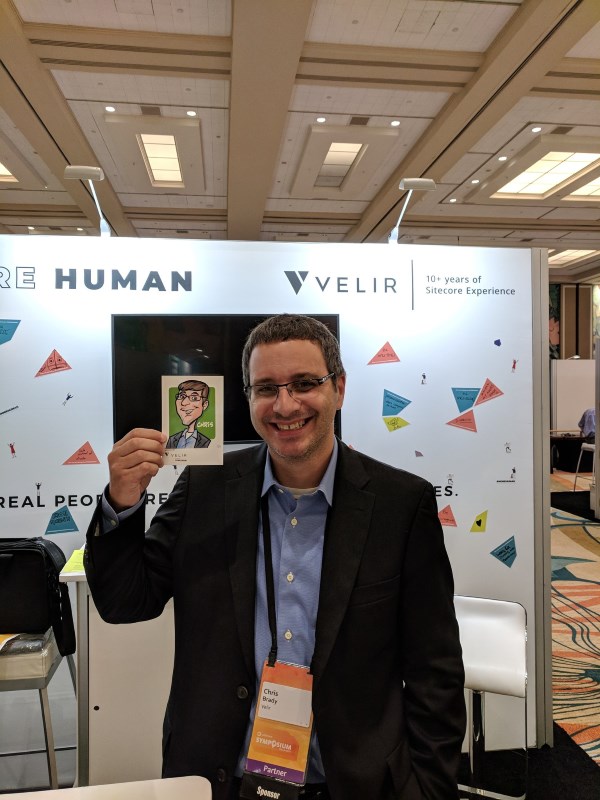 Chris Brady showing off his self-portrait, courtesy of the digital caricaturist, at Velir's booth!
This year's Sitecore Symposium was jam-packed with incredible presentations, exciting announcements, and lots of energy around new functionality. Enabling marketing teams to break free from routine, tedious content management tasks to focus on delivering more impactful, customer-centric experiences was a key theme. We had the opportunity to speak to professionals from a variety of organizations and hear their day-to-day challenges around content delivery, measuring and optimizing engagement, and increasing the ROI of their investment into Sitecore.
The Partner Pavilion was larger than ever before, and attendees swarmed the booths to see how agency and technology partners are leading the way on Sitecore best practices. Velir shared stories of the things we're doing to enable content authors and marketers deliver on the promise of the Sitecore platform through our #MoreHuman campaign.
Looking Ahead to Sitecore Symposium 2019
Sitecore Symposium has always been an incredible opportunity for our team to meet with Sitecore enthusiasts from all over the world to share, network, learn, and collaborate. Each year, the experience is even more powerful, and this year was one of the best yet. Taking time to reflect on our takeaways from the Symposium not only allows us to digest the vast amount of information we gather but also helps inform our road ahead. It's no doubt that our team is already looking forward to attending the Symposium next year!
We'd love to hear your thoughts and experiences. Please add to the discussion via the comments below or Tweet Us, @Velir!