Enhancing Clients' Digital Implementations Through Strategic Partnerships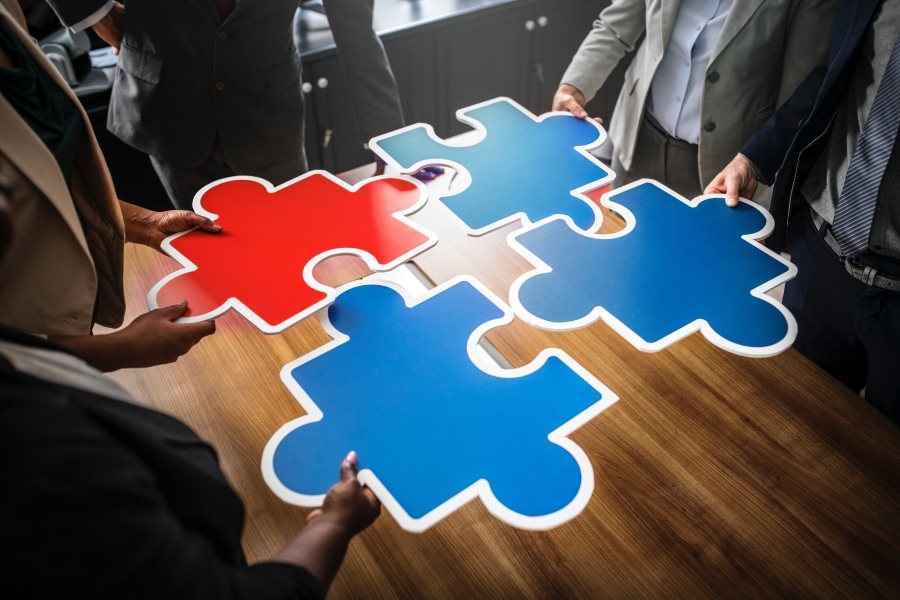 Divya Mathew, Marketing Director at Velir, sat down with Chris Brady, Partner Alliances Manager at Velir, to discuss how strategic partnerships with leading technology vendors and service providers helps us empower our clients to succeed in their web marketing efforts. Chris shared what we look for in companies that we partner with including finding solutions that have a depth of capabilities and are proven to solve the types of challenges our clients face.
In this episode, you will learn:
The role of partnerships at Velir and why they are important to the work that we do. (0:40)
What benefits Velir's partnerships bring to our clients. (1:50)
Three attributes we look for in a technology partner. (3:07)
"We work with a lot of great partners to bring a variety of supporting technologies to empower our clients to succeed in their digital marketing efforts."
Video Transcript (Edited for Clarity)
Divya Mathew: Hi everyone. Welcome to another very exciting episode of Public Interface by Velir. My name is Divya and I'm your host for today's show. We're gonna talk about a critical component of the work we do here—our partnerships.
[Public Interface Intro]
Velir Presents
Public Interface
Partnerships at Velir
Divya: I'd like to welcome Chris Brady, Velir's Partner Alliances Manager.
Chris Brady: Hey, Divya.
Divya: Let's talk about the role that partnerships play here at Velir and why they're important to the work that we do.
Chris: Partnerships account for probably 90% of everything that we do here at Velir—they're vital to our success. I would group our partnerships into three types. We have our platform partners, we have our technology partners, and we have our agency partners. The platform partners are folks like Sitecore and Acquia—these are massive strategic partners for us. These are the critical folks that we work with every day to deliver digital experience platforms for our clients, so they're vital. On the technology side, we work with folks like Microsoft, Coveo, Salesforce, and SiteImprove—all sorts of technology and supporting technologies that enable our clients to get success with their website. On the agency side, we work a lot with the large agencies, the consultancies, and the marketing communications firms out there that we can play a role in the delivery of a project whether it's developing the website for them, whether it's helping them with their strategy, with their analytics work, or perhaps helping them with the upfront research that goes into ensuring the UX is on point. The goal is to work with these agency partners to deliver great work as a team.
Divya: I think on the technology side that's fairly self-explanatory, so maybe we can explore the agency side and what benefits that brings to our clients.
Chris: There's two kinds of main reasons why folks want to work with Velir. I think the first is we have a tremendous depth of expertise in the areas that we choose to focus in. But similarly, there's going to be other experts out there who are fantastic in their own domains. Rather than us try to do everything for everybody on every project, the more we see that there's an opportunity to bring other partners in and be a little bit more collaborative in our approach and deliver great expertise as a team. The second thing is clients really care about de-risking the project and keeping things on a timeline. So when you bring these experts together one thought would be that maybe that makes it slower because you have more people, but we found that allows each of us to thrive in our own areas, and then there's less kind of wondering what we should do and more just doing the right thing.
Divya: Okay, so moving on, let's say there's people watching who aren't partners of ours today and they're interested in becoming a partner, let's talk a little bit about how we go about forming or forging new partnerships. What are some of the criteria that we use to evaluate whether an organization would be a good partner for us?
Chris: On the technology and platform side of things, I would say that there's an infinite amount of technology out there. So whether it's machine learning or chat box…
Divya: Or Scott Brinker's Martech chart…
Chris: Totally, totally. There's going to be kind of three attributes that we look for when we're looking for a new partner. The first is that our delivery team really has to have the need for your solution. We could go out and build something custom, but if there's a solution out there that already works it's already proven, it's got the depth of capabilities that we'd be able to bring to our clients with less effort, that's going to be a good fit. The second is our team has to love your solution. I want to find partners that we can use on every client project. If we've built something successfully on a platform with one of our partners, we're going to go back to that one again and again. Add some new functionality but ultimately, we want to deliver increasingly better work for our clients and so that's really important for us. The third thing that's really important for us is you have to be in a vertical that we work in. While there are technologies out there and agencies out there that can be all things to all people. we find that our clients are more willing to adopt technologies that are built for those verticals. So if you're working in the association space you have maybe a community platform or you have an AMS system things like that—those are probably a good fit.
Divya: We've talked about things at an organizational level, and we've also looked at some specific projects and how partnerships have played a role in those, so let's bring things around to you specifically. What role do you play in this whole partnership ecosystem and how do you put into the story?
Chris: My role is really to be your first point of contact for all things Velir. So if you're somebody who's looking to become a new partner with us, somebody who is an existing partner that we love like Conrad at Coveo, Alyssa at Sitecore, Sherine at Acquia, etc., etc. all my friends—thank you for your support we love working with you guys. I want to spend my time helping to grow your business and our business together and ultimately deliver great work for clients.
Divya: All right, thanks Chris! That was really insightful and hopefully, that provided everyone watching with a lot of information on all things partnerships related at Velir. If you've enjoyed this episode, once again please make sure to subscribe to the channel, and also connect with us on Twitter (@Velir), LinkedIn, or your social media platform of choice. Or you can subscribe to our newsletter as well. All of that is link below in the description to this video. Thanks for watching and we'll catch you in the next episode of Public Interface!
[Outro Music and Closing Credits]
Hosted By: Divya Mathew
Special Guest: Chris Brady
Produced By: Velir
Directed By: Mark Stiles
Velir
Connected Digital Experiences
velir.com/pi
[email protected]
617.491.6900