Acquia Engage 2020 Highlights

Each year, we look forward to Acquia Engage but this year, we were anxious to see how Acquia would transform their conference into a virtual event. We're glad to say that Acquia's first global and completely virtual conference was an absolute success. The seventh annual Acquia Engage took place from October 20-21, 2020, and drew 2,419 registrants from 46 different countries. We loved exploring this year's themes of digital resilience, innovation, and leveraging technology for good as we learned about the latest Acquia has to offer.
As a certified Acquia Drupal Implementation partner, a 2019 winner of Acquia Growth Partner of the Year, and a nominee for this year's Acquia Engage Quickest to Launch Award for our work with our client LMC, we were thrilled to learn about everything Acquia has in store for the coming year. We can't wait to start leveraging the latest Acquia products and features to help our clients build scalable, streamlined, and robust Drupal websites. Here are some of our highlights from the event.
Visual Page Builder for Acquia Site Studio
Acquia Site Studio will add a visual page builder functionality so editors and marketers can "see" the page they're building in real-time. This means you can preview components and their content before publishing them. You can do that with an easier more intuitive UI than the current form-based editor in Drupal.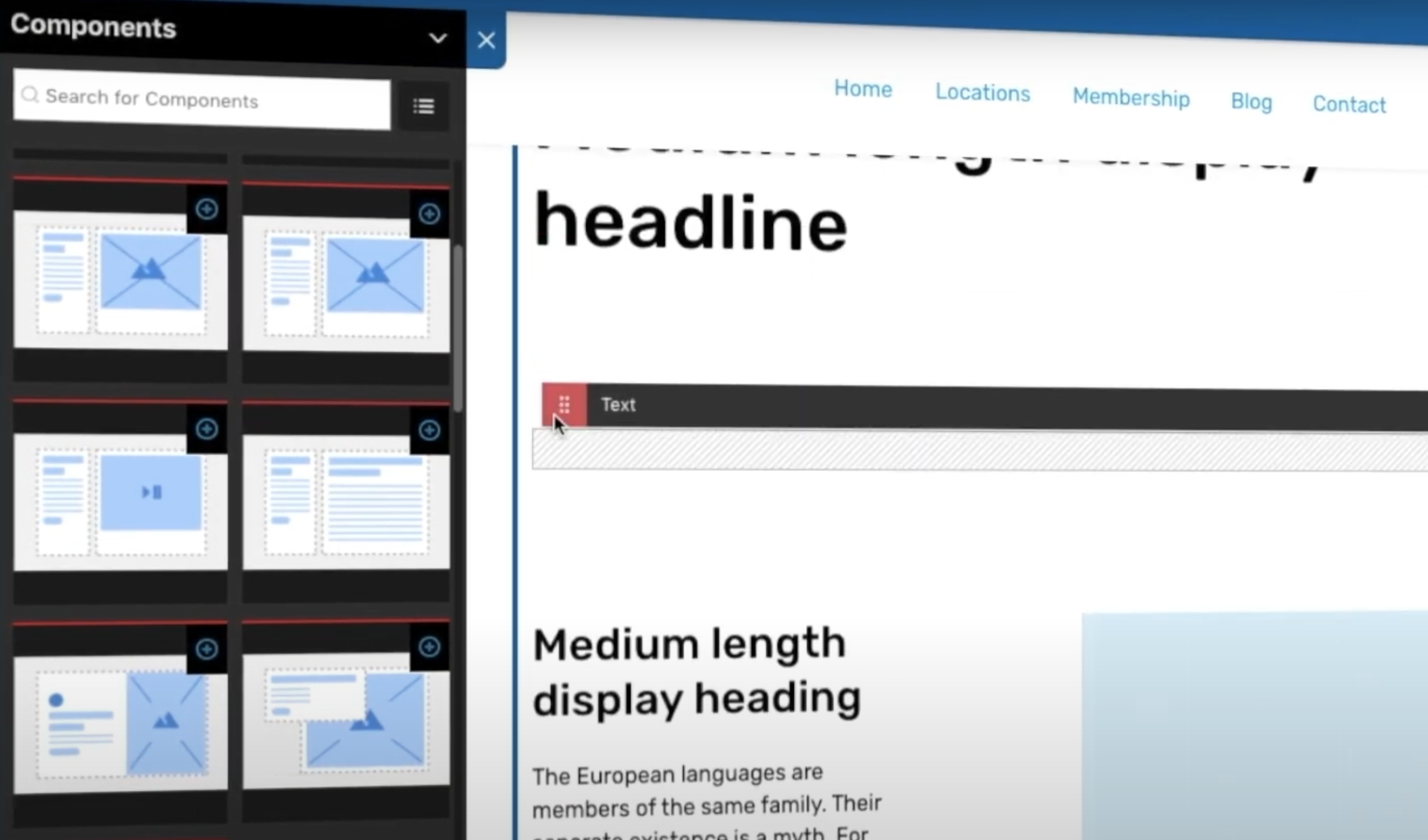 This enhancement will improve the authoring experience and lower the barrier of entry for content editors and marketers by reducing their technical hurdles and blind spots when entering content. It also elevates Site Studio to a best in class Drupal solution that helps users while maintaining structure, content integrity, and accessibility better than other page builder tools like Gutenberg and DXPR. And it's easier to use than Paragraphs, Layout Builder, Block Management, and other more traditional methods of content entry. The visual page builder was a popular request from customers and will be available in the first quarter of 2021.
Another notable addition to Site Studio includes making components "smarter" for editors. For example, if you change a component's background color, it will automatically set the font color(s) on that component to a readable contrast. Not only does this help preserve accessibility for website visitors, but it also reduces the effort needed for marketers and editors to manage content. Velir has built many custom components and launched successful Site Studio projects this year, so we're looking forward to this update.
>> Watch a Site Studio visual page builder demo.
Acquia Cloud Platform Enhancements
Five exciting announcements were made about the Acquia Cloud hosting platform:
The inclusion of a Site Studio license with any Acquia Cloud account is a nice benefit and incentive to host with Acquia. It also includes the added benefit of New Relic's site performance tracking at no cost. We use New Relic extensively to monitor web application performance and identify any issues with the code, databases, or environments.
Acquia has included the Solr search platform for some time but has now upgraded to version 7. This will eliminate the need to secure a third-party vendor to host Solr. Previously Acquia only offered Solr 4 which was long deprecated and made it difficult to deliver great search experiences for clients on Drupal as time went on.
By leveraging Solr 7 on Acquia you can use the popular connector module Search API Solr without changing anything in your code or content other than enabling the Acquia Connector module. We recently deployed a custom Solr 7 search for the National Bureau of Economic Research, so they can drop search-based components onto various pages around the site, exposing decades of accumulated articles and data to their users in a very fast Solr search implementation. We are glad to see Acquia Cloud getting this Solr version upgrade!
Acquia Cloud Next is the next generation of the Acquia Cloud hosting platform. It will shift the hosting model toward a container-based approach on Kubernetes, offering increased performance, isolation of services, and more flexibility to scale to meet the needs of your traffic and application.
We are invested in Docker and Kubernetes solutions at Velir and we will be keeping a close eye over the coming year on Acquia Cloud Next.
Acquia CMS Distribution
Acquia will begin offering a Drupal distribution called "Acquia CMS" that will provide a default install of best-in-class modules and configurations. You will be able to create sites from the Acquia Cloud admin from this distribution to kickstart any Drupal project on Acquia.
Instead of the vanilla Drupal install, you'll begin with an environment set up with best-practice configurations, starter content types and templates, and all the connector modules for Acquia products pre-integrated and ready to go. This is another feature that will allow you to hit the ground running when you combine it with Site Studio.
Acquia Engage-Nominated
Among the many highlighted projects, Velir was nominated for "Quickest to Launch" for our work with Lennar LMC by Acquia for marrying the power of Acquia Cloud Site Factory, Acquia Digital Asset Management (DAM), and Site Studio together for a one-click turnkey Drupal platform for Lennar Multifamily Communities (LMC). We are honored to be recognized for our efforts with LMC.
Our work enabled LMC to create and launch new sites in as little as one day, saving them weeks of time in site builds and granting their teams the power and flexibility to manage content without needing a lot of technical know-how.
Beta Testing Phase
As a trusted Acquia partner, Velir was selected to beta test products shown off at Engage, which was an amazing experience. We enjoyed testing and giving Acquia feedback about its latest products. We also can't wait to share these upcoming products with you and we are more than happy to chat with you about them. Reach out or start a conversation with us on Twitter about the beta products to learn more.
Acquia Innovation Showcase Recap
For a more detailed look at these offerings and more, check out the following video. To learn more about our work with Acquia, you can read more of our thoughts on Acquia, or delve deeper into our specific Acquia expertise. You can also contact us to discuss how we can help you launch your next Drupal website with Acquia.