SUGCON 2022: Sitecore's Composable Future Comes into Focus

Since last year's Sitecore Symposium, the community has been abuzz with speculation about Sitecore's composable future. Following a flurry of acquisitions over the previous two years, Sitecore became much more than its core Experience Manager (XM), Experience Platform (XP), and Experience Commerce (XC) products. With its Stylelabs acquisition in 2019, Sitecore added a digital asset management (DAM) and Content Marketing Platform (CMP), to become a pure software as a service (SaaS) product.
Now with acquisitions such as the Customer Data Platform Boxever and the headless commerce engine OrderCloud, and its partnership with Vercel as a headless web delivery platform, Sitecore had transformed itself into a company with a strong emphasis on API-driven SaaS products.
What was the motivation for this transformation? Was there a coherent vision driving these changes? And what was the role of classic XP in this new world? At SUGCON 2022 in Budapest, the thinking behind this transformation came into much sharper focus.
At the first Sitecore in-person event in two years, Sitecore CEO Steve Tzikakis stressed that two things drove this strategy. First, the deepening digital presence in the physical world, a change accelerated by the pandemic. This made the business case for agile and fast marketing technology stronger. The distinction between online and offline also dissolved, which led consumers to expect digitally enhanced experiences even in physical stores. To enable these experiences, marketing technologies need to connect with each other in clean flexible ways. Like LEGO bricks that can be assembled in countless ways because they present a clean and consistent interface, marketing components built with modern APIs should work the same way.
According to Tzikakis, the increased demand for flexibility and a new generation of API-driven marketing technology gave Sitecore the opportunity "to leapfrog the competition," by assembling a portfolio from the latest generation of API technologies, such as webhooks and GraphQL endpoints. This point resonated with me since I was recently involved in a vendor evaluation for a piece of non-CMS marketing technology. Features like GraphQL and webhook support were rare, and uniquely associated with the more recent platforms in the space. Older platforms showed their age because they were difficult to update with these features. Having these pieces under one vendor provides convenience for large customers—with fewer vendor relationships to manage—but having them designed for maximum integration with other technologies future proofs their investment.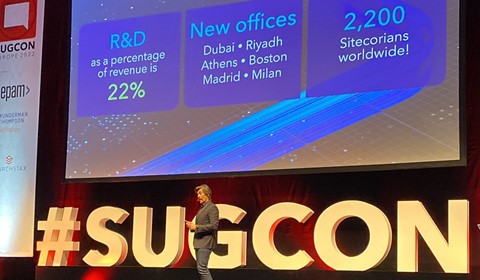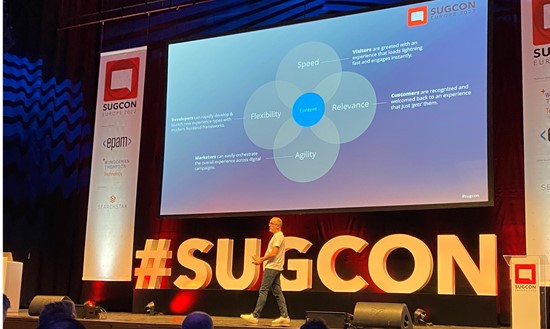 Sitecore's Chief Product Officer, and former Boxever CEO, Dave O'Flanagan, laid out the four pillars guiding this strategy: Speed—creating "lightning fast" experiences, Relevance—creating experiences that just "get" customers, Flexibility—enabling developers to build experiences with modern frontend frameworks, and Agility—allowing marketers to coherently "orchestrate experiences" across channels. These goals are in tension: you can make sites faster if you take out all personalization for example, so the value comes in balancing these aims and providing the ability to customers to purse one without costing it the others. Quoting Charles Darwin, O'Flanagan reminded the crowd that fitness is not strength or speed, but rather the ability to adapt quickly to change.
Sitecore's vision became even clearer with Andy Cohen's presentation of XM Cloud, to be released this summer. This product has the potential to marry the flexibility of the Sitecore CMS and its completely extensible pipeline architecture with the features you'd expect from a SaaS product—like vendor-managed hosting, scaling, and software updates. The product is recognizably Sitecore—the Launchpad and Content Editor are still there—but instead of publishing to a web database served by a Content Delivery server, it publishes directly to Sitecore's Experience Edge. The product seemed very developer friendly, with support for advanced DevOps workflows like "GitDeploy", where pushing code to a branch automatically triggers a build, and the ability to provision a fresh environment from a portal or the command line in five minutes. Sweet!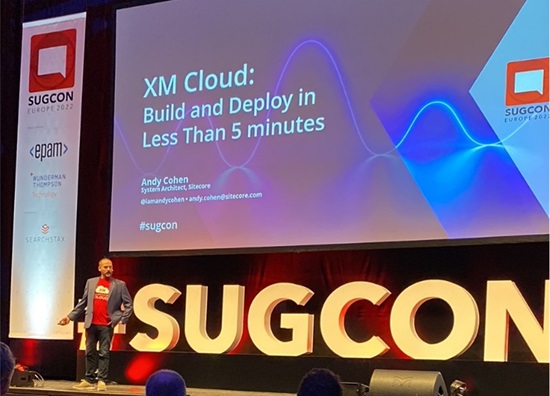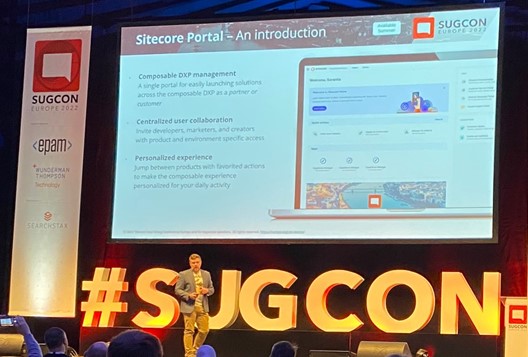 The Product Roadmap Keynote given by Jake Hookom and Roger Connolly at the close of the conference showed where this was all heading. Their keynote opened with another important releases coming this summer, Sitecore Portal, a single hub for managing all Sitecore's products across different environments, with the ability to manage roles (partner vs. customer, developers vs. production staff, etc.) and environments (development, staging, production, or different geographical regions). Think the Azure portal, but for Sitecore's cloud products. It showed the clear potential of a suite of Sitecore SaaS products that can be provisioned, managed, and billed in a coherent way.
The most striking moment for me was when Roger Connolly previewed their coming "Front End as a Service" product, Sitecore Components, that will allow building data-backed components through a visual editor. He stressed that this would be data agnostic and included as examples of possible data sources, like Contentful and WordPress. This really brought home their commitment to this composable vision: you're welcome to the Sitecore product family even if you're not using Sitecore as a CMS. Seeing these competitors presented in this neutral light on the stage of a Sitecore event felt like a "let me show you this on an iPhone" moment, to recall when Satya Nadella showed the changes he had brought to Microsoft with a simple gesture that would have been unthinkable a few years prior.
Finally, a small moment with a strong reaction. During the roadmap talk, Roger Connolly mentioned that webhooks would be coming to XM Cloud to support external integrations with Sitecore workflow. As your content moves through workflow states, it can initiate an outbound asynchronous call to any specified endpoint, to trigger any desired external integration. You no longer need to write a pipeline processor and make an outbound web call in code (there was a very helpful lightning talk by Corey Smith on all the things that can go wrong when you do that). Instead, you just configure an endpoint in configuration or the Content Editor, and you can target the outbound system directly. He added that this would be coming as well to Sitecore XM/XP 10.3, to be released around Symposium. This got a hearty round of applause from the audience, since it shows continued investment in classic XM, and a desire to have that product keep pace with XM Cloud, which will simplify migration scenarios in the future. I think we were also clapping because these look like exciting innovations we're eager to get our hands on.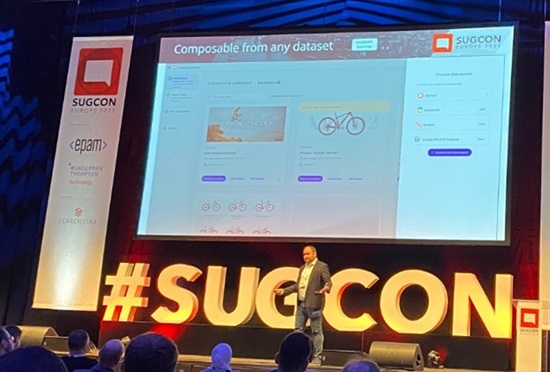 Want to learn about the latest Sitecore features so you can take advantage of them for your website? Reach out to us. We're happy to talk about them and show you how your organization can leverage them to deliver great experiences to your audiences.