Sitecore Partner, Velir, Wins 7 2019 Sitecore MVP Awards in the Technology, Strategy, & Ambassador Categories

We're excited to announce that seven members of our award-winning Sitecore team have been selected as 2019 Most Valuable Professional (MVP) by Sitecore®, the global leader in experience management software. Now in its 13th year, Sitecore's MVP program recognizes exceptional professionals from the community who actively share their Sitecore expertise to advance the future of customer experience and drive organizational change.
This year's wins are especially exciting for us on account of several factors:
This year marks the most MVP nominations in our history, with a total of seven MVPs across three categories: Technology, Strategy, and Ambassador.
We're extremely proud to see the growing diversity in our group of MVPs. It's an honor to welcome two women MVPs to this elite group, who truly embody the spirit of Sitecore's Move the Dial initiative and are forging a path for many other women in technology.
Four of this year's MVPs have won the distinguished status multiple years in a row, attesting to the strength of our Sitecore practice and our team's tremendous commitment to the platform.
"As one of Sitecore's oldest North American partners from back in 2006, we are honored to have been a part of its evolution for well over a decade. We are extremely proud of all our Sitecore MVPs, several of whom have won Sitecore MVP awards multiple years in a row. We are also proud of our ongoing partnership with Sitecore and look forward to continue using the platform to create high-impact digital experiences for our clients."

—

dave valliere,

CeO, Velir
With these nominations, Velir is now home to two of the 37 Strategy MVPs, four of the 186 Technology MVPs, and one of the 74 Ambassadors worldwide.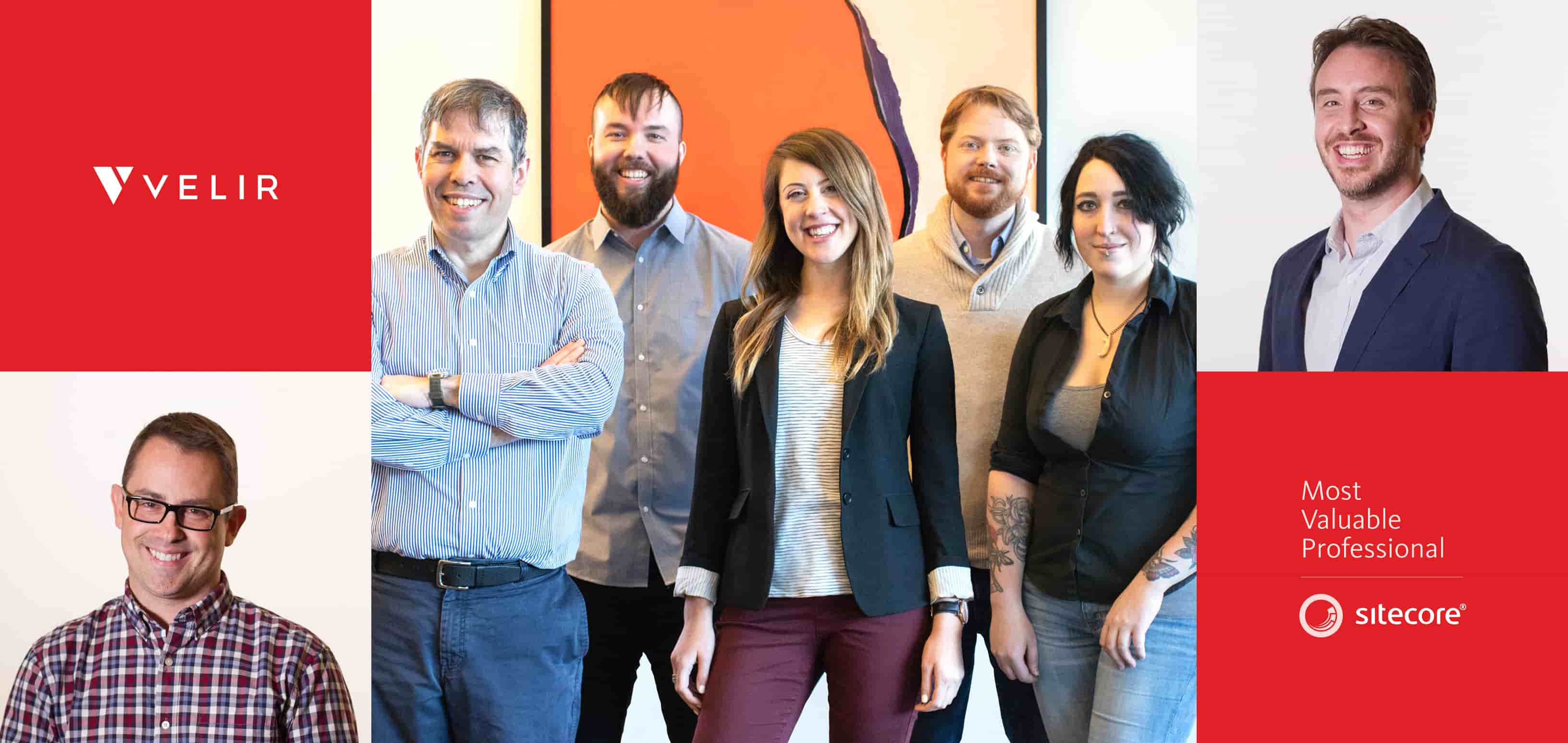 Strategy MVPs are individuals with strong data-driven marketing experience who are capable of implementing the Sitecore® Experience Platform™ to drive business results. Velir's 2019 Strategy MVPs are:
Dan Murphy (Sitecore Strategy MVP since 2018)
Stephanie Allen
Technology MVPs passionately participate and share their Sitecore knowledge online and offline with other partners and customers. Velir's 2019 Technology MVPs are:
Adam Lamarre
Dan Solovay (Sitecore Technology MVP since 2013)
Erica Stockwell-Alpert
Mark Stiles (Sitecore Technology MVP since 2013)
Ambassador MVPs (introduced in 2018), partner with Sitecore executives and provide feedback and insights about the product roadmap and strategy. They also actively partake in community events. Velir's 2019 Ambassador MVPs are:
Corey Caplette (Sitecore Technology MVP since 2010, Ambassador since 2018)
In 2019, our MVPs are working closely with Sitecore to create cutting-edge digital solutions that meet the needs of both our clients and their customers. We're integrating emerging machine learning and AI technology with Sitecore to deliver engaging customer experiences and optimize the authoring experience by streamlining back-end content operations. We're moving more clients to Sitecore's Azure PaaS offering, taking advantage of all the benefits of Sitecore in the cloud including providing scale and flexibility on-demand. We're also helping clients use Sitecore as a "headless" content and marketing service.
"We have worked closely with Sitecore for over a decade and are excited to be partnered with an organization who continues to push the boundaries. The Velir team uses Sitecore daily to deliver on the core needs of our customers, providing relevant content to enable tailored customer experiences and building author experiences that empower the business.

In addition, Sitecore's latest innovations including Cortex helps clients get a more holistic view of the customer which we can use to help enable personalization. We look forward to our continued collaboration and success with Sitecore in 2019."

— Corey Caplette, CTO, Velir
ABOUT VELIR
We are a leading digital agency, providing digital marketing and technology expertise to some of the most influential and impactful organizations in the world. We are based right outside of Boston, in Somerville MA, and have a 130-person strong team working across a variety of verticals including non-profit foundations, associations, healthcare, higher-education, and professional services.
Our core capabilities in digital strategy, experience design, systems implementation and integration, and data visualization are recognized as the best in the industry, stemming from a 19-year focus on delivering custom digital solutions. We have completed complex implementations and large-scale builds for brands including Bayer, Subway, the Metropolitan Museum of Art, ASAE, Informa, Drexel University, Main Line Health, Vistaprint, and more. For additional information, please visit velir.com/sitecore.