Improving Global Health Outcomes with Data-Driven Insights and Narratives
A Sitecore website featuring core lessons from positive outliers in health.
Overview
Exemplars in Global Health (EGH) maintains a global platform of research and analytics on leading examples of progress against major health challenges. Their platform ensures that learnings and expertise from exemplars around the world are shared so that successful health practices are adopted more widely. EGH asked Velir to migrate their site from a standalone system into Sitecore and to create a wide range of exciting new features for their audiences.
URL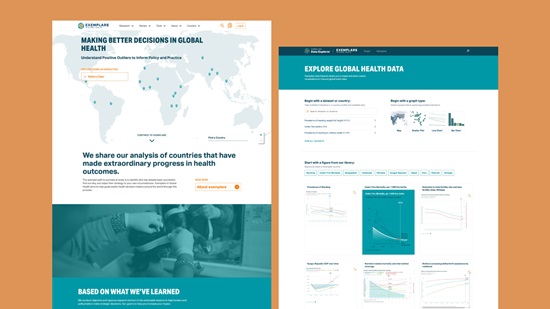 Challenge
Exemplars in Global Health (EGH) needed to rebuild their website on a digital experience platform, and in the process, they wanted to add a variety of features to their site. After selecting Sitecore as their digital experience platform, they helped us determine the scope and requirements for migrating existing components into Sitecore and adding new site functionality.
The most exciting new features EGH wanted to create were a customizable report builder with advanced options for crafting and organizing reports, and a data explorer with the ability to create data visualizations based on user-selected countries, variables, and indicators. Other new features included user profiles that allow audiences to log into the EGH site for enhanced functionality, advanced search to provide users with quicker access to data, and a community where users can share stories, make comments, or ask EGH questions.
To power the community functionality, EGH tasked us with integrating the site with Telligent, and to better understand their audiences, they requested that we integrate the site with their customer relationship manager (CRM), Microsoft Dynamics 365.
EGH's challenges included:
Migrating their website to a new platform (Sitecore)
Creating a wide range of complex new features and functionality
Integrating their new website with Telligent for community functionality and with their CRM (Microsoft Dynamics 365)
Approach
To tackle this project, our business systems analysts created functional specifications for all EGH's features and worked closely with EGH through regular meetings to manage these specifications. We also leveraged our development team to perform both front-end and back-end development of EGH's new site.
We rebuilt existing features from the previous site in Sitecore and constructed dynamic new data visualizations like trend graphs and milestones, which are powered by Data Center, our proprietary data management system. Data Center provides admin teams an interface for uploading spreadsheets of data, which are then populated in a database, and update visualizations on a live website. This system was used to create flexibility for EGH's team and power visualizations in the site's Data Explorer section.
We also made features like the trend graph and milestones authorable in Sitecore so that content authors could edit these data visualizations. This functionality allows them to add plotted points, specific indicators, explanation text, and links that offer more insight into the data.
We worked as a cohesive team to develop all the exciting new features and functionality EGH wanted to implement, including: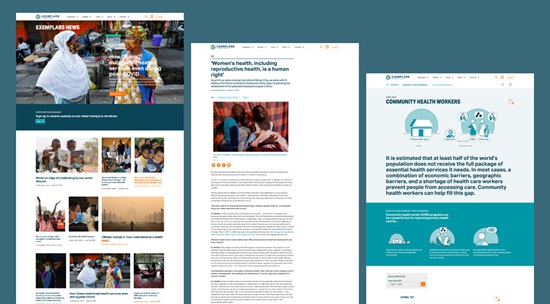 User Profiles: A way for users to register and log into the site to access community features and to save/download content through EGH's Report Builder or data visualizations through EGH's Data Explorer.
Enhanced Search: Advanced search functionality built on top of the existing website search that provides users with quicker access to relevant information through extensive search facets.
Report Builder: A customizable report building tool, where logged-in users can craft a report on a page-by-page basis through an add-to-cart style interface, manage the content in existing reports, generate an editable PDF view of the report, create cover and Table of Contents pages, and show or hide components in PDF reports.
Data Explorer: A tool that allows users to manipulate data through maps, scatterplots, line charts, and bar charts. With it, they can create a library of saved visualizations, download EGH-branded images, and see country profile pages, which display a report of country-specific information.
Community: Functionality powered by Telligent so logged-in users can share stories, comment, or ask questions to other users and subject matter experts in places around the website. We made it so each site component could support this annotation functionality and built a moderation process where comments must be approved before they're made public.
Stories: An eye-catching news section to showcase important stories about how countries around the world are working to improve their health outcomes.
As we completed these features, we provided the EGH team with the essential training to import all the necessary data to activate them for their users.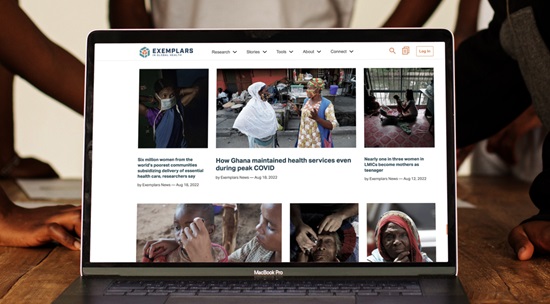 Our approach included:
Creating functional specifications for all new features and working closely with EGH's team to manage the specifications
Performing front-end and back-end development to bring features to life
Constructing dynamic new data visualizations powered by Velir's Data Center
Making data visualizations authorable in Sitecore so that content authors can edit them and provide nuance to them
Training the EGH team on how to import all the necessary data to activate its features for users
Solution
By working closely with the EGH team we launched a robust Sitecore experience that allows EGH's audiences to create visually appealing and informative reports on healthcare outcomes that they can leverage in their research, advocacy, and policymaking. They can also find information faster using a revamped search. And the ability for audiences to register on the site unlocks a host of valuable functionality like building complex reports on global healthcare outcomes, which they can customize to best serve their needs. With Data Explorer users can manipulate data into visuals that tell compelling data stories, and with the site's community functionality, they can share stories, comment, or ask each other questions to help provide context to the data they're leveraging.
We launched the site's Research section with health topics like Stunting and Under-5 Mortality, but since then we've expanded the section to include topics like Community Health Workers and Mass Drug Administration along with data for countries that are exemplars of those issues. Our support team helps EGH continue to build out this and other site sections with new data as it's collected.
Results:
The ability for audiences to create visually appealing and informative reports on healthcare outcomes
User registration that unlocks valuable, previously unavailable functionality
Revamped search functionality that allows audiences to find what they need faster
Custom data manipulation options for creating compelling visual data stories
Robust community functionality for users to share stories, comment, or ask each other questions about data
See more case studies and client work we're proud of