Defining Digital Success Through a Business Lens
A powerful reporting framework to help an association to measure its digital efforts.
Overview
Velir helped the Institute of Food Technologists (IFT) define what success means for their website. We did that by crafting a Measurement Strategy which offered clear objectives around content engagement, and conversions by distilling their business objectives into measurable, digital goals. From there, we assigned key performance indicators (KPIs) to measure each goal's success with the SMART goal-setting approach. The result was seven key digital goals and 25 measurable KPIs that continuously expose opportunities for improving the site based on visitor behavior.
URL
ift.org
Challenge
IFT needed to strategically track its website's performance over time and to determine the site's key performance indicators (KPIs). Like many organizations, IFT struggled to define what success meant for its website, and how it could tie its measures of success to its business goals.
IFT's key challenges were:
Configuring strategic website performance tracking
Defining website success
Translating business goals into KPIs
Approach
Through our collaboration and iterative process, the KPIs and Measurement Strategy provided clear objectives around content engagement, conversions, and more. We created a comprehensive measurement strategy by collaborating with IFT to distill its business objectives of increasing membership engagement and increasing sales into measurable, digital goals. From there, we assigned KPIs to each goal to measure of success, with "success" meaning that KPIs meet or exceed IFT's organizational benchmarks. We created KPIs to follow the SMART goal-setting approach so that each goal was a carefully planned, clear, and trackable objective.
The key business objectives that we distilled to create IFT's measurement strategy were:
Increasing membership engagement
Increasing membership and product sales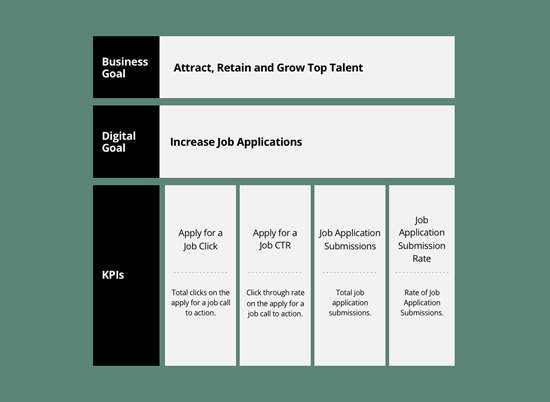 Solution
We helped IFT create a plan for strategic tracking by delivering a measurement strategy customized to their digital objectives, including ad tracking, content engagement, and membership signup. The result was a set of easily identifiable measures of success for IFT's website and a clear translation of their business and digital goals into trackable KPIs. These benchmarks guide IFT's marketing team in creating content, optimizing ads, and effectively promoting membership signup across the site.
Results
7 key digital goals and 25 measurable KPIs tied to organizational objectives
A framework that illuminates opportunities for improvement based on user behavior
A continuous feedback loop with users, which leverages behavioral insights to constantly inform tagging needs, learning opportunities, and website improvements


See more case studies and client work we're proud of