Reinvigorating an Iconic Brand
A refreshed digital experience for the largest art museum in the United States.
Overview
Velir worked with The Metropolitan Museum of Art (The Met), to deliver better desktop and mobile user experiences for all its locations through a single website. Combining separate sites into one and upgrading its Sitecore infrastructure reduced The Met's operational costs and made their art more accessible to global audiences who can't visit the museums in person. Redesigning their site also gave us a chance to incorporate The Met's new branding into it, and to create a modular structure that further reduces costs by helping content authors write and surface new content easily.
URL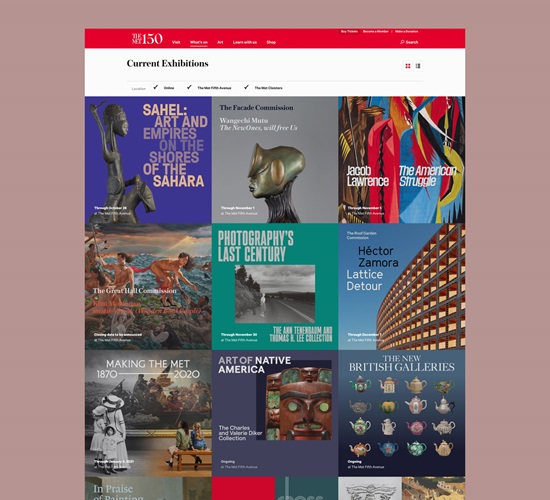 Challenge
In a single year, 6.7 million people visited The Met's three physical locations. During that same period, the museum received 33 million visits to its website. The fact that six times the number of physical visitors came to The Met's website demonstrated how important their digital properties were to connect with their audiences. Of The Met's website visits, 36% were international and 64% were domestic. Visitors browsed the site from a variety of devices, but 60% were on desktops or laptops, 30% were on smartphones, and 10% were on tablets. This geographic and device breakdown showed how important it was for The Met to deliver great desktop and mobile user experiences for all its locations with its new website.
The Met was operating two websites—one for desktop and one for mobile, so they wanted to reduce operational costs of maintaining separate sites. They also wanted to make their art accessible to global audiences and show them how relevant art is in their daily lives. To achieve these goals, the Met knew they would need to upgrade the technology powering their website, make the site's content easier to manage, and streamline their editorial process so more people could contribute compelling content to their blogs.
The Met's challenges included:
Placing equal digital emphasis on all three locations
Creating great user experiences on all devices
Reducing costs for operating two websites (desktop and mobile)
Making content easier to manage and streamlining editorial processes
Upgrading technology (e.g. moving their CMS to Sitecore 8)
Preparing their blogs to allow more contributors
Approach
Through a rebranding effort, The Met introduced a "greater clarity and consistency in all of their materials and communications." Our goal was to expand this clarity to The Met's digital channels, by creating consistent user experiences that embodied The Met's vision and brand promise. We partnered with The Met's team and the agency Fantasy Interactive to map out the complex design and technical effort needed to build consistency and refresh such a large website. Based on the plan our teams developed, we simplified the site's infrastructure, built standard components, and reduced the number of templates The Met's teams needed so content could be found and managed easier.
To serve The Met's vision, our approach included:
Implementing their new identity from their recent rebrand
Streamlining their website's editorial operations
Updating their website to the latest technologies
Upgrading their content management system (Sitecore)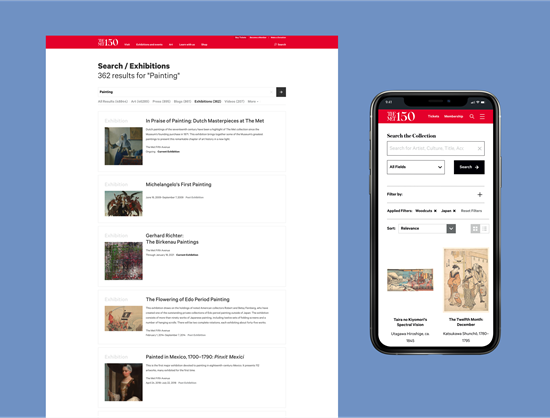 Solution
Velir built a website that supports 500,000-plus pages, 450,000 collection objects, and hundreds of thousands of images, blog posts, and videos. It also supports 3,300 events a year and many other ways for audiences to engage with The Met. Overall, it provided The Met with a solid foundation to be agile, innovate, and expand their digital experiences.
A completed project in an accelerated timetable (development completed within six months)
A significant increase in site visitors seeking information on visiting The Met's separate locations
An improved user experience and navigation
The ability to manage over 500 blogs created and maintained by content contributors
A more organized experience
Our update to the website produced a fresh design, simplified navigation, and more robust infrastructure. With its responsive design framework, the site gracefully transitions across devices—smartphones, tablets, and desktop computers—to improve the experience for all audiences. The refresh better organizes information and improved user experiences to help customers find exhibit information and to make form entry (e.g., for donations) more efficient. The new website also supports higher resolution images, which allows for more detailed images to be served on browsers that support them.
A focus on content authors
The new website empowers authors to be self-sufficient and build pages with without developer help. The site's modular structure is also aligned with The Met's methods for creating and publishing content in an iterative fashion. They can surface new content and components on pages as information becomes available. As much as we focused on streamlining the content authoring experience, we wanted to make sure that art remained a priority. Our team collaborated closely with internal stakeholders at The Met, including curators and conservators, to ensure that new features keep the content spotlight on where it needed to be.
Featured platforms
CMS: Sitecore 8
Search: Solr
CRM: Tessitura
Analytics: Google Analytics
Museum Collection Management: TMS (The Museum System)
Taking exhibitions and events online
The Met is highly aware of the fact that many of its online audiences might never get the chance to visit its locations in person. But their refreshed online presence has provided them with another avenue for engaging their audiences and expanding their reach.
The Met pushes out over 500 blog posts a year and their blog is key to establishing a community with audiences. The Met allows anyone around the Museum to contribute to its blogs and this has enabled them to reach a far broader range of people than they could with a single, institutional voice. Their Teen Blog, written by teens for teens, and its Scientific Research blog content are just two examples. Since updating their blog landing page through the refresh, the Met has provided visitors with an easier way to access all their active blogs.
The Met's website powers the thousands of events that they host or partners on. It also serves as a powerful platform for The Met to put its exhibitions online. Visitors get a lot from these online presentations—audio guides, relevant blog posts, location information, object packages, and a whole host of other related content.
See more case studies and client work we're proud of