How to Create Valuable Website Search Experiences

Insights from Velir's Talk on Best Practices for Website Search Implementations at Coveo Impact 2019
Last month, I was out in San Francisco for Coveo Impact 2019. I met many other Coveo customers and partners and had the wonderful opportunity to speak at the conference, where I shared insights from the work we're doing in web search here at Velir.
Velir's Talk at Impact 2019 – Coveo: A Love Story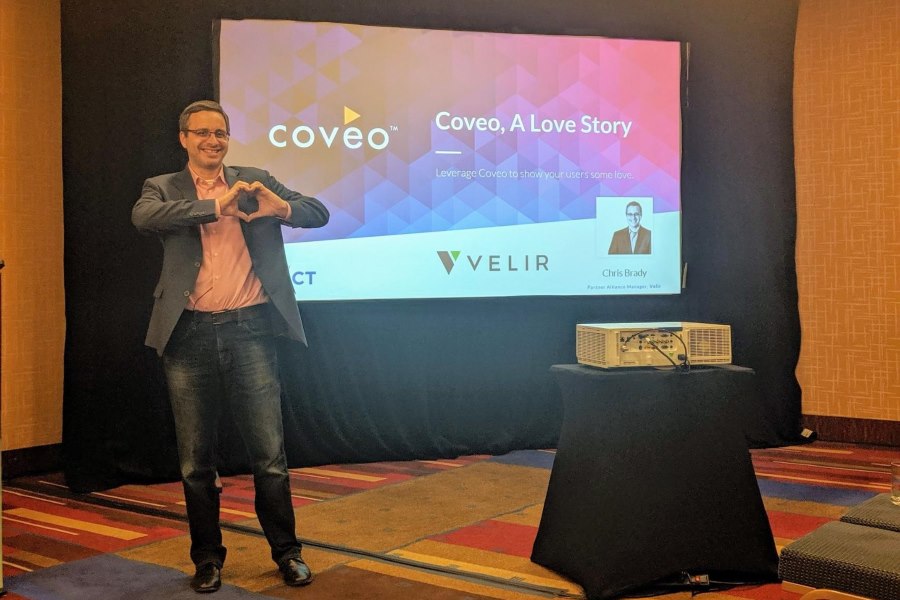 The main premise for my talk was how search, more specifically – Coveo's search, could be leveraged to show your customers some love and in turn, help them love your brand.
I've been working in the technology space for the past twenty years and one of my biggest takeaways in business is that solving your customers' problems quickly is an unbeatable way to demonstrate value and endear yourself to them. Now I recognize that this might sound simple or cliched, but it extends to almost every aspect of your brand and how your brand is experienced by your customers.
Let's take your website as an example. Every single visit or interaction that a (potential) customer (member, patient, student, constituent, grantee, etc.) has with your site is a chance to make them love your brand either a little bit more or a little bit less. If your website can demonstrate to your customers that you've taken the time to think about them, their needs, and how you can deliver more value to them, you will have created a channel that strongly contributes towards brand loyalty and advocacy.
"People don't buy for logical reasons; they buy for emotional ones."

—

zig ziglar
Your website's search experience, in particular, is a key focal point that can get a lot of traction if implemented strategically. I'll dive further into two examples of search implementations that we've delivered for our clients that demonstrate just this. Through the lens of various aspects of love, I'll showcase how different approaches to the search function on a website can help improve the online customer experience leading to better conversions, happier customers, and increased revenue.
Incorporating Empathy into the Online Patient Experience
My first story is about a regional health system in the Philadelphia area. Main Line Health (MLH) comprises 5 of the region's most respected acute-care hospitals and rehabilitative care centers. In 2017, it served about 1 million outpatient visitors and nearly 200,000 people across its ERs.
Challenges with the Legacy Health System Website
When MLH undertook a website redesign effort to better serve its patients and other target audiences, one of its primary goals was to ensure visitor satisfaction through every online interaction.
The organization noticed that its site visitors were struggling to complete key tasks on the website. They were not able to quickly find doctor information or contact details for the closest healthcare provider or accomplish other important actions. This was due to both the depth of the content as well as the site trying to speak to too many different audiences simultaneously.
Transforming the Digital Patient Experience Through Empathy and Search
So, how did MLH turn things around to provide an impactful website experience to potential patients, job seekers, caretakers, doctors, and others? By focusing on empathy!
"Our goal is to reflect our empathy and caring for our patients, and provide them with relevant choices without overwhelming them."

—

andy gradel,

MLH'S FORMER SYSTEM DIRECTOR OF DIGITAL MARKETING
MLH collaborated with Velir and Palantir, our partner agency, to transform the website to be far more patient-centric: task-focused and solution-oriented. Coveo and Sitecore played key roles.
Empathy begins with having a strong understanding of your audience – who they are, what they desire, what they dislike, etc. The effort began with numerous stakeholder interviews to better understand MLH's website visitors and what they were seeking to accomplish.
People don't typically visit hospital websites without a purpose. And as you can imagine, we discovered that this purpose varied widely depending on the type of site visitor. The user research quickly revealed that by hiding unnecessary complexity, visitors were better able to focus and complete their respective goals. So, we set out to accomplish this through various means using Coveo.
Search-Based Megamenus
One of the primary areas that we simplified was the main site navigation. The traditional megamenu approach was not working. There were too many categories, submenus etc., which confused visitors on where to go.
We re-imagined the megamenus to be search-based. When collapsed, the new megamenu has fewer options and more distinct paths. The order of menu options is driven by research and visit frequency. Now, when a visitor visits a section, they are presented with relevant options and the ability to initiate a search for that specific section.
For example, with over 100 provider locations, helping visitors find the right office quickly is critical to avoid frustration or them abandoning their inquiry entirely. With the new approach, under the 'Hospitals & Locations' section, visitors can now search for a location by keyword or browse through the most relevant (based on prior website activity and search popularity) locations all from within the megamenu.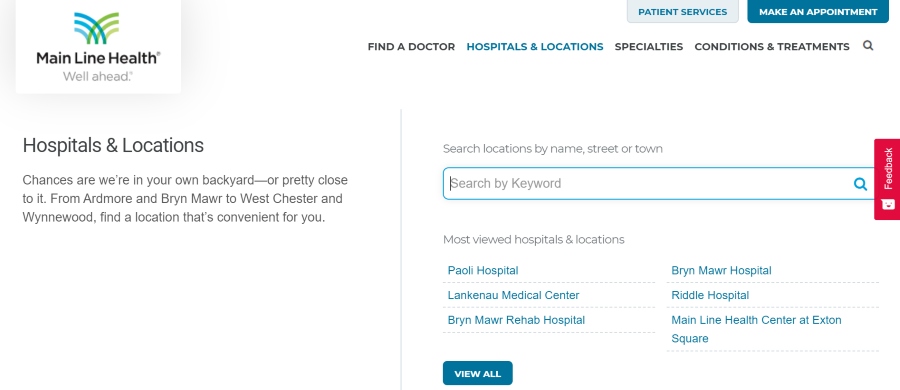 Find a Doctor or Physician Search
Another function that we overhauled was a primary search feature related to finding a doctor. Combining Sitecore 8 and Coveo for Sitecore was critical to make this happen.
With the new solution, MLH pulls all its physician data into Sitecore from an integrated provider directory, LVM. This allows MLH to surface any aspect of the physician's profile, specialties, education, etc. throughout the site in provider listings and creates a rich source of metadata for the Physician Search feature to pull from.
Given that MLH has a goal of increasing new patient enrollments, connecting to specialized systems such as Epic and Zocdoc was also powerful. This allows MLH to distinguish between which doctors are currently accepting new patients and which aren't, and surface related calls to action to allow a visitor to quickly connect with the appropriate doctor's office.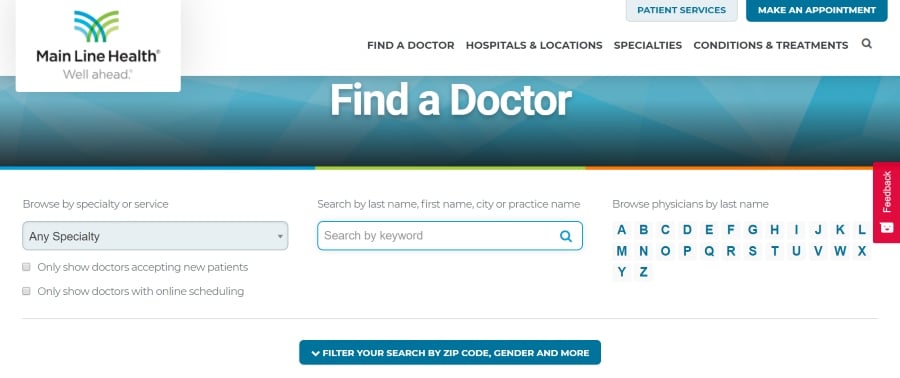 Autocomplete Omnibox Search
Going further, we looked for additional ways to improve the convenience of the online patient experience. We decided to deflect visits to the website's search page entirely with an omnibox autocomplete search feature on the home page.
With this setup, as a visitor enters their search query, Coveo searches across the top facets to present the most relevant results - a blend of personalized content for this specific visitor, followed by popular content for each facet across all recent visitors. These results are followed by curated content if not all result slots are filled.
This hybrid approach is enabled by the Coveo API and has empowered MLH to shorten the user journey and get visitors to their desired content with minimal frustration.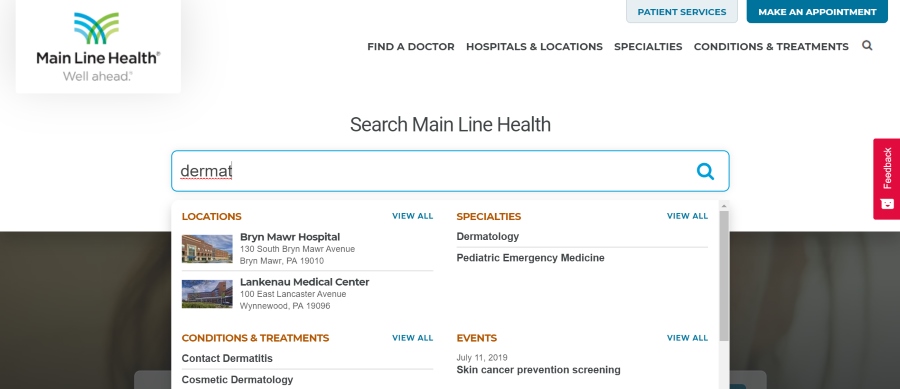 So, What Were the Results?
Our overall approach to this search solution was not about a single search page or feature, but about how much empathy we could have for the visitor and what they are looking for. The aim was to resolve their problem as quickly and intuitively as possible.
And the results from the redesigned website seem to indicate that we're on the right track. MLH has seen a 119% increase in provider profile views, a 21% increase in appointment request form submissions, and a 30% increase in clicks to call, all of which are specific KPIs that it had set out to improve at the start of this effort.
Being Thoughtful About the Teams Behind the Scenes: Content Authors and Marketers
Let's move on to a different example of how website search can be used to deliver real business results. This next story stems from the Association space – an industry that is under increasing pressure to prove its value to its members due to the vast amount of free resources online and the ever-growing popularity of social media and online affinity groups.
A Measurement Gap on an Association Website
AORN, the American PeriOperative Nurses Association, is the world's largest professional association for perioperative nurses. Its goal is to make surgery safer for every patient, every time. AORN has a small web team that is focused on creating engaging, valuable web content in service of its 42,000 members.
Over the years, AORN has generated quite a bit of content. However, until it moved to Coveo Cloud, its web team was unsure how well this content was meeting the needs of its members.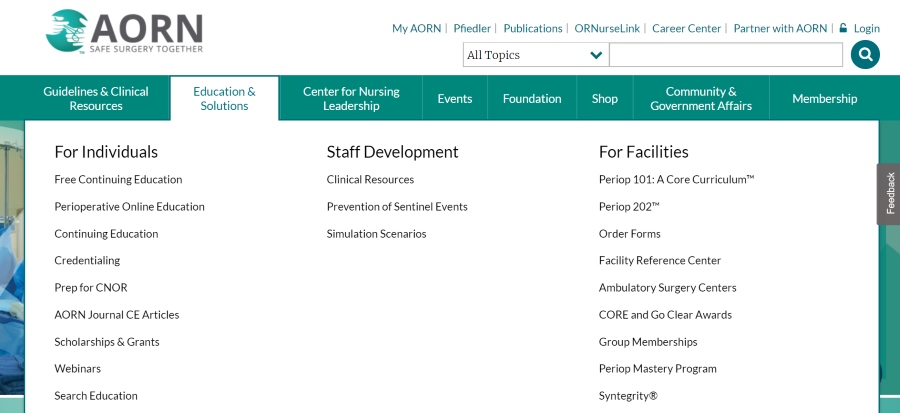 Gaining Context Through Coveo Cloud Reporting
AORN deployed Sitecore 9 and Coveo for Sitecore and saw an immediate return on this investment. Reporting in Coveo has transformed how the web team works. Two reports specifically – the analytics report and the content gap report – have proven to be highly useful.
The analytics report confirmed that the majority of content requests are in high priority business areas. This allowed the web team to validate their ongoing efforts and confirm that they are on the right path.
By reviewing the Content Gap report, the web team derived further insights to how people were searching on the website. This helped them identify gaps in their current content production efforts and remove unnecessary content that was not adding value.
"The analytics are crushing it for us. We have insight as to what people are searching for which is game-changing."

—

SCOTT POE,

SENIOR INFORMATION TECHNOLOGY DIRECTOR, DEVELOPMENT, aorn
These types of insights are incredibly important for associations such as AORN. More than ever, member retention is a challenge. Our research in this space shows that once an association gets a member past the first-year renewal hump, it will then typically be able to retain this member for over 5 years. When a member sees that an association is providing value through relevant content, if reinforces their thinking that AORN 'gets them' and increases their loyalty to the organization.
A Constant Focus on Your Customers Greatly Improves Online Engagement
Coveo is an amazing platform with many advanced features. However, the power of these two stories lies in the constant focus on the end customer or business stakeholder, which then allowed the platform to be leveraged in different ways to achieve the desired outcomes. I hope these case studies provide some inspiration on how you can take advantage of your website search and Coveo to show your customers some love and drive your organization's goals.
If you'd like to learn more about how we're using Coveo to produce measurable business results, feel free to reach out to us. We'd love to share additional insights from our latest work in the space! In the meantime, let us know what challenges and wins you've had recently with your website search by commenting below or shouting us out on Twitter, using #SearchBae ;).