Kevin Quillen Becomes the First Acquia Triple Certified Drupal 10 Expert in the U.S.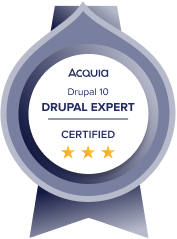 We're proud to announce that Velir's Drupal Practice Lead, Kevin Quillen, has earned his Acquia Triple Certified Drupal 10 Expert certification! Kevin is the first and only person in the United States to receive this certification for Drupal 10 so far!
To gain his Acquia Triple Certified Drupal 10 Expert credential, Kevin completed and passed the Acquia Certified Developer, Acquia Certified Back-End Specialist, and Acquia Certified Front-End Specialist exams. He knows the exam process quite well since he received his Acquia Triple Certified Drupal 9 Expert certification in 2021 and Drupal 7 certification in 2016.
"Kevin Quillen, Velir's Drupal Practice Lead, is a continued source of inspiration. He constantly pushes himself, our clients, and the Drupal platform forward with his innovative ideas and contributions. We are so proud to have the first Acquia Triple Certified Drupal 10 expert in the United States on our team."
This exciting news comes on the heels of Drupalcon 2023 in Pittsburgh, PA, where the OpenAI module that Kevin created for Drupal 10 was prominently featured in Dries Buytaert's keynote address. Kevin's blog post on how to create Drupal Recipes was also used as an instructional guide at a conference workshop.
In addition to being an Acquia Triple Certified Drupal Expert in Drupal 9 and 10, Kevin is Acquia-certified in Acquia Site Studio and Acquia Cloud Platform. You'll be able to hear him chat more about his expertise on an upcoming podcast with Matt Glaman, Talking Drupal, hosted by John Picozzi later this month. Be sure to check it out!
Get the Drupal 10 Development Cookbook
Are you curious about how to develop modules, themes, and plugins or how to be a great site builder for Drupal 10?
The "Drupal 10 Development Cookbook" is co-authored by Matt Glaman and Kevin Quillen. They cover a wide variety of topics with hands-on examples so you can get up and running with Drupal 10 in no time. These topics include running Drupal locally with Docker-based tools, content modeling, creating custom modules, how to do automated testing, and migrating data into Drupal from various data sources. The book will help you understand how to develop and build modules just like the ones we talk about often at Velir.
You can pick up the book on Amazon as a physical copy or for Kindle.
Read Kevin's Recent Drupal Thought Leadership
Check out some of the recent blog posts Kevin has written about Drupal.
Want to know how Kevin and our team of Drupal experts can help you make the most of your Drupal website? Contact us.