Constructing More Intuitive Member Experiences
A more intuitive digital home for homebuilders.
Overview
The National Association of Home Builders (NAHB) needed assistance making their educational and professional resources easier for members to find, so they partnered with Velir to redesign their Sitecore website. We helped NAHB improve content findability by enhancing their site's organization based on an in-depth Discovery phase. We also rebuilt NAHB's Ecommerce site from the ground up to make it feel like a more cohesive experience that matched their new website.
URL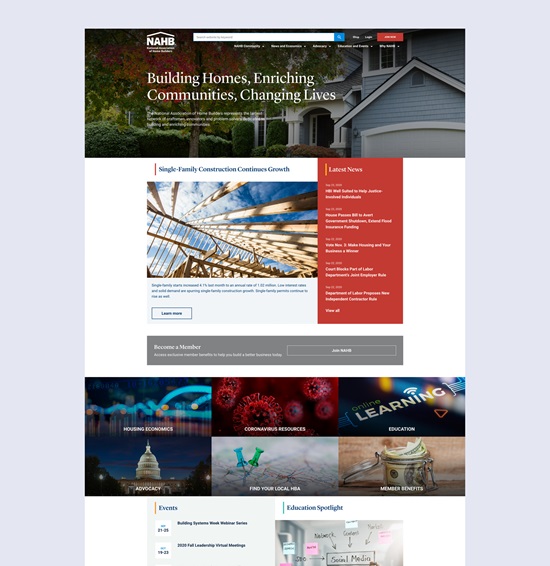 Challenge
Like most national trade associations, NAHB's value is deeply rooted in the educational and professional resources they provide members. Those resources include thousands of pieces of content, goods, and services on their website. Since these collections of information lacked a thoughtful structure, NAHB's greatest design and functionality hurdle in building a new website was findability. Members had a tough time finding the most relevant and useful information. NAHB asked us to help them find a way to surface this content effectively. They also challenged us to enhance their website's information architecture, navigation, search, and Ecommerce offerings to create a more productive and intuitive browsing experience. 
NAHB's challenges included:
Streamlining the ways members explore and locate the most useful content
Rebuilding their Ecommerce site from the ground up via Sitecore Commerce
Approach
Our overall approach was to surface content effectively by enhancing information architecture (IA), navigation, and search. Much of the information architecture, navigation, and design work was shaped by beta testing, where we released a smaller version of the site to a select group of people for more in-depth user testing.
To streamline NAHB's complex IA, we centralized the industry news and insights sections of the site. Similarly, we simplified the site's navigation to establish a more seamless wayfinding experience on desktop and mobile. This navigation update also included a feature designed to promote timely, curated content as audiences browse the site.
Our approach included:
Surfacing content by enhancing information architecture, navigation, and search
Streamlining the website's complex information architecture
Simplifying the website's navigation on desktop and mobile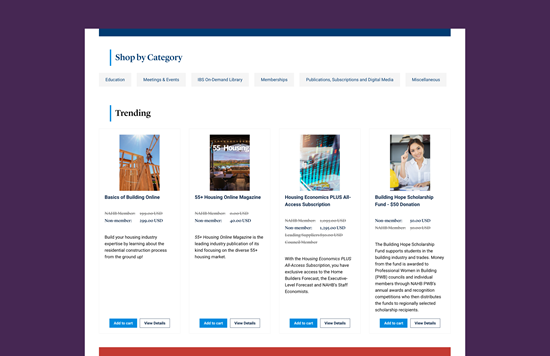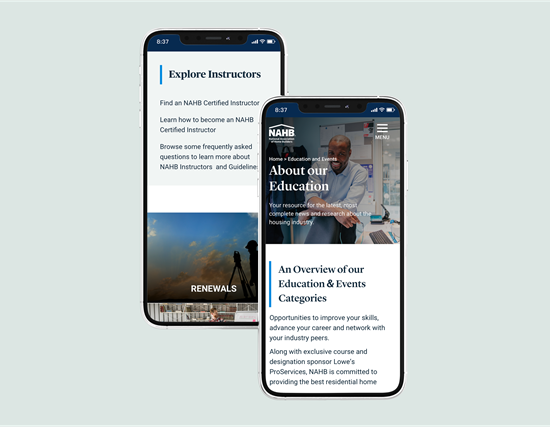 Solution
NAHB's website includes several solutions that address their Ecommerce and content findability needs. The site's search leverages machine learning via Coveo. This allows the site to continuously learn and adapt, by collecting insights from visitor behaviors and search terms to provide better search results. This member-centric experience was also influenced by research and analytics. We used insights we drew from analytics to propose simplifying NAHB's membership dashboard and profiles so they could emphasize the most valuable content and membership benefits.   
To improve content findability, we seamlessly integrated NAHB's Ecommerce site with their larger website. Through heavy testing, integration, and implementation work, we successfully constructed an Ecommerce site that provides a more holistic experience and fits better into NAHB's main website by catering to more to member needs. 
Finally, we made content authoring enhancements, which allow NAHB's contributors to quickly and easily assemble pages in  Sitecore's Experience Editor. 
Results
Enhanced Coveo search functionality that helps members find valuable content
A cohesive Ecommerce site using Sitecore Commerce
An effective beta test that informed key updates for the full site's launch
A member-centric website and more intuitive, streamlined member experience


See more case studies and client work we're proud of