Digital Transformation for Associations - An Industry Expert Panel

Velir is excited to announce a panel-style event that we'll be hosting on December 7th, 2016 in Washington D.C. to discuss digital maturity, goals, and measurement for Associations. Featuring industry experts from ASAE, Sitecore, and Velir, the event is a great opportunity for Association executives in the DC area to learn how they can utilize digital to transform their organization and value proposition.
Digital is a given, and no longer an option. The smartest and most agile organizations are taking advantage of this powerful medium to transform themselves and advance their businesses. However, many organizations are still grappling with an understanding of the space and how it applies to them - where to start, how to progressively innovate, and how to define success.
Unique organizations like Associations are especially finding themselves disrupted by digital and the limitless access to information that it enables. Despite these challenges, with the right people, strategies, and technologies, Associations can utilize digital to position themselves for growth and advancement.
Join us as we explore successful digital strategies that have been used to help Associations get more out of their digital spend.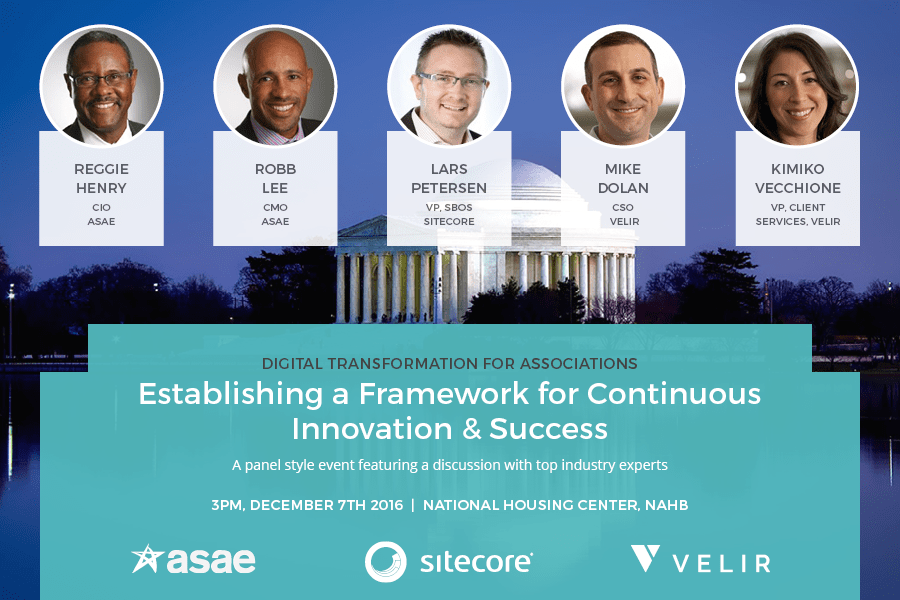 Check out the related resources below if you'd like to learn more about our experience and work in the association space. For a full listing of the associations that we have worked with, please visit our Portfolio page.