Reconnecting with ULI Members Through a Knowledge Hub
Re-engaging members and ensuring greater data integrity for Urban Land Institute.
Overview
Velir helped Urban Land Institute (ULI) better serve their members by transforming the analytics for their gated member site. To give them a more accurate picture of site traffic and to track member actions, so they could create content tailored to member needs, we configured more robust analytics. We did that by identifying the key performance indicators (KPIs) that ULI needed to measure success and translating them into our tagging specifications. This specification allowed us to set up reporting which consolidated Google Analytics and Coveo reports into a central dashboard with comprehensive data about logged in ULI members.
Challenge
ULI's website featured a gated site where members seek out the latest industry news, events, and research. However, this part of the site seemed to only be receiving a small percentage of traffic from ULI's vast member base. In addition to possible under-reporting of traffic, the website's analytics also lacked the ability to track detailed member activities like specific search facets used, preferred topics and content types, and clicks on promotional components. As a result of limited member exposure and measurement, ULI was unable to accurately assess gaps between member needs and available content, which was vital to helping them better serve their members and increase engagement on the platform.
ULI's key challenges were:
Painting a more accurate picture of site traffic from their member base
Configuring analytics that fully track member actions on-site
Creating tailored content that serves members' needs
Approach
Our tagging strategy provided measurable and trackable objectives for specific parts of the site, so ULI could better understand user engagement. We built a comprehensive analytics tagging strategy for their gated site by collaborating with ULI to define their digital goals. These digital goals were based on their business goals, which included retaining and growing membership. We then identified the key performance indicators (KPIs) that ULI needed to track to measure their success against their digital goals. Once the KPIs were identified, we translated them into tagging specifications.
The key business goals that informed our tagging strategy were:
Retaining ULI members
Growing ULI's membership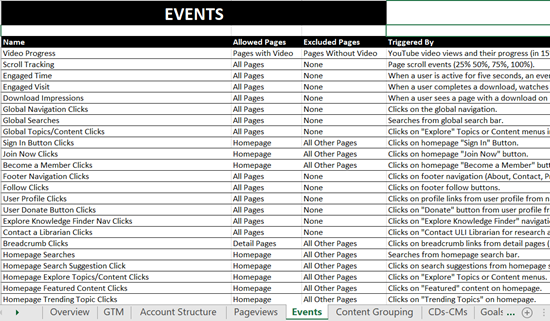 Solution
We implemented comprehensive tagging that preserved the integrity of ULI's previous analytics tracking, while introducing new functionality to track logged-in users, methods to view content by topic, and detailed site search tracking powered by Coveo. This enabled ULI to pull essential data from its analytics platform to analyze how members navigate the gated site and to use the insights drawn from that analysis to improve the website's overall member experience. These changes also ensured that ULI receives a more accurate count of the members using their gated platform.
Results
A 221% increase in reported traffic after tagging implementation
Robust reporting on ULI member and search behavior which consolidated 25 Google Analytics reports and 5 from Coveo into a central dashboard
Comprehensive data about logged in ULI members and their content needs such as logins, new memberships, member account types, member regions, and topics members were interested in
Scalable tracking executed in Google Tag Manager and implemented with code (datalayer variables) that can be expanded in future releases


See more case studies and client work we're proud of